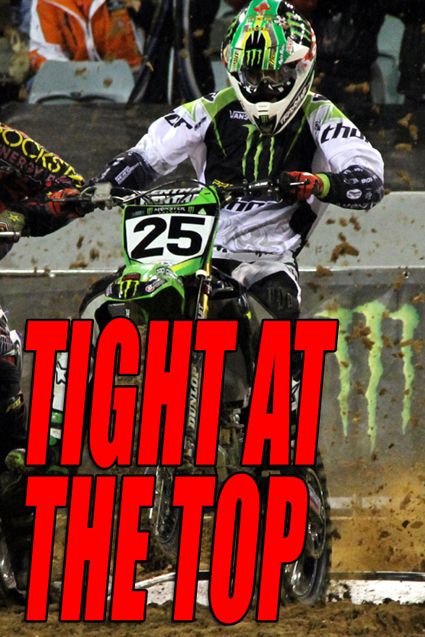 American supercross riders Justin Brayton, Josh Hansen and Kevin Windham once again claimed all podium positions in round three of the Monster Energy Super X in Launceston on Saturday in the always exciting 'Survival' final format.
The Survival format was raced over four, seven lap sprints with the bottom five riders eliminated after each race. It created incredibly exciting racing because series front runners knew the smallest incident could have caused them to be eliminated early and therefore miss out on valuable championship points.
Eventual race winner Muscle Milk/Toyota JGRMX's Brayton made it clear he wanted to leave Australia with a win and raced with determination all day entering the finals with the fastest qualifying time. He won three of the four finals with Monster Energy/Pro Circuit Kawasaki's Hansen the only rider to take a win off him in the third race. Hansen once again claimed second place overall and Geico Powersports Cougar Honda's  Windham came third.
CDR Rockstar Yamaha's Jay Marmont and Rockstar Motul Suzuki's Jake Moss joined the US contingent in the final sprint. Moss hit his best form of the series and had the fastest lap time of the night, but had an unfortunate fall on the first corner, which put him out of contention and fifth overall. The always consistent Marmont finished fourth.
Hansen still leads the overall points standing with the departing Brayton in second and Marmont third.
"I am excited to go out on top, but it's a little bittersweet because I would like to stay and race the whole series," said Brayton.
"I have had such a good time here in Australia and I really hope I can come back and compete here again next year.
"I really want to thank the team at Super X for bringing me out here and for putting on such good events as well as Craig Dack and his team for making me feel right at home."
It was a battle between the JDR Motorex KTM and Rockstar Motul Suzuki team riders in the Lites Double Header final, which was raced over 2, 12 lap races with Lawson Bopping taking the overall win, PJ Larsen second and Matt Moss, who had a big crash in qualifying and injured his knee, in third.
JDR Motorex KTM's Ryan Marmont took the first holeshot with team-mate Larsen hot on his heels and taking over on lap four to lead for the whole race. Marmont went down on a berm leaving Rockstar Motul Suzuki team-mates, Bopping and Moss, in a close challenge for second and third, but Bopping held on for second.
Marmont grabbed the second holeshot too and sped out to a good lead, but Bopping was closing on him and the pressure eventually caused Marmont to crash on the last turn allowing Bopping to pass for the win.
Moss still maintains the championship lead ahead of Larsen in second and Marmont third.
In the exhibition races Windham won the Super X Eliminator Challenge taking home the $1,000 cash prize and the USA team won the first ever Super X International Relay Challenge. Team USA was made up of Windham, Hansen, Brayton, Mike Alessi and Larsen and Team Australia was Jay Marmont, Cougar Bourbon Thor Honda's Daniel Reardon, JDR Motorex KTM's Tye Simmonds and the Moss twins.
Matt Moss got the Aussies off to a great lead in the first race over Larsen then tapped in Simmonds who maintained the lead by holding off Alessi. Brayton and Marmont were up next with Brayton unable to gain enough ground. Hansen and Jake Moss followed with Moss maintaining the lead. Reardon and Windham finished off the race changing the lead numerous times, but after a small slip up from Reardon on the rhythm section, Windham passed him and took the win for the US.
Dylan Long was the dominant winner once again in the Michelin Development Series. Jacob Wright was second and Jake Emanuelli third.
The series now has a week off before round four in Auckland, New Zealand on Saturday November 13.
OPEN top ten results – Round 3
1.      Justin BRAYTON – Muscle Milk / Toyota JGRMX: 25
2.      Josh HANSEN – Monster Energy Pro Circuit Kawasaki: 22
3.      Kevin Windham – Geico Powersports Team Honda: 20
4.      Jay MARMONT – CDR Rockstar Yamaha: 18
5.      Jake MOSS – Team Rockstar Motul Suzuki: 16
6.      Daniel REARDON – Cougar Bourbon Honda Thor Racing: 15
7.      Tye SIMMONDS – JDR Motorex KTM: 14
8.      Todd WATERS – Cougar Bourbon Thor Honda: 13
9.      Mike ALESSI – JDR Motorex KTM: 12
10.    Craig ANDERSON – Berry Sweet / Pro Grip / Talon / RHK / Forma: 11
OPEN top ten results – Top ten championship standings
1.      Josh HANSEN – Monster Energy Pro Circuit Kawasaki: 130
2.      Justin BRAYTON – Muscle Milk / Toyota JGRMX: 121
3.      Jay MARMONT – CDR Rockstar Yamaha: 106
4.      Kevin Windham – Geico Powersports Team Honda: 95
5.      Daniel REARDON – Cougar Bourbon Honda Thor Racing: 92
6.      Tye SIMMONDS – JDR Motorex KTM: 82
7.      Todd WATERS – Cougar Bourbon Thor Honda: 78
8.      Daniel McCOY – Coastal KTM Motorex Team: 71
9.      Jake MOSS – Team Rockstar Motul Suzuki: 66
10.    Lewis WOODS – Top Gear KTM: 66
LITES top ten results – Round 3
1.      Lawson BOPPING – Team Rockstar Motul Suzuki: 22, 25 TOTAL 47
2.      P J LARSEN – JDR Motorex KTM:  25, 18 TOTAL 43
3.      Matt MOSS – Team Rockstar Motul Suzuki: 20, 22 TOTAL 42
4.      Robbie MARSHALL  – Yamaha: 13, 20 TOTAL 33
5.      Ryan MARMONT – JDR Motorex KTM:  15, 16, TOTAL 31
6.      Josh CACHIA – Coastal KTM MX Rad: 16, 14 TOTAL 30
7.      Harley QUINLAN – Yamaha:  14, 15 TOTAL 29
8.      Cody MACKIE – Kawasaki Racing Team Cool Air Conditioning: 18, 16 TOTAL 24
9.      Geran STAPLETON – Honda:  10, 8 TOTAL 18
10.    Luke ARBON – Kawasaki Racing Team Cool Air Conditioning: 5, 12 TOTAL 17
LITES – Top ten championship standings
1.      Matt MOSS – Team Rockstar Motul Suzuki: 157
2.      P J LARSEN – JDR Motorex KTM: 140
3.      Ryan MARMONT – JDR Motorex KTM: 118
4.      Lawson BOPPING – Team Rockstar Motul Suzuki: 105
5.      Cody MACKIE – Kawasaki Racing Team Cool Air Conditioning:98
6.      Harley QUINLAN – Yamaha: 87
7.      Josh CACHIA – Coastal KTM MX Rad: 81
8.      Steven CLARKE – Raceline Pirelli Suzuki: 79
9.      Robbie MARSHALL – Yamaha: 73
10.    Ford DALE – Serco Yamaha: 64
Michelin Development Series – Round 3
1.      Dylan LONG – KTM / Thor / Motorex / Michelin / One Industries: 25
2.      Jacob WRIGHT – Honda Jnr Development Team: 22
3.      Jake EMANUELLI – Doyle & Shields Yamaha Bairnsdale / Fox: 20
4.      Luke CLOUT – SS Racing / MX Rad / Pirelli / Fox / Link / Rockstar: 18
5.      Lincoln NICOL – Prorider Motorcycles / Factory Spec  MCD / Comac: 16
6.      Hayden MELLROSS – Honda / Thor / Michelin Motocross Madness: 15
7.      Kurt WATERMAN – Spot On Racing / Bell / Troy Lee Designs / Dragon: 14
8.      Jarrad DAVIS – Davis Bikeworx / Motul / Fox / Alpinestar / Dunlop: 13
9.      Lenny MAGYAR – Canberra Motorcycle Centre: 12
10.    James BOOTH-ELLIOTT – Loose Kid Industries / Ringmaster Images: 11
Michelin Development Series – Top ten championship standings
1.      Dylan LONG – KTM / Thor / Motorex / Michelin / One Industries: 75
2.      Jake EMANUELLI – Doyle & Shields Yamaha Bairnsdale / Fox: 58
3.      Jacob WRIGHT – Honda Jnr Development Team: 57
4.      Luke CLOUT – SS Racing / MX Rad / Pirelli / Fox / Link / Rockstar: 47
5.      Kurt WATERMAN – Spot On Racing / Bell / Troy Lee Designs / Dragon: 44
6.      Jarrad DAVIS – Davis Bikeworx / Motul / Fox / Alpinestar / Dunlop: 39
7.      Lenny MAGYAR – Canberra Motorcycle Centre: 34
8.      Meghan RUTLEDGE – Moss Institute / Southern Highlands M-c: 34
9.      James BOOTH-ELLIOTT – Loose Kid Industries / Ringmaster Images: 32
10.    Lincoln NICOL – Prorider Motorcycles / Factory Spec  MCD / Comac: 30
For more information on or to purchase tickets please visit www.superx.com.au
Monster Energy Super X series schedule:
| | | |
| --- | --- | --- |
| Date | Location | Venue |
| October 16 | Newcastle | Energy Australia Stadium |
| October 23 | Canberra | Canberra Stadium |
| October 30 | Launceston | Aurora Stadium |
| November 13 | Auckland | North Harbour Stadium |
| November 20 | Dunedin | Carisbrook Stadium |
| November 27 | Sydney | Parramatta Stadium |
| December 4 | Brisbane | QSAC |