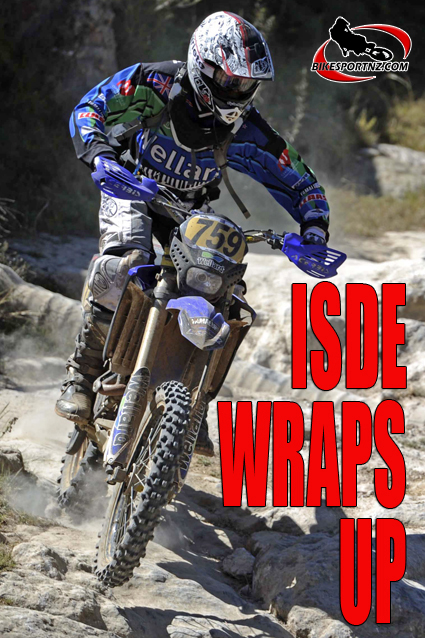 The International Six Days Enduro has always been a brutal and uncompromising test of man and machine.
And while the world's off-road motorcycling elite did expect to deal with sharp-edged rocks, prickly cactus plants and temperatures in the high 30s in Mexico, they never expected they'd end up having to write "bullet dodger" on their CVs.
This year's ISDE in Morelia, Mexico, was suddenly cut short on Sunday, therefore reduced to a five-day event, as gunfights between warring drug cartels and the Mexican police broke out near to where the final day of racing had been scheduled.
Local organisers and the sport's governing body had no option but wind up the 85th edition of the big annual international event "for the safety of the riders".
This meant the only Kiwi riders at the event – the three-man Wellard Yamaha Team of Mokau's Adrian Smith (pictured above), Paeroa's Chris Power and Auckland's Karl Power – had to accept that their positions at the end of day five would also be their final ISDE rankings.
Throughout the week the Kiwis had each challenged for individual glory in their respective club team classes and also for team honours in the battle for the Club Team world championship.
Though it was a major disappointment that the event had to be finished early, each of the New Zealand riders still did enough to impress with top performances.
Karl Power, the New Zealand under-300cc four-stroke enduro champion, had been closing in on his main rival in the C2 division (for 450cc four-stroke bikes) but ended up having to settle for second place overall.
At the start of day five, Power had been 55 seconds behind Spain's Aaron Bernardez (KTM), but by the end of the day he had shaved another 23 seconds off that deficit and — at that stage just 32 seconds behind Bernardez — was looking forward to launching his final attack on what was meant to be the sixth and final day.
Adrian Smith (Yamaha YZ250F) had been running in third place outright in the C1 division from the start of racing last Tuesday, but the cancellation also denied the New Zealand under-200cc two-stroke enduro champion any chance of improving and he had to accept a final ISDE ranking of No.3. Smith finished three minutes behind Italy's Maurizio Micheluz and 10 minutes behind the class winner, Spain's Cristobal Guerrero.
Meanwhile, Chris Power (Yamaha YZ250F), the New Zealand over-300cc four-stroke champion who was only called into the squad at the last minute when another Kiwi rider was injured, settled for fourth overall in the C1 class, five minutes behind Smith.
Combined, the three Wellard Yamaha Team riders managed to hold onto their second outright podium position in the chase for Club Team world championship honours, eventually finishing 18 minutes behind the powerful Spanish team trio but ahead of 72 other teams in the competition.
© Words by Andy McGechan, www.BikesportNZ.com
© Photo by Dario Agrati