ALL OVER FOR ANOTHER SEASON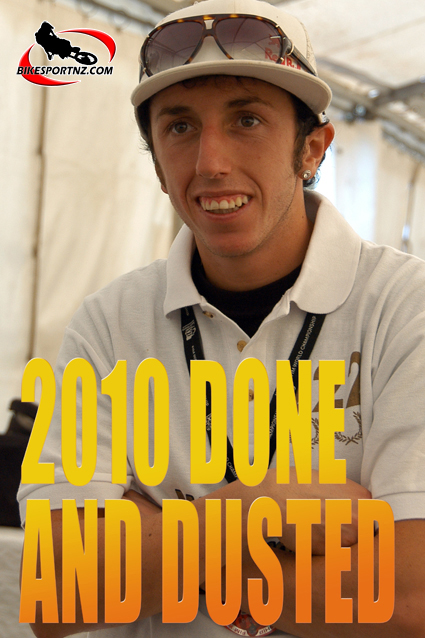 Already confirmed as the 2010 MX1 World Champion, Tony Cairoli would have enjoyed going out on a high note for his enthusiastic home fans in the season's final race, the Italian GP at Fermo.
It was, however, not to be for the Italian rider (pictured above) who has dominated the MX1 competition this season on the new KTM 350 SX-F bike.
Mid way through the first moto on Sunday, on the hard, slippery and very technical Italian track at Fermo, Cairoli got the trajectory wrong coming down from a jump and sprained his ankle. Because he has had previous injuries to his left foot he decided it was wise to sit out the second moto.
Meanwhile, New Zealand's Josh Coppins (Aprilia) signed off his Grand Prix career by finishing 10-7 in the two motos at Fermo. He finished the season with a world ranking of 12th.
The day was won by Belgian Suzuki rider Clement Desalle, who finished 4-1 in the two races. He confirmed his position at No.2 in the world standings for 2010.
Cairoli was disappointed but philosophical about the outcome of his weekend.
"This was a bad day for me," said Cairoli.
"There have been no bad points for the season up till now but now with this small injury, fortunately not something serious, I now want to concentrate on getting ready for the Motocross of Nations."
On Saturday it was announced that outstanding issues with the Italian Federation had been resolved and Cairoli was now on the team to ride for Italy in two weeks time in the MXoN. "I was surprised," he said. "But this year has been full of surprises for me and its one of the best seasons I ever had."
MX1 GP results
1. Clement Desalle, Belgium, Suzuki, 18-25—43
2. Steve Ramon, Belgium, Suzuki, 25-18—43
3. Sebastien Pourcell, France, Kawasaki, 20-22—42
4. Xavier Boog, France, Kawasaki, 22-16—38
5. Max Nagl, Germany, KTM, 15-20—35
MX1 World Championship final standings:
1. Tony Cairoli, Italy, KTM, 625
2. Clement Desalle, Belgium, Suzuki, 537
3. David Philippaerts, Italy, Yamaha, 502
4. Max Nagl, Germany, KTM, 498
5. Steve Ramon, Belgium, Suzuki, 491
© by Andy McGechan, www.BikesportNZ.com