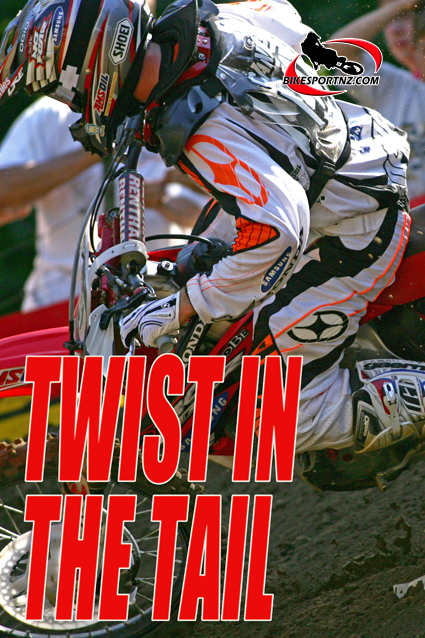 The United States national motocross championships wrapped up on Saturday, returning to San Diego County for the first time in 28 years with the inaugural Pala Motocross National from Pala Raceway.
After a dominant second half of the season, Oklahoma's Trey Canard scored his first career motocross championship in the 250 class with a third-place finish on the day. In the premier 450 Class, Minnesota's Ryan Dungey etched his name in the record books with his 10th overall win of his rookie season.
The unpredictable nature of the 250 Class was on full display at Pala as rookie Dean Wilson, of Scotland, raced to his second career victory with a 1-1 moto sweep for Kawasaki. However, Wilson's triumph was overshadowed by the stellar come-from-behind championship win by Canard.
Coming into the season finale, Canard trailed Kawasaki's Christophe Pourcel, of France, by seven points. As the duo battled in the first moto, both riders experienced trouble in separate crashes, but Pourcel's resulted in a separated shoulder and when he failed to return to compete in the second moto, his championship hopes were over.
"There's so many emotions and thoughts running through my head," said Canard, who won five of the final seven races of the season to overcome a 57-point deficit to Pourcel. "When the time came, I thought about all these hard years and it made it that much better. I'm still kind of dreaming right now. I'm just stoked."
Canard joined Wilson on the overall podium in third (4-3), while Kawasaki's Tyla Rattray, of South Africa, earned the runner-up spot (2-2).
Dungey entered the day looking to break Ricky Carmichael's rookie record of nine overall wins that has stood since the 2000 season. Having wrapped up the 450 class title two rounds ago to become the first rookie in history to win both the AMA Supercross and AMA Motocross championships, he continued his dominant form on Saturday by sweeping the day's motos.
"I didn't get off to the best of starts in the second moto and I had to work," said Dungey. "Patience definitely plays a role in it and I've learned a lot about that in recent years. It was new track and it was really good. It got rough and I think we all really liked it."
In addition to winning the most races ever by a rookie, Dungey also surpasses Carmichael's rookie point total by eight points ending the season with a record 543 markers.
Honda's Andrew Short finished second (3-2) with fellow Honda rider Brett Metcalfe, of Australia, in third (2-3).
In just two weeks' tgime, on September 25-26, the stars of motocross from around the globe will converge on Lakewood, Colorado, for the annual Motocross of Nations from Thunder Valley Motocross Park. Team USA will look for its sixth consecutive win and 21st overall win at the Olympics of Motocross with Dungey, Short and Canard representing Team USA.
Results from round 12 of 12
450 Class (Moto Finish)
1. Ryan Dungey, Belle Plaine, Minn., Suzuki (1-1)
2. Andrew Short, Smithville, Texas, Honda (3-2)
3. Brett Metcalfe, Australia, Honda (2-3)
4. Ben Townley, New Zealand, Honda (6-4)
5. Ryan Sipes, Vine Grove, Ky., Yamaha (4-6)
6. Kyle Chisholm, Valrico, Fla., Yamaha (9-5)
7. Kevin Windham, Centreville, Miss., Honda (7-8)
8. Justin Brayton, Fort Dodge, Iowa, Yamaha (12-7)
9. Kyle Regal, Kemp, Texas, Honda (5-14)
10. Nick Wey, Dewitt, Mich., Kawasaki (11-9)
450 Class Championship Standings
1. Ryan Dungey, Belle Plaine, Minn., Suzuki, 543
2. Brett Metcalfe, Australia, Honda, 398
3. Andrew Short, Smithville, Texas, Honda, 393
4. Ben Townley, New Zealand, Honda, 321
5. Mike Alessi, Victorville, Calif., KTM, 314
6. Kyle Chisholm, Valrico, Fla., Yamaha, 266
7. Josh Grant, Riverside, Calif., Yamaha, 260
8. Ryan Sipes, Vine Grove, Ky., Yamaha, 234
9. Kyle Regal, Kemp, Texas, Honda, 224
10. Nick Wey, Dewitt, Mich., Kawasaki, 223
250 Class (Moto Finish)
1. Dean Wilson, Scotland, Kawasaki (1-1)
2. Tyla Rattray, South Africa, Kawasaki (2-2)
3. Trey Canard, Shawnee, Okla., Honda (4-3)
4. Eli Tomac, Cortez, Colo., Honda (8-4)
5. Justin Barcia, Ochlocknee, Ga., Honda (6-5)
6. Cole Seely, Newbury Park, Calif., Honda (3-12)
7. Wil Hahn, Decatur, Texas, Honda (7-7)
8. Broc Tickle, Holly, Mich., Yamaha (5-9)
9. Martin Davalos, Ecuador, Yamaha (14-6)
10. Les Smith, York, S.C., Honda (13-11)
250 Class Championship Standings
1. Trey Canard, Shawnee, Okla., Honda, 474
2. Tyla Rattray, South Africa, Kawasaki, 446
3. Christophe Pourcel, France, Kawasaki, 443
4. Dean Wilson, Scotland, Kawasaki, 437
5. Justin Barcia, Ochlocknee, Ga., Honda, 348
6. Eli Tomac, Cortez, Colo., Honda, 327
7. Broc Tickle, Holly, Mich., Yamaha, 287
8. Blake Wharton, Pilot Point, Texas, Honda, 285
9. Martin Davalos, Ecuador, Yamaha, 251
10. Wil Hahn, Decatur, Texas, Honda, 213
WMX Class (Moto Finish)
1. Ashley Fiolek, St. Augustine, Fla., Honda (2-1)
2. Jessica Patterson, Tallahassee, Fla., Yamaha (1-2)
3. Vicki Golden, El Cajon, Calif., Yamaha (3-6)
4. Tarah Gieger, Winter Gardens, Fla., Honda (7-3)
5. Mariana Balbi, Brazil, Yamaha (5-5)
6. Alexah Pearson, Rocklin, Calif., Yamaha (9-4)
7. Sherri Cruse, Bakersfield, Calif., Suzuki (8-7)
8. Tatum Sik, Temecula, Calif., Yamaha (6-9)
9. Sarah Whitmore, Cheboygan, Mich., KTM (11-8)
10. Jacqueline Strong, Sedona, Ariz., Yamaha (10-14)
WMX Class Championship Standings (After 8 of 8 Rounds)
1. Jessica Patterson, Tallahassee, Fla., Yamaha, 382
2. Ashley Fiolek, St. Augustine, Fla., Honda, 360
3. Tarah Gieger, Winter Gardens, Fla., Honda, 295
4. Vicki Golden, El Cajon, Calif., Yamaha, 252
5. Mariana Balbi, Brazil, Yamaha, 239
6. Sara Price, Canyon Lake, Calif., Kawasaki, 230
7. Sarah Whitmore, Cheboygan, Mich., KTM, 219
8. Alexah Pearson, Rocklin, Calif., Yamaha, 202
9. Tatum Sik, Temecula, Calif., Yamaha, 179
10. Jacqueline Strong, Sedona, Ariz., Yamaha, 154
© Photo by Joe Bonnello, www.BikesportNZ.com