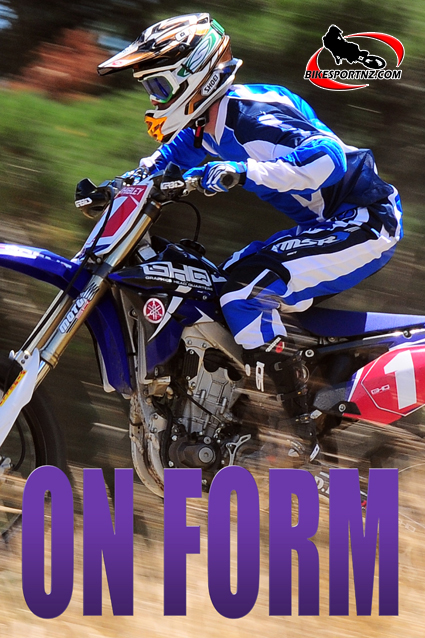 New Zealand's Paul Whibley is armed and ready for battle.
The Pahiatua man is ready for the resumption of hostilities in this year's Grand National Cross-country Championships (GNCC) following the mid-summer break and what better way to signal his intentions than by winning the latest round of the parallel Off-Road Motorcycle and ATV (OMA) series in Missouri at the weekend.
Whibley (Yamaha YZ450F) is currently fourth in the GNCC standings and knows that, with just four rounds remaining to complete the season, the defending champion needs to win races. The GNCC series starts up again at Unadilla, near New York, in just over two weeks (Sept 12).
He's also the OMA series champion and looks well in command of that title defence after winning round seven in Newark, Missouri, at the weekend.
The former forestry worker, affectionately known as "The Axeman" on the American cross-country motorcycle racing scene, is showing superb form at the moment and made easy work of the race in Missouri.
"The woods were surprisingly dry considering the rain that had fallen around the area in the weeks leading up to the event," said Whibley.
"I got a good jump off the line and was in the top three going around the first turn. Moving in behind Scott Watkins, who shared the holeshot money with Bret Zofchak. I followed Scott for a couple miles and took the lead when he made a small mistake climbing a bank.
"We set a good pace and opened up a gap on the rest of the pack. Scott latched onto my rear fender and hounded me for the first half of the race. I managed to get a 20-second gap by the fuel stop and I could watch Scott on a couple of sections to make sure I was maintaining the lead.
"The track was open and I didn't want to go too much faster through the trees because, if I made a mistake, the price would have been pretty high.
"Scott rode well and continued to keep the pace up and never fell back, maintaining the gap and pressure. I'm sure his maiden win in this series is not too far off.
"Taking the win marked my fourth in a row in this series and an extension of my points lead."
Whibley is now seven points clear of Watkins at the top of the standings, with just three rounds remaining.
OMA series round seven results:
1. Paul Whibley (Yamaha)
2. Scott Watkins (Kawasaki)
3. Thad Duvall (Yamaha)
4. Jordan Ashburn (Kawasaki)
5. Adam Bonneur (Kawasaki)
6. Nick Fahringer (Husaberg)
7. Jake Fiddler (Kawasaki)
8. Zach Klamfoth (Yamaha)
9. Michael Williams (Kawasaki)
10. Zach Ingram (KTM)
© Words and photo by Andy McGechan, www.BikesportNZ.com