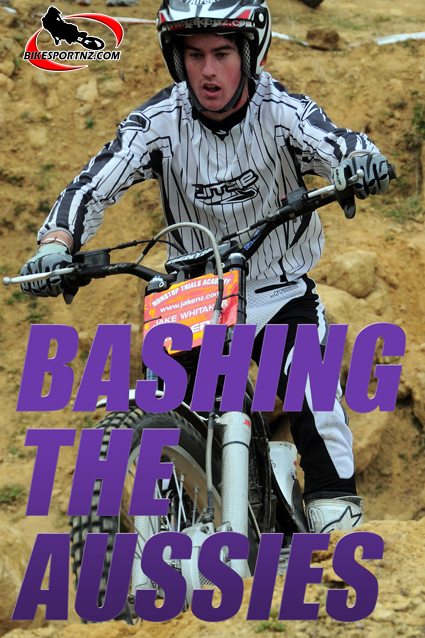 New Zealand rider Jake Whitaker has won the 2010 Australian Moto Trials Championship at Thunderbird Park – Mount Tamborine, on Sunday.
Overcoming challenges from some of Australia's best riders, including Brisbane local Boyd Willcocks, West Australian Neil Price, and reigning Champ Colin Zarczynski, the 19-year-old put in a solid effort, keeping his points low enough to take the win.
Speaking at the end of the day the Kiwi, and reigning (and three-times) New Zealand Moto Trials Champion, was thrilled to take out the Aussie Title on his fourth attempt.
"It's a bloody good feeling!" Whitaker said.
"I've wanted this title for about four years now so it's a really good feeling.
"I had a stunning first lap on Sunday, scoring only four points – I felt way more comfortable on the bike than I did on Saturday, and I really enjoyed it out there.
"I'll now go finish the New South Wales Series, there are a few more rounds of that, and I'd like to do another stint in Europe however it all depends on sponsorship!"
Rounding out the podium in the Open Solo class were West Australian Price and, now former champion Zarczynski, who wrapped up the weekend in second and third respectively.
These riders will now head to Poland for the Olympics of Moto Trials, the Trial des Nations, as part of the Australian team.
While the Open Solo saw the title head overseas ACT local Michelle Coleman won the Women's Open class.
Coleman was thrilled to take out the win, and was looking forward to representing her country at two rounds of the World Women's Moto Trials Championship and the 2010 Trial des Nations to be held in Poland in less than a month's time.
"It's an awesome feeling to get the Title back," Coleman said.
"Last year Kristie [McKinnon] won it on a ride-off, but it's really good to have my name on it again.
"On Sunday the courses were a bit easier, and I felt a lot more comfortable out there.
"We head over to Europe on 31 Europe, firstly to ride a round of the Women's World Championships, and then the following week, we'll ride the next round of the Championship, and then the Trial des Nations.
"All up we'll get two World Championship rounds, and the scoring for that is based on your best two rounds, so we're in with a shot at the World Title too!"
As the clean up begins Event spokesperson Robert Eyers said that the Motorcycling Queensland Moto Trials sub-committee were incredibly happy with how everything went.
"The entire weekend has been fantastic," Eyers said.
"The weather has been brilliant, we've had so many people come to watch which has been a great way to introduce even more people to Moto Trials, the course, the volunteers, the crew and everyone involved have all been incredible.
"This dedicated group have been working together so well, and the entire Moto Trials community has come together once again and I can't thank them all enough."
The Australian Championship will be followed up on 25 August with a Trial at Esk, and an Arena Showcase event at Carrara on the Gold Coast on 28 and 29 August as part of 'Trials Week'.
For more information and results visit: www.ma.org.au.
© Photo by Andy McGechan, www.BikesportNZ.com