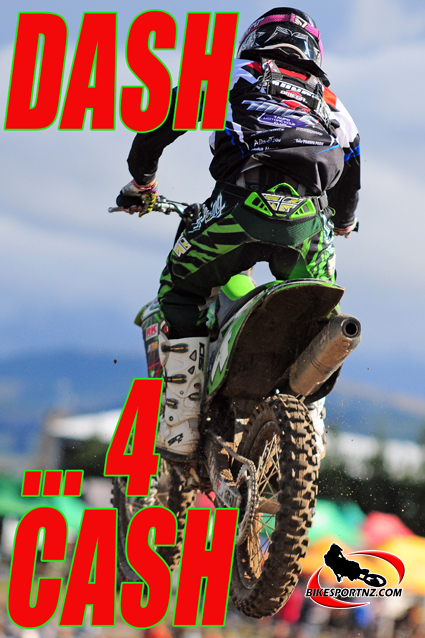 Are you ready for the Fieldpower Dash For Cash?
The Fieldpower Dash For Cash motocross is set for July 3 … yes, that's this weekend … and it's $3000 winner takes all.
Last year it was Taupo's Nick Saunders (Kawasaki) (pictured above) who scooped up the main prize.
Hosted by the extremely friendly people of the Whangarei Motorcycle Club, in conjunction with the NAC Insurance, International Rally of Whangarei, Super Special Stage, Pohe Island, Riverside Drive, Whangarei
Entry fee is $30 per class, limited to first 40 riders in each class. One entry per class.
Sign on at 7.30am, riders briefing 7.45am, practice start 8am
Entries should have been received by June 30, 2010 – No late entries will be accepted.
$3000 Winner-takes-all plus prize money for winners of all class races
Races are sprint style gate start approx 400m straight into a flat 180 turn followed by table top jump and dash to finish.
Heats 1 and 2 will be 4 riders per start with 1st and 2nd moving onto next heat.  Heat 3 onwards will be two riders per start with winner moving into the next heat.
Final is the winners of each class racing for $3000. The Whangarei Motorcycle Club has the right to change the format as it sees fit on the actual day of racing.
For any queries, contact Ray Wedge on 027 5736633
FIELDPOWER DASH FOR CASH OFFICIAL ENTRY FORM – 3rd July 2010
Go to www.freewebs.com/whangarei for entry form.
Return entry form to: WMC, PO Box 905, Whangarei 0140
© Photo by Andy McGechan, www.BikesportNZ.com