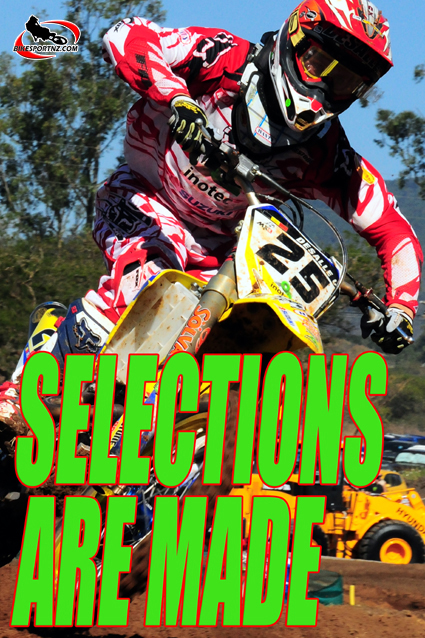 Former open class motocross GP hero Joel Smets has just released the names of the seven pre-selected riders of whom three will represent Belgium at the 2010 Red Bull Motocross of Nations in the US.
The pre-selection includes Clément Desalle, Steve Ramon, Ken De Dycker, Kevin Strijbos, Jeremy Van Horebeek, Dennis Verbruggen and Joël Roelants.
Earlier this week the riders met for the first time during a teambuilding event. As usual the Belgian top riders enjoyed a relaxing day out with waterski, cycling and a barbecue to finish off.
Although the teambuilding day underlined the enthusiasm and positive vibe surrounding the Belgians it was not all fun and games. Clearly team manager Smets is facing some tough choices before the final team is made public.
That final selection for the 64th Motocross of Nations will be announced on Sunday, August 15 during the fourth round of the MX Pro Series at Keiheuvel-Balen. Last year the Belgian squad with Desalle, Ramon and Roelants took an honourable third behind the US and France.
Last year there was a lot of commotion following the non-selection of Ken De Dycker. De Dycker himself even stated that he never wanted to ride for Team Belgium again?
"Obviously that statement was made 'in the heat of battle'," Smets said.
"Since then we have discussed about our argument and Ken made it clear that he understood the reasons behind my choice. At the German GP a couple weeks ago I enjoyed a short but good conversation with him. I absolutely don't hold that outburst from last year against him. Actually it shows that Ken cares about the MX of Nations and wants to be a part of the Belgian Team. In other words, it's a good thing."
"For now, the only certitude is Clément Desalle. Since his shoulder injury he's reaching his best level again. Ramon has been blowing hot and cold and he has dealt with minor injuries. As a result he has had trouble to train consistently for two weeks in a row. Ken is in a similar situation: too many ups and downs. But in spite of his bike set-up issues and small injury problems he showed in Teutschenthal that his speed is still there," Smets continued.
Asked about MX2 rider selection in particular Smets continued, "First of all we're facing an important rulechange this year.
The MX2 rider must be younger than 23. This means we can no longer consider the option to pick for example Steve Ramon for the MX2 class.
As for Jeremy Van Horebeek and Joël Roelants, they are a close match. Similar to the Dycker and Ramon. Potentially Van Horebeek has showed the best speed of the two, but in recent weeks Roelants felt victim to injuries and he couldn't ride at his best level. Anyhow, all riders now have two very important GP's with Lommel and Loket to convince me. It's up to them to earn their spot on the team."
The Belgian way of doing things with a pre-selection has been picked up by England and France?
Belgium does things different to most when they pre-pick their MXoN team, both England and France have picked up on this idea. Asked about the method and the fact other countries have adopted the idea Smets said: "That's right, but I don't think that is a reason for us to stop doing it! Especially since both the pre-selection as the teambuilding day form an integral part of our preparation.
"It allows to get my ideas across and to explain them my position. I always aim to create a relaxed atmosphere at a time when the GP riders have some down time and they all seem to appreciate it."
© Photo by Andy McGechan, www.BikesportNZ.com