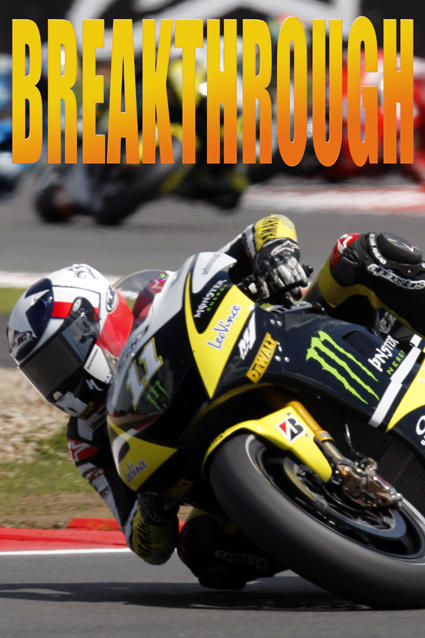 American world superbike champion Ben Spies will always remember the 2010 British MotoGP, round six of this year's world series and the first to take place at Silverstone since 1986, after claiming his first ever grand prix podium on the very final lap of Sunday's race.
Italian Yamaha ace Jorge Lorenzo won the race but Spies, making only his ninth MotoGP appearance, and sixth for Yamaha, got stronger as the race went on and caught the three-way battle for second – between Andrea Dovizioso, Randy de Puniet and Nicky Hayden – with seven laps to go.
For Lorenzo it was his third victory in five races.
The last time motorcycle grand prix racing was held at Silverstone was in 1986, before Lorenzo was even born, but the Spaniard was perfectly at home around the fast and challenging circuit.
After converting pole into the holeshot at turn one, the Fiat Yamaha rider's only opposition came on the opening lap, when Mugello winner Dani Pedrosa – who had fallen in the two track sessions heading into the race – successfully lunged for the lead into Stowe, at the end of the Hanger Straight.
Lorenzo retook the advantage at the next Vale corner, but Pedrosa tried again at the new section – and again Lorenzo repassed him. The #99 then spun-off a series of fastest laps to steadily ride away from the field and won by 6.743sec after the 20 laps, but was over eight-seconds clear for much of the race.
Lorenzo now holds a huge 37 point title lead in the championship.
"I didn't expect to get my first podium so quickly, especially after yesterday which wasn't the best for me," said Spies (pictured above), who qualified seventh. "I got a decent start but once I got by Dani and Simoncelli I just tried to stay on the back of the group battling for the podium."
By then the Monster Yamaha Tech 3 rider was himself coming under pressure from 2007 world champion Casey Stoner, but Spies wasn't flustered and waited until lap 17 of 20 before taking fourth from de Puniet.
"Once I realised I could stay in contention I just tried to save the rear tyre as much as I could and it all worked out," he explained.
Already holding his best ever MotoGP position, Spies then had only fellow American Hayden separating him from a grand prix rostrum.
Ignoring the discomfort of a small fracture in his left ankle that he aggravated in a Saturday crash, the 25-year-old produced a daring overtake on Hayden at the fast Abbey Corner on the final lap.
"That last lap was difficult to pass Nicky but I got a really good drive onto the back straight and tried to pass him at Stowe Corner but he came back by. On the next straight I managed to get by him and then had to ride quite defensively on the last part of the lap," said Spies.
"I was on the edge but I had to go for the podium and it worked out. It will be hard to duplicate this but right now I'll let it sink in and make the most of it. But on this day I can say I was the third best rider in the world and it is a good feeling," concluded Spies, who beat his previous MotoGP bets by two places.
Reigning World Superbike champion Spies made three MotoGP starts for Suzuki in 2008, then had a wild-card ride for Yamaha at Valencia 2009, before starting his first full season in 2010.
The podium was Tech 3's first since the 2009 British Grand Prix, at Donington Park, when Colin Edwards finished second, and the first of the 2010 season by a satellite rider.
"We knew Ben really liked this circuit and we thought he could do a good race," said team manager Herve Poncharal. "But he rode an incredible race because he didn't get a fantastic start but he was very aggressive in the first two laps and got himself into contention. He never let that group in front of him go away and we know his strength is on worn tyres, so we expected him to hang in until the end.
"He was quickest on track at one stage but I was worried a little bit because Casey was catching quite quickly. But he kept his cool and made some good passes and the best was on the last lap to beat Nicky. It his first podium in MotoGP and certainly not his last because he is such a bright talent for the future."
Edwards finished ninth at the new British Grand Prix venue.
"I don't want to be finishing in ninth at all but honestly I'm reasonably happy with the way I rode and it was a lot better than I expected after what has been a tough weekend," he said.
"The bike isn't agile enough and having to muscle it around gave me a small arm pump problem, but not as bad as Mugello. If I could get the bike to go where I want it to go I could save lots of time, but we've got some ideas for the future. It was a bit of a lonely race but I rode as hard as I could for as long as I could.
"I want to congratulate Ben though because he did an awesome job and I've got nothing but admiration for him. He showed today what a great rider he is and it is great for the Monster Yamaha Tech 3 Team to be back on the podium."
Silverstone results:
1.  Jorge Lorenzo  ESP Fiat Yamaha Team  41m 34.083s
2. Andrea Dovizioso ITA Repsol Honda Team 41m 40.826s
3. Ben Spies USA Monster Yamaha Tech 3 41m 41.180s
4. Nicky Hayden USA Ducati Marlboro Team 41m 41.397s
5. Casey Stoner AUS Ducati Marlboro Team 41m 41.577s
6. Randy de Puniet FRA LCR Honda MotoGP 41m 43.138s
7. Marco Simoncelli ITA San Carlo Honda Gresini 41m 48.508s
8. Dani Pedrosa ESP Repsol Honda Team 41m 49.396s
9. Colin Edwards USA Monster Yamaha Tech 3 42m 2.0370s
10. Aleix Espargaro ESP Pramac Racing 42m 16.477s
11. Hector Barbera ESP Paginas Amarillas Aspar 42m 17.448s
12. Alvaro Bautista ESP Rizla Suzuki MotoGP 42m 17.491s
13. Mika Kallio FIN Pramac Racing 42m 17.663s
DNF:
Loris Capirossi ITA Rizla Suzuki MotoGP
Marco Melandri ITA San Carlo Honda Gresini
Championship points:
1.      Jorge Lorenzo      Fiat Yamaha Team 115
2.      Andrea Dovizioso Repsol Honda Team 78
3.      Dani Pedrosa       Repsol Honda Team 73
4.      Valentino Rossi    Fiat Yamaha Team 61
5.      Nicky Hayden      Ducati Marlboro Team 52
6.      Randy de Puniet  LCR Honda 46
7.      Ben Spies   Monster Yamaha Tech3 36
8.      Casey Stoner      Ducati Marlboro Team 35
9.      Marco Melandri    San Carlo Honda Gresini 32
=      Marco Simoncelli San Carlo Honda Gresini 32
11.    Colin Edwards     Monster Yamaha Tech3 26
12.    Hector Barbera    Aspar Racing Team 24
13.    Alex Espargaro    Pramac Racing Team 22
14.    Hiroshi Aoyama   Interwetten Honda MotoGP 18
15.    Mika Kallio Pramac Racing Team 15
16.    Loris Capirossi     Rizla Suzuki MotoGP 13
17.    Alvaro Bautista    Rizla Suzuki MotoGP 12
Photo courtesy Yamaha