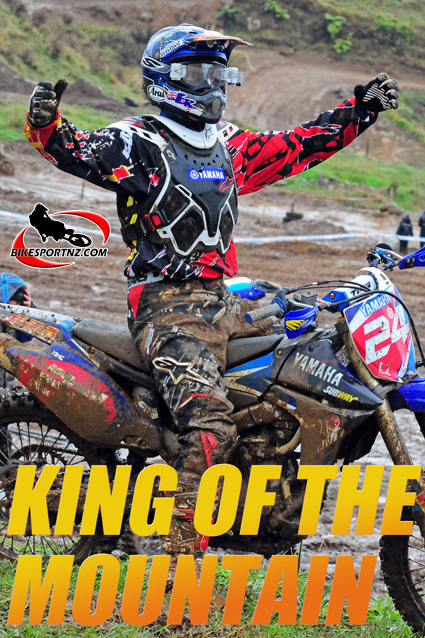 Racing was a lottery at the muddy King of the Mountain motocross at the weekend and the winning number was 24.
That was the number of the side and front of Cambridge rider Damien King's Yamaha, the national 125cc motocross champion stepping back up to a 450cc bike for the rain-drenched meeting at New Plymouth's Barrett Road Motorcycle Park circuit, the event which also doubled as the second and final round of the North Island Motocross Championships.
Not only is he a reigning national champion, but the track has always been one of his favourites and the muddier it is the better.
Nature obliged with occasional downpours, the only thing to break up the monotony of persistent rain squalls at the event.
"This is probably the worst conditions I have raced in," said the 34-year-old King, who defied the adversity to race away with the glamour MX1 class title as well as winning the one-off King of the Mountain feature race on Sunday.
Other riders to impress at the weekend were Hamilton's Jesse Wiki (Honda), who won the MX2 class, and Napier's Stuart Young (Suzuki), who won the senior 125cc class.
Mangakino's Kayne Lamont (Suzuki) won both the junior 15-16 years' 125cc class and the junior 14-16 years' 250cc class on Saturday, although the 250cc class win only came thanks to a countback, with Kapiti's Samuel Dews (Yamaha) sharing the wins with Lamont in that division.
© Words and photos by Andy McGechan, www.BikesportNZ.com
Full story and more photos in your next issue of KIWI RIDER magazine.