NZ CROSS-COUNTRY NATIONALS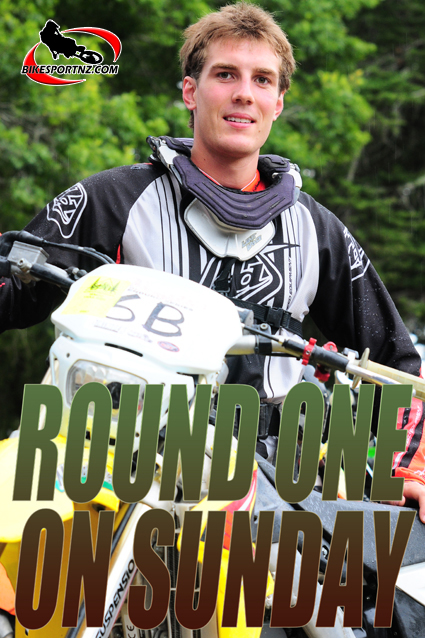 If the phrase "fast and furious" typifies anything, it's the national cross-country motorcycle championships.
The nation's best off-road racers head to Waipukurau this weekend to kick off the four-round Suzuki-sponsored New Zealand Cross-country Nationals with only one thing certain … that it's impossible to pick a winner.
Top battlers such as defending champion Adam Reeves (Yamaha), of Pahiatua, Pukekohe's Luke Ramsey (Kawasaki), Te Kauwahata's Jason Moorfield (Kawasaki), Napier brothers John and Lance O'Dea (Suzuki), Tauranga's Scott Barr-Smith (KTM), Wellington's Hugh Lintott (Honda), Norsewood's Kevin Hermansen (Kawasaki) and Auckland 19-year-old Sam Greenslade (Suzuki) (pictured above), to name just a few, are all expected to challenge hard for the title.
South Island riders to watch for include Otautau's Justin Shaw (Kawasaki), Waikouaiti's Shaun Blackie (Yamaha), Milton's Liam Taal (Kawasaki) and Gore's Richard White (Husaberg).
Raglan's Jason Dickey (Kawasaki), Palmerston North's Jordan Wilson (KTM) and Cambridge's Chris Foster (Yamaha) are expected to feature in the junior ranks.
"Each of the rounds will really test the riders and will feature a wide mix of terrains. It will be speed plus consistency that wins the crown," said Motorcycling New Zealand cross-country commissioner Murray Searle, of Palmerston North.
"We have had lots of good lead-up events to this national series and it looks very open as to who could win this year. Several key riders are away competing at the Australian Four-Day Enduro, so they won't be at Waipukurau, but that only makes it more interesting.
"Three of the four rounds count to the national crown, so that means the riders who are away racing in Australia – men such as Taranaki's Adrian Smith and Whitby's Rory Mead – can afford no mistakes in the rest of the New Zealand series.
"The O'Dea brothers are in really hot form, having wrapped up the Bushriders' Cross-country series (near Pahiatua), finishing 1-2 overall just last weekend," said Searle. "Reeves won the day at that event and he is also obviously in top form too, but he didn't contest that whole series so didn't feature in the series standings.
"I'd also expect big things from Luke Ramsey this year."
The venue will be signposted from the main street in Waipukurau and it is about 30 minutes' drive towards the Pacific coastline.
The series is sponsored by Suzuki, DRD magazine, Hydraulink fluid connectors.
Calendar for the 2010 Suzuki New Zealand 3-Hour Cross Country Series.
(Three rounds out of 4 count for series result)
Round 1 N.Z  Sunday April 11, Waipukurau.
Round 2 N.Z. Saturday, April 17, Nelson.
Round 3 N.Z. Saturday, May 1, Wellington.
Round 4 N.Z. Saturday, May 15, Christchurch.
Riders must contest the final round to be eligible for the New Zealand Championship.
© Words and photo by Andy McGechan, www.BikesportNZ.com