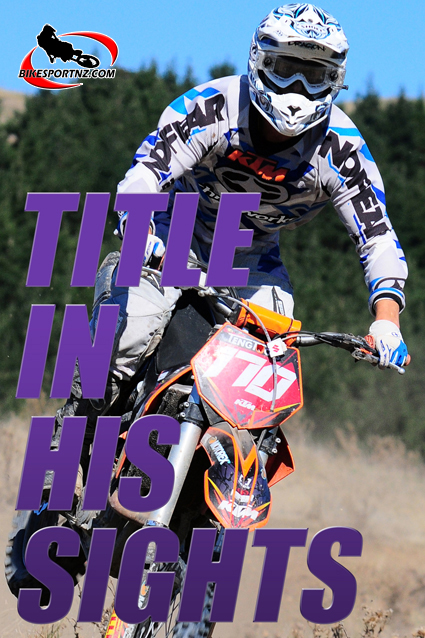 A week can be a lifetime in the world of cross-country motorcycle racing.

One week Waitekere's Shaun Fogarty was down and out, but now the Motorex KTM rider is up and very much in the reckoning to win the Suzuki National Cross-country Championships after a stunning win at round two of the series near Nelson on Saturday.
Fogarty suffered mechanical failure at the opening round near Waipukurau a week earlier, condemning him to a disappointing 55th overall, while defending champion Adam Reeves (Yamaha), of Pahiatua, raced to victory instead.
But, with riders to count the points from only three of the four rounds, Fogarty will surely drop the 55th placing from his record and now hope for more sensational wins at the two rounds that remain.
Reeves finished runner-up on Saturday, giving him an almost perfect 1-2 record thus far and he therefore remains the favourite to take the title again this season.
"The series is proving very popular. We had 120 bikes on the line to start this race," said Motorcycling New Zealand cross-country commissioner Murray Searle, of Palmerston North.
"Adam Reeves did the fastest lap time of the day but he needed an extra fuel stop and that probably cost him."
Fogarty said he was merely grateful that he could thrust himself back into contention after the horror opener.
"It definitely helps to have a win," said the 28-year-old builder matter-of-factly. "I just need to be on the boil again over the next couple of rounds.
"I've only done four or five of these cross-country races, so it's all a bit new for me. I'm learning something every time I ride."
Napier's John O'Dea (Suzuki RM-X450) finished third on Saturday, while Auckland's Sam Greenslade (Suzuki RM-Z250) and Huntly's Michael Vining (Suzuki RM-Z450) rounded out the top five.
All these riders are strong contenders to take the crown when the series wraps up near Christchurch on May 15.
But next up there's round three, set for Wellington on May 1, where the riders will look to consolidate or improve their relative positions.
The series is sponsored by Suzuki, DRD magazine, Hydraulink fluid connectors.
Calendar for the 2010 Suzuki New Zealand 3-Hour Cross Country Series.
(Three out of 4 count for series result)
Round 1, Sunday April 11, Waipukurau.
Round 2, Saturday, April 17, Nelson.
Round 3, Saturday, May 1, Wellington.
Round 4, Saturday, May 15, Christchurch.
Riders must contest the final round to be eligible for the New Zealand Championship.
© Words and photo by Andy McGechan, www.BikesportNZ.com
Full story and more photos in your next issue of KIWI RIDER magazine.