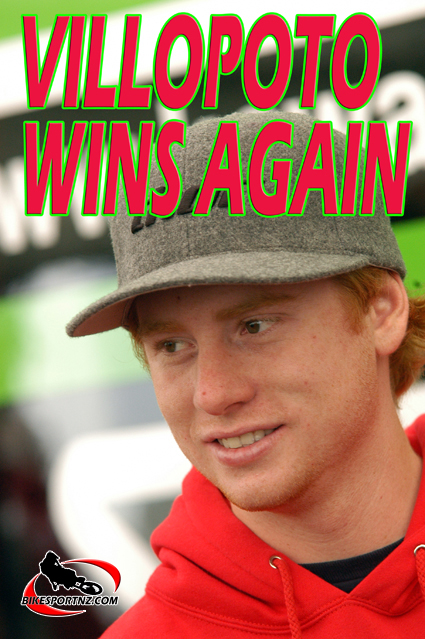 Kawasaki's Ryan Villopoto put on a dominating performance, leading all 20 laps on way to his first career Daytona Supercross victory on Saturday night at the Daytona International Speedway.
The rider from Seattle, Washington, took the holeshot in the 20-lap event staged inside the Speedway's tri-oval and held off a late charge from Suzuki's Ryan Dungey to secure a 4.445-second victory. Honda's Trey Canard rounded out the podium.
Fourth was Honda's Kevin Windham, fifth was Honda's Davi Millsaps sixth place went to Suzuki's Tommy Hahn, followed by Kawasaki's Nick Wey, Yamaha's Kyle Chisholm, Yamaha's Josh Hill and Suzuki's Ryan Morias, who is now filling in for injured Australian Matt Moss on the Rockstar Makita Suzuki.
Yamaha's Ivan Tedesco DNF'ed after colliding with Justin Brayton and injuring his hand early in the race.
J-Law Racing's Jason Lawrence did not race after hurting himself in a fall during practice.
"I got a great start and was able to get that hole shot," Villopoto said. "The track was tough.  It's easy to make little mistakes here.  It's important to get out front.  I think it's a lot easier to pass here than in a stadium.  But it doesn't matter what track it is, a hole shot is 90% of the race.
"It's nice to finally add this race to the list of wins," Villopoto added.
The win was Villopoto's fourth of the AMA Supercross season while Dungey maintains a 20-point lead in the AMA Supercross standings.
In the 15-lap Lites East Supercross event, France's Christophe Pourcel, aboard a Kawasaki, captured his third straight victory of the season. Austin Stroupe and Dean Wilson rounded out the podium.
"Daytona, it's a huge race," said Stroupe.  "It would be an honour to win this race but to be on the podium and finish second, it feels just as good."
Three-time Daytona Supercross champion Chad Reed sat out Saturday's event. Reed, coming off surgery for an injured wrist, practiced and qualified but opted not to return to competition just yet.
For the third straight year, the Daytona Supercross By Honda course was designed by five-time Daytona Supercross champion Ricky Carmichael and built by three-time national champion Mark Barnett.
The course had a couple of new twists such as the relocation of the starting gate to the West end of the tri-oval and the placement of the finish line in the centre of the track closer to the fans.
"Ricky did a great job with the course," Dungey said. "I can't believe all the people that showed up here tonight."
RESULTS:
Supercross Class
1. Ryan Villopoto (Kaw)
2. Ryan Dungey (Suz)
3. Trey Canard (Hon)
4. Kevin Windham (Hon)
5. Davi Millsaps (Hon)
6. Thomas Hahn (Suz)
7. Nick Wey (Kaw)
8. Kyle Chisholm (Yam)
9. Josh Hill (Yam)
10. Ryan Morais (Suz)
11. Jarred Browne (Kaw)
12. Michael Byrne (Yam)
13. Matt Boni (Hon)
14. Jason Thomas (Suz)
15. Manuel Rivas (Kaw)
16. Heath Voss (Hon)
17. Chris Blose (Hon)
18. Justin Brayton (Yam)
19. Ivan Tedesco (Yam)
20. Grant Langston (Yam)
Supercross Class Points:
1. Dungey (192/3 wins);
2. Villopoto (172/4 wins);
3. Hill (162);
4. Millsaps (150/1 win);
5. Windham (131).
Lites East Region:
1. Christophe Pourcel (Kaw)
2. Austin Stroupe (Suz)
3. Dean Wilson (Kaw)
4. Blake Baggett (Suz)
5. Justin Barcia (Hon)
6. Ryan Sipes (Yam)
7. Brett Metcalfe (Hon)
8. Darryn Durham (Hon)
9. Kyle Cunningham (Hon)
10. Martin Davalos (Yam)
11. Vince Friese (Yam)
12. Alex Martin (Hon)
13. Nico Izzi (Yam)
14. James Decotis (Hon)
15. Josh Lichtle (Hon)
16. Jake Moss (Suz)
17. Troy Adams (Suz)
18. Kyle Keylon (Suz)
19. Michael Willard (Hon)
20. Levi Kilbarger (Hon)
Lites East Region Points:
1. Pourcel (75/3 wins);
2. Stroupe (66);
3. Wilson (53);
4. Metcalfe (50);
5. Baggett (44).
© Photo by Andy McGechan, www.BikesportNZ.com