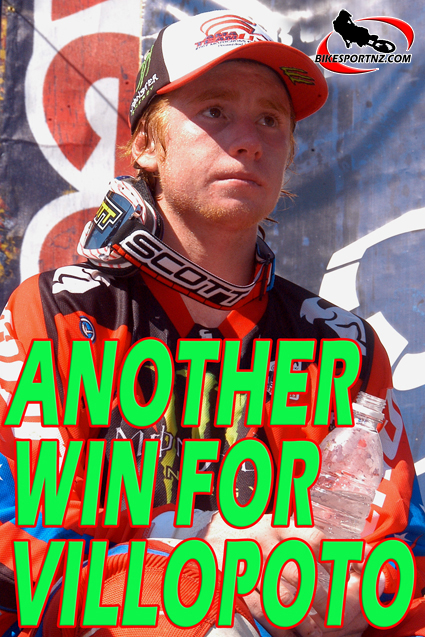 It was another strong night for Kawasaki's Ryan Villopoto as he raced to his fifth win of the year at round nine of the Monster Energy AMA Supercross at Toronto's Rogers Centre in Canada on Saturday night.
In front of a crowd of more than 42,000 fans, Honda's Justin Barcia joined Villopoto as the night's other winner after he took the AMA Supercross Lites chequered flag first for his first-career win.
As the gates dropped on the premier AMA Supercross class main event, Honda's Trey Canard grabbed the holeshot, followed by Yamaha's Ivan Tedesco and Villopoto. Before the end of the first lap, Villopoto made his move for the lead around Canard and went on to lead all 20 laps of the main event.
"I really wouldn't be in this position without all of my team and everyone involved," said Villopoto.
"The last couple weeks we've been on it and it's what we need to do. (The racing is) close and it's been tough. I need to make up ground and I got to make those passes quick. I (also) need to keep getting good starts."
Current points leader Ryan Dungey started the race in fourth but worked his way into second place on lap five and ran there the rest of the way aboard his Suzuki, minimising Villopoto's advantage. Canard held on for third, his third straight podium result.
Barcia became just the second different winner this season in the AMA Supercross Lites Eastern Regional Championship after grabbing the holeshot and leading all 15 laps of the main event.
Suzuki's Austin Stroupe kept Barcia honest throughout the race by running a close second and went on to garner his fourth consecutive runner-up finish.
The battle for third was close between current points leader Christophe Pourcel and his Kawasaki team-mate and Canadian native Dean Wilson but the defending Eastern Regional Champion was able to secure the third and final spot on the podium.
"(This win) means everything to me," exclaimed Barcia. "I really want to thank my mom and dad and my team.
"All these fans here were cheering me on so thanks a lot to everyone. It's an incredible feeling, I've been trying so hard all year. This definitely ranks at the top of my list as far as accomplishments and I feel to lucky to have such a great team behind me."
Dungey currently holds a 17-point lead over Villopoto in the AMA Supercross standings. Pourcel leads Stroupe by seven points in the AMA Supercross Lites Eastern Regional Championship.
The 2010 Monster Energy AMA Supercross season continues next weekend from the brand new Cowboys Stadium in Arlington, Texas.
AMA Supercross Class Results: Toronto:
1. Ryan Villopoto, Poulsbo, Wash., Kawasaki
2. Ryan Dungey, Belle Plaine, Minn., Suzuki
3. Trey Canard, Shawnee, Okla., Honda
4. Ivan Tedesco, Murrieta, Calif., Yamaha
5. Kevin Windham, Centerville, Miss., Honda
6. Josh Hill, Carlsbad, Calif., Yamaha
7. Nick Wey, Murrieta, Calif., Kawasaki
8. Tommy Hahn, Alvord, Texas, Suzuki
9. Justin Brayton, Murrieta, Calif., Yamaha
10. Matt Boni, Geneva, Fla., Honda
AMA Supercross Class Season Standings:
1. Ryan Dungey, Belle Plaine, Minn., Suzuki, 214
2. Ryan Villopoto, Poulsbo, Wash., Kawasaki, 197
3. Josh Hill, Carlsbad, Calif., Yamaha, 177
4. Davi Millsaps, Murrieta, Calif., Honda, 152
5. Kevin Windham, Centerville, Miss., Honda, 147
6. Justin Brayton, Murrieta, Calif., Yamaha, 136
7. Ivan Tedesco, Murrieta, Calif., Yamaha, 135
8. Nick Wey, Murrieta, Calif., Kawasaki, 113
9. Kyle Chisholm, Valrico, Fla., Yamaha, 92
10. Tommy Hahn, Alvord, Texas, Suzuki, 89
Eastern Regional AMA Supercross Lites Class Results: Toronto:
1. Justin Barcia, Ochlocknee, Ga., Honda
2. Austin Stroupe, Lincolnton, N.C., Suzuki
3. Christophe Pourcel, Groveland, Fla., Kawasaki
4. Dean Wilson, San Jacinto, Calif., Kawasaki
5. Ryan Sipes, Vine Grove, Ky., Yamaha
6. Brett Metcalfe, Lake Elsinore, Calif., Honda
7. Kyle Cunningham, Fort Worth, Texas, Honda
8. Troy Adams, Homosassa, Fla., Suzuki
9. Mike Willard, Newark, Ohio, Honda
10. Nico Izzi, Albany, Ga., Yamaha
Eastern Regional AMA Supercross Lites Class Season Standings:
1. Christophe Pourcel, Groveland, Fla., Kawasaki, 95
2. Austin Stroupe, Lincolnton, N.C., Suzuki, 88
3. Dean Wilson, San Jacinto, Calif., Kawasaki, 71
4. Brett Metcalfe, Lake Elsinore, Calif., Honda, 65
5. Justin Barcia, Ochlocknee, Ga., Honda, 64
6. Ryan Sipes, Vine Grove, Ky., Yamaha, 55
7. Blake Baggett, Grand Terrace, Calif., Suzuki, 46
8. Nico Izzi, Albany, Ga., Yamaha, 41
9. Kyle Cunningham, Fort Worth, Texas, Honda, 40
10. Vince Friese, Cape Girardeau, Mo., 39
© Photo by Andy McGechan, www.BikesportNZ.com