It has been five years since Whakatane's Tony Rees has travelled down to the Manawatu to race motorcycles at Manfeild, but there was no evidence of rustiness from the former national champion last weekend.
Rees took his 1000cc Yamaha R1, in completely stock trim, to pit himself against the best souped-up superbike riders in the business at the fourth round of five in this year's New Zealand Superbike Championships and he left for home on Sunday afternoon with a huge smile on his face.
"Friday was always going to be a big day — re-acquainting myself with the track and getting the new Yamaha R1 handling the way I liked it.
By Saturday morning, Rees had managed to bring his lap times down a fraction in qualifying, good enough for 10th spot on the grid for Superbikes and putting him top qualifier in the class-within-a-class for Superstock (Open Stock Production) racing.
"The R1 Yamaha is one awesome bike to get off the line, so I was right amongst the action with the Superbikes for a short while in race one on Sunday, before being out-horsepowered one time too many.
"That being said, I enjoyed the race through to the end to finish first in Superstock classification and 10th overall in superbikes."
Rees also clocked a new lap record for the Superstock class, one minute 8.695 seconds.
"I got another great start in race two and was really starting to feel at home on the Yamaha R1. I was in the hot action with the Superbikes, this time managing to stay a little longer with the Superbikes, consistently half a second faster per lap."
But then disaster struck the 42-year-old bike shop owner and multiple former champion.
In race one I finished with four litres of extra fuel, so we lightened the load for race two, but it proved too light and, with six laps to go, the fuel light came on.
"I knew there was enough for another four laps but not six, and so, with two laps to go, the bike starting to run out of fuel, it was a quick dash into the pits for a splash of fuel and out again.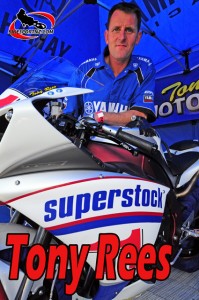 "This put me a lap down on the first three Superbikes but still in the lead for the Superstock class.  I finished race two in eighth overall in Superbikes and first in the Superstock class, setting another new lap record for the Superstock class of one minute 08.084 seconds.
"It was a great weekends' racing for the Tony Rees Yamaha team with two first placings in the Superstock class and a 10th and eighth overall in the Superbike class."
Rees will also contest the fifth and final round at the new circuit at Hampton Downs, near Meremere, on March 28.
Next year's champion ship series is expected to be limited to stock bikes and Rees has already shown he's on the right track to be a feature at the front in 2011.
© Words and photo by Andy McGechan, www.BikesportNZ.com