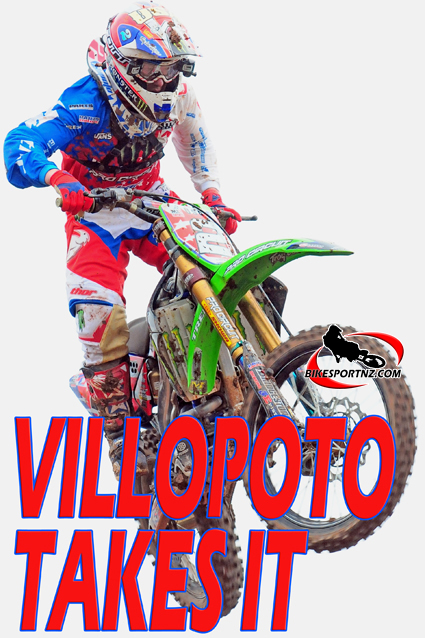 Kawasaki's Ryan Villopoto won his first AMA Supercross, an FIM World Championship, race of the season in San Francisco on Saturday night.
It was Villopoto who took the most advantage on Saturday night as defending champion James Stewart (Yamaha) was absent from racing as he requires surgery on a broken scaphoid in his right wrist. Stewart will now assess his recovery and fitness on a weekly basis.
Meanwhile, Honda's Trey Canard won his first Western Regional AMA Supercross Lites class race of the season, leading wire-to-wire.
Suzuki's Ryan Dungey captured the holeshot award with Villopoto and Honda's Davi Millsaps following in second and third respectively. Millsaps passed Villopoto on the first lap but crashed on lap four, giving second place back to Villopoto.
While leading on lap 10, Dungey crashed and dropped back to fourth place. This allowed Villopoto to move into the lead, Hill to second and Millsaps to third.
"I lost my foot and went sailing," said Dungey. "It could have been a lot worse. I am glad I am not hurt."
The win for Villopoto marked the third in his career. Hill finished second and Millsaps finished third.
"The track was tough and slippery," said Villopoto. "It was hard to put in 20 perfect laps out there tonight. It wasn't the start that I wanted, so I played catch-up. It is a long season with a lot of racing left."
Troy Lee Designs Honda's Cole Seeley won the holeshot award in the Lites race, but it was Canard, who quickly stole the lead.
Current Lites class points leader Jake Weimer (Kawasaki) moved into second with Yamaha's Broc Tickle holding the number three position. Weimer held on for second and Kawasaki's Josh Hansen for third.
"I had a rough start to this season, and I am finally starting to come around," said Canard. "This was great night for me and my team."
"I hate losing and I lost tonight, but I have the points lead and am thankful for everyone that has helped me get here," said Weimer.
AMA Supercross Class Results: San Francisco
1. Ryan Villopoto, Poulsbo, Wash., Kawasaki
2. Josh Hill, Yoncalla, Ore., Yamaha
3. Davi Millsaps, Murrieta, Calif., Honda
4. Ryan Dungey, Belle Plaine, Minn., Suzuki
5. Andrew Short, Smithville, Texas, Honda
6. Justin Brayton, Murrieta, Calif., Yamaha
7. Ivan Tedesco, Murrieta, Calif., Yamaha
8. Nick Wey, Dewitt, Mich., Kawasaki
9. Thomas Hahn, Alvord, Texas, Suzuki
10. Michael Byrne, Atlanta, Ga., Yamaha
AMA Supercross Class Season Standings
1. Ryan Dungey, Belle Plaine, Minn., Suzuki, 90
2. Josh Hill, Yoncalla, Ore., Yamaha, 79
3. Ryan Villopoto, Poulsbo, Wash., Kawasaki, 77
4. Andrew Short, Smithville, Texas, Honda, 68
5. Kevin Windham, Centerville, Miss., Honda, 61
6. Davi Millsaps, Murrieta, Calif., Honda, 57
7. Ivan Tedesco, Murrieta, Calif., Yamaha, 57
8. Justin Brayton, Murrieta, Calif., Yamaha, 56
9. James Stewart, Haines City, Fla., Yamaha, 51
10. Tommy Hahn, Decatur, Texas, Suzuki, 42
Western Regional AMA Supercross Lites Class Results: San Francisco
1. Trey Canard, Shawnee, Okla., Honda
2. Jake Weimer, Rupert, Idaho, Kawasaki
3. Broc Tickle, Holly, Mich., Yamaha
4. Wil Hahn, Decatur, Texas, Honda
5. Cole Seely, Newbury Park, Calif., Honda
6. Travis Baker, Temecula, Calif., Honda
7. Josh Hansen, Elbert, Colo., Kawasaki
8. Max Antsie, Hemet, Calif., Yamaha
9. Jeff Alessi, Apple Valley, Calif., Yamaha
10. Phillip Nicoletti, Bethel, N.Y., KTM
Western Regional AMA Supercross Lites Class Season Standings
1. Jake Weimer, Rupert, Idaho, Kawasaki, 97
2. Trey Canard, Shawnee, Okla., Honda, 81
3. Wil Hahn, Decatur, Texas, Honda, 74
4. Broc Tickle, Holly, Mich., Yamaha, 62
5. Blake Wharton, Pilot Point, Texas, Honda, 59
6. Cole Seely, Newbury Park, Calif., Honda, 54
7. Josh Hansen, Elbert, Colo., Kawasaki, 46
8. Max Anstie, Hemet, Calif., Yamaha, 45
9. Ryan Morais, Murrieta, Calif., Suzuki, 42
10. Jeff Alessi, Apple Valley, Calif., Yamaha, 40
© Photo by Andy McGechan, www.BikesportNZ.com