TOWNLEY READY AND WILLING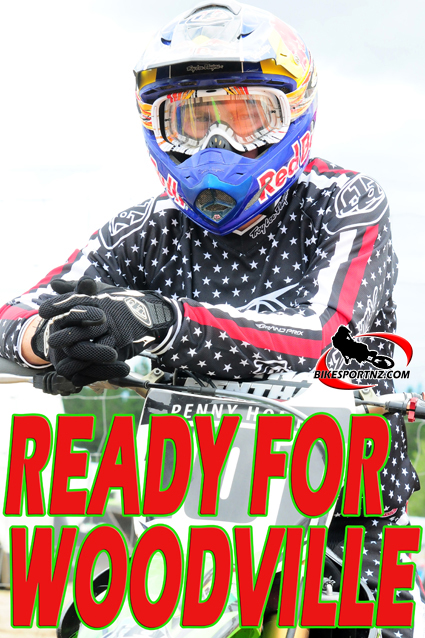 The annual New Zealand Motocross Grand Prix at Woodville is a lot of things to a lot of people.
But this year's 49th annual edition probably means more to Tauranga's Ben Townley than any of the more than 600 riders expected to arrive at the northern end of the Manawatu Gorge next weekend. (Jan 30-31, 2010)
Townley was world MX2 (250cc) champion in 2004 and was East Coast Lites (250cc) supercross champion in the United States just two years after that, but his international career has been virtually on ice for the past two seasons.
He crashed in America at the end of 2007 and has not been able to race properly since.
He battled to recover from his serious shoulder injury but, frustrated with his progress, he returned to New Zealand midway through last year in a final, desperate bid to mend and regain strength.
The recovery has gone well and the Kawasaki rider climbed back on a bike just after Christmas — and he has been on a winning streak ever since.
Ben Townley is well and truly back.
The 49th annual Honda-sponsored New Zealand Motocross GP at Woodville will be his final farewell event before he heads back to the US to rekindle his career there.
"I have not raced at Woodville since I was about 13 or 14. It's a real highlight on the New Zealand race calendar and I would really love to win there," said the 25-year-old.
"it would also be a huge thing to win the New Zealand GP title that's at stake at Woodville. That's very important to me.
"I really love racing at Woodville because the club does such a great job with the track. I like to see that the sport here is growing and the Manawatu club is making that happen. They prepare the track well and the atmosphere is good. I'd like to be a part of that and support it."
In addition to Townley, Woodville has attracted several other world class riders, including Kiwi internationals Cody Cooper (Suzuki), of Mount Maunganui, Rotorua's Michael Phillips (Honda), Queenstown's Scott Columb (Suzuki), national MX1 champion Justin McDonald (Honda), of Christchurch, as well as two-time former 500cc world No.2 Darryll King (Yamaha), of Hamilton, a five-time former winner of the main Woodville trophy.
Top Australian riders Jay Wilson (KTM), currently the world 85cc champion, and world 125cc No.2 Tye Simmonds (KTM) are entered and they will also be hoping to keep Townley honest.
© Words and photo by Andy McGechan, www.BikesportNZ.com