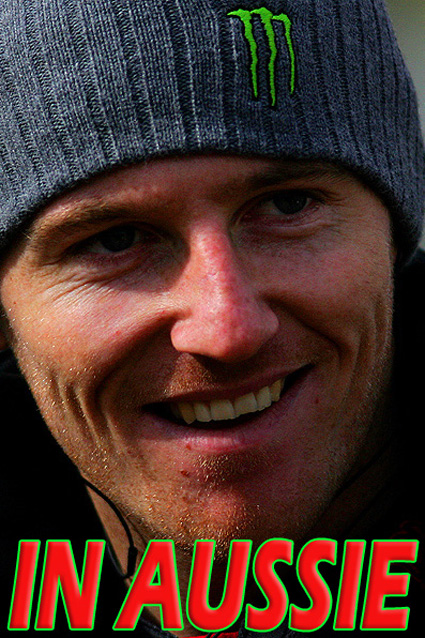 It might seem like Billy Mackenzie has fallen of the face of the earth, however the three time Grand Prix of Japan winner has been working hard down under (in Australia) and set his sights on a new challenge.
For sure the former British Motocross Champion won't have it all his own way in the Aussie series, although if he shows a little of his GP form, then he might just add an Australian Motocross Championship to his Brit success.
Geoff Meyer from Mxlarge headed down to Australia and found Mackenzie working hard on his new goal. Loaded up with sun screen 30+ to protect his pale skin Billy Mac feels upbeat and excited about his time in Australia.
Here is what he told us.
Q: So how is it going down there, can you explain where you live, what type of life style you got, how you fit in with the Aussies?
Mackenzie: It's going good now, it was a little daunting to begin with, and I arrived with only a small kit bag and no real plan of where I was going to live!  So that was pretty scary, being in a country just me and my girlfriend with no immediate plan.
I ended up staying with Troy Carroll and his family and he helped me sort everything out and get organised for the season ahead.
Right now I am staying in Toowoomba close to Troy; it's a city an hour and a half inland from the coast.  Not a lot goes on in Toowoomba apart from riding and training.  I'm renting a cool little house in a nice area close to some forest and parks so it's nice for running and mountain biking.  Troy is like the mayor of Toowoomba it seems, so it was easy to get to know people and there is a load of us that go riding and training each week.  Everyone seems really cool, and I fit in well with the Aussies, they really get my dry sense of humour! It's cool!
Q: How about training, how are the facilities and tracks down in OZ?
Mackenzie: Well like I said, that's the main reason I moved to Toowoomba to begin with, there are loads of tracks round here and everyone Troy introduced me to have their own private tracks and stuff, so it's really easy for riding, and having people to go mountain biking, or cycling with.  It's inland from the coast so the temperatures get to above 40 degrees C, so it's hard work!
Q: Have you checked your speed yet against the local talent. If so who and where and how did you end up?
Mackenzie: Not really, I've only just started my riding training, but it's going really well so far, better than I expected.  I love riding the Kawasaki at the moment; I've got a really good feeling with it.  I have been riding with a kid called Matty Haworth recently.  He is a really nice genuine kid and wants to do well, so he tries hard all the time and actually goes pretty quick!  We're both just building up our endurance at the moment but he's pretty quick for 10 minutes!  It's just cool having someone to ride with and who wants to train hard, so it's been fun.
Q: Have you thought about the GP season coming up at all. Any slight regrets or anything like that?
Mackenzie: I honestly haven't thought about it at all, it was only after I heard about the AMA supercross that I decided to check out all the usual websites to see what's going on back home.  I have been chatting with Bryan and my dad on the phone, and hearing about all the snow! So definitely no regrets about my decision. I wanted to enjoy riding my bike again, and that's what I have done.  The times I have been out on the bike since New Year I have loved riding more than ever. The Kawasaki has really brought back my smoother style I had in 07 when I had a few people commenting that I rode like Stefan, so that's what I'm focusing on again, riding smooth and precise. I know when I am riding well myself, I don't need to compare my speed to anyone. So my aim is to ride like I know I can ride and have fun doing the laps and training, and then when the time comes to race, I am confident I will be on the pace.  I still want to come back at some point, all depending on how I'm riding and what deals will be available.
Q: Can you give details on the team, and schedule you will have?
Mackenzie: I'm riding for the factory Kawasaki team in oz; we have backing from pro circuit and Japan.  The team is very well set up; we have new workshops just built and get lots of help from Mitch Payton with our engines and suspension.  I don't know what people's opinions on Australia are, but the series is big over here and the teams get proper support just like in Europe.  It's very professionally run and everyone is working hard for the season.  I think the motocross season starts on March 28th.  It's basically just the same set-up as CAS or de Groots but in the sun!
Q: What do you miss about Scotland apart from the weather?
Mackenzie: Ha ha. The weather?  Well I guess it would a been cool to have a white Christmas this year.  Christmas was so weird over here!  Putting decorations up just felt wrong!  So I guess I missed Christmas and the weather, but mostly I just miss my buddies and family.
Q: What makes you enjoy being down there, I mean the countryside is awesome, the people are lay-back, must be a huge amount of circuits to choose from. What are the top five things you really like about OZ?
Mackenzie: The atmosphere at the tracks and racing, the weather, the beaches, ease of travelling! (No traffic, no waiting in line at the airport), the stars at night! (I got a telescope for Christmas!)
© Words and photo by Geoff Meyer, www.mxlarge.com