Another high-octane explosion is set for Manukau City this Saturday night as the New Zealand Supercross Championships reach a climax.
When national supercross championship leader Ben Townley (Kawasaki) crashed at the third round of four in this season's New Zealand Supercross Championships in Tokoroa on Saturday night, many in the large crowd feared the worst.
Was this the end to the Kiwi international's comeback bid? Was this the end to Townley's first New Zealand championship campaign in nearly 10 years?
The former world motocross and American supercross champion limped to the end of the race, albeit in an unaccustomed ninth place.
The Tauranga man, still on a long and painful road to recovery following a shoulder injury suffered in America in 2007, then did a remarkable thing at Tokoroa … he won the next two races and looked comfortable doing it.
The 25-year-old Townley therefore remains on target to take his first national title in nearly 10 years and he will hopefully wrap it all up on the land beside the TelstraClear Events Centre in Manukau City this Saturday night, the area being turned into a floodlit moonscape for a thrilling final round of the championship.
With his 9-1-1 results in Tokoroa on Saturday, Townley extended his lead in the championship chase to 26 points over his nearest threat, Christchurch Honda rider Justin McDonald. Mount Maunganui pair Mason Phillips (Kawasaki) and Cody Cooper (Suzuki) are third equal, just one point further back.
Winner on the night in Tokoroa was fellow Bay of Plenty rider Cooper.
With 1-3-2 results, the seasoned international leapt from fourth to third equal in the championship standings and he fully intends to move up one or two more places this Saturday night.
"The way things have been going for me lately, I have to say I'm surprised I won the night. I was sick at round one and then crashed and hurt my knee. Then I got only second placings at round two … but now I've got an overall win to celebrate.
"I struggled a bit tonight because my sore knee has no strength in it. It's all swelled up. I'll just have to see what I can manage at the final round in Auckland."
The Senior Lites (250cc) class in Tokoroa belonged to defending champion Scott Columb (Suzuki), the Queenstown man finishing 2-1-1 on the night to edge out dual-class campaigner Phillips – who took his Kawasaki to 1-2-2 finishes.
Phillips raced in Canada all last season and has shown remarkable strength and stamina, not to mention skill, to earn a podium position in two classes.
Rangiora's Isaiah McGoldrick (KTM) won the junior 250cc class at Tokoroa and created a 16-point buffer over nearest challenger Tom Managh (Suzuki), of Wanganui.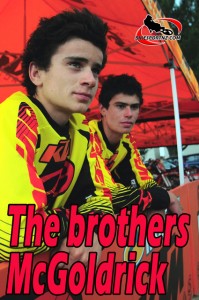 Managh crashed at Tokoroa and is now sidelined for up to three months, leaving the way clear for third-ranked rider, Auckland's Brandon Tipene (KTM), to move up on Saturday.
McGoldrick's younger brother Micah topped the podium in the Junior Lites (85cc) class at Tokoroa and he now enjoys a 21-point advantage over Feilding's Haki Waller (Kawasaki).
Leading standings after round three of the New Zealand Supercross Championships at Tokoroa:
Senior open:
1. Ben Townley (Tauranga) 162 points;
2. Justin McDonald (Christchurch) 136;
3= Mason Phillips (Mount Maunganui) 135;
3= Cody Cooper (Mount Maunganui) 135
Senior lites:
1. Scott Columb (Queenstown) 165 points;
2. Mason Phillips (Mount Maunganui) 156;
3. Brad Groombridge (Taupo) 132.
Junior 250cc:
1. Isaiah McGoldrick (Rangiora) 157 points;
2. Tom Managh (Wanganui) 141;
3. Brandon Tipene (Auckland) 125.
Junior lites:
1. Micah McGoldrick (Rangiora) 172 points;
2. Haki Waller (Feilding) 151;
3. Scott Sowry (Pahiatua) 130.
© Words and photos by Andy McGechan, www.BikesportNZ.com