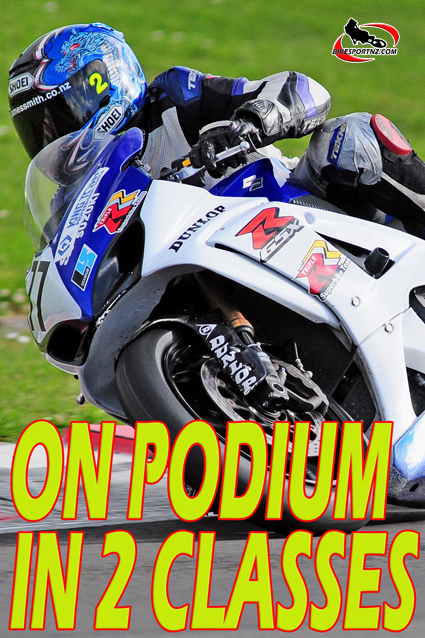 It would be a brave person who'd bet against the Triple R Suzuki race team this summer and, after the opening round of the New Zealand Superbike Championships near Christchurch last weekend, all bets are off.
Even though leading Triple R team rider Robbie Budgen is licking his wounds after crashing at the opening round at Ruapuna, he still only 13 points off the lead held by Hamilton's Andrew Stroud.
Stroud was runner-up to Bugden in the championship chase last season and it looks likely to be another slug-fest between the two Suzuki riders after they shared wins at Ruapuna, Bugden winning the day's first superbike race before crashing to the sidelines.
But 13 points is really nothing in the big scheme of things and Stroud will have to be wary of the Aussie charger over the next few rounds, starting with Invercargill's Teretonga circuit this weekend.
Stroud finished 4-1 and leads the series after this first of five rounds, with fellow Waikato man Sloan Frost (Suzuki) just two points behind.
Again guided by winning manager Peter "Red" Fenton, of Christchurch, the Triple R Suzuki motorcycle race team is this year mounting a two-pronged assault on the nationals and it's their No.2 rider who has perhaps been most impressive so far.
Christchurch rider James Smith (pictured above) is third in the superbike standings after round one, just three points behind Frost.
Smith was 600cc sports production class runner-up last year and, in addition to stepping up to the 1000cc superbike, he is persevering with the 600cc class as well.
Smith found himself runner-up to Hamilton Kawasaki ace Nick Cole in that class after the weekend's racing at Ruapuna.
"As a superbike newbie, I don't have any pressure on me to perform in that class … except the pressure I'm putting on myself," Smith said.
"I'm riding the 2009-model GSX-R1000 that Robbie used to win the superbike title last year, so I know it's a great bike."
For Smith, the season is particularly meaningful as he actually doubles his chances of winning a national title and, so far at least, he looks right on target.
"The superbike bid is really just a learning thing for me. Of course I will be trying very hard to win the superbike title but it's actually the 600cc class that I'm concentrating on."
Although most certainly a leading contender for 600 class honours, Smith knows he has his work cut out.
Cole was a double race winner at Ruapuna and looked comfortable doing so, not to mention the fact that riders such as Christchurch's Dennis Charlett (Suzuki), Chrisrchurch's John Ross (Yamaha), Masteron's Jamie Galway (Honda) and Auckland's Karl Morgan (Suzuki) are nipping at his heels.
"Winning the 600cc title is a box I want to tick before I move on to the superbike class fulltime," said Smith.
"But, in saying that, I am absolutely loving the superbike. The GSX-R1000 really suits me. I have to be careful though, because, even with just a little twist of the throttle, quite a lot happens."
If Smith rides "carefully" and his throttle control is again spot-on this season, it could very easily end up with Smith on the podium in two classes by the time the national series wraps up at Hampton Downs, near Meremere, on March 28.
© Words and photo by Andy McGechan, www.BikesportNZ.com