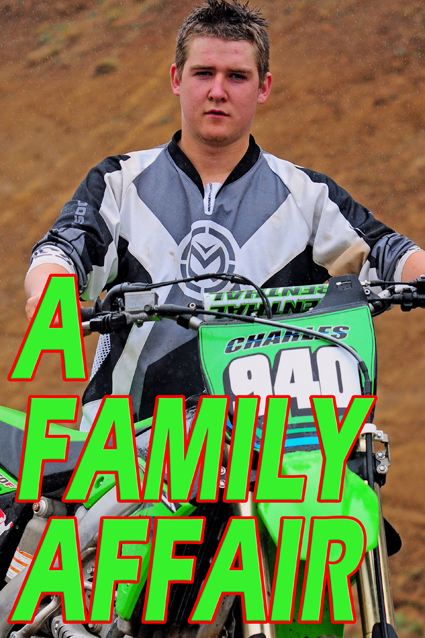 Rangitikei's Charles Alabaster will be a young man on a mission  this summer.
The 17-year-old cross-country motorcycle racer from Raetihi, just outside Wanganui, is determined to win another  national cross-country title, just as he held the national junior title two seasons ago, and he believes he's got just the right machine to do it, a 2010-model Kawasaki KX250F, and he is also counting on huge support from his entire family.
Indeed, the Alabaster campaign is a real family affair, with Alabaster's father, Alf, elder brother Alfred, younger brother Daniel and sister Letitia also racing in the series and all of them on Kawasaki bikes.
Alf senior and Alfred junior will both race KX450F bikes, while Letitia takes a KX250F to challenge for the women's title and 13-year-old Daniel tackles the junior ranks on a KX85 two-stroke. Mum, Debbie, handles the pit duties.
"Mum shouldn't have too much to worry about though," said Charles. "The KX250F is a low-maintenance bike and so easy to ride, so I don't expect to have any mechanical problems out on the track."
And that's an important consideration when tackling the gruelling national cross-country circuit, where a single lap might take up to an hour to complete and the terrain can be very steep and extremely challenging.
"I've only had the Kawasaki a short while but already I feel right at home on it," he said.
"I raced the final couple of rounds of the New Zealand Motocross Championships, in the MX2 class, just to give me extra build-up time on the bike. I didn't do as well as I'd have liked to but I think I did okay. Motocross is a totally different sport but it was good for helping boost my intensity and speed."
Charles Alabaster won the junior cross-country crown in 2008 and finished a close runner-up in 2009, but this coming season he tackles the under-300cc four-stroke class in the senior ranks.
The four-round New Zealand cross-country series kicks off near Waipukurau in April and winds up in the South Island a month later.
"It's a bit of a step up to race against the seniors but, if I can get a good start and be consistent throughout the series, I can do well and maybe even win."
But that's easier said than done, with some very talented off-road racers lining up alongside him, including the current national under-200cc champion Luke Ramsey. This year Pukekohe's Ramsey moves from the KX125 two-stroke to a KX250F four-stroke for the nationals.
Alabaster will also have to contend with other members of the strong Kimmy's Metalman KMP Kawasaki team, front-running riders such as Te Kauwhata's Jason Moorfield and Norsewood's Kevin Hermansen as well as Suzuki's former national champion Cam Smith, of Marton, current No.1 Adam Reeves (Pahiatua, Yamaha), Awakino's Adrian Smith (Yamaha) and evergreen Te Awamutu rider Mark Penny (Suzuki).
Words and photo by Andy McGechan, www.BikesportNZ.com