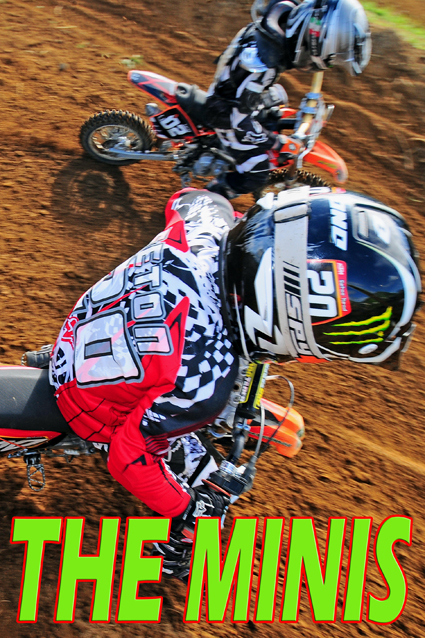 Only a very few riders could stick with Napier's Chace Johnston but, more importantly, nobody could beat him at the New Zealand Mini Motocross Championships in Taranaki at the weekend.
The 11-year-old Hawke's Bay rider was untouchable, scoring maximum points as he won all five of his 9-11 years' 65cc races over the two days of the KTM-sponsored event.
Johnston finished the weekend a massive 17 points clear of his nearest threat, Cambridge rider Trent Liddle-Collins, and a whopping 47 points clear of the third-ranked rider, Hawera's Kieran Baker.
It was a similar tale of dominance in the 7-8 years' 65cc class where Wanganui's Kane Dittmer won two of his five races and finished runner-up in the other three, ending the weekend 18 points clear of Christchurch rider Kayden Bourke.
Ngaruawahia's Jeremy Ashdown and Featherston brothers Jacob and Sam Morison were locked in a tight struggle for honours in the 7-11 years' trail bike class, with Ashdown eventually getting the title, albeit finishing just two points ahead of Jacob Morison, with Sam Morison just a three points further back.
It was also tight at the top of the 6-8 years' 50cc class where Taupo's Oliver Rasmussen eventually won the title by just two points from Hamilton's Caleb Richardson.
Ngatea 7-year-old Isaac Broad was almost unbeatable in the 4-7 years' 50cc class, winning four of his five races and managing third in his final outing to win the class by a safe 22 points from Muriwai Beach rider Jayroy Skinner, with Tauranga's Jacob Hunt just six points further back.
Masterton's Zak Nolan went unbeaten to win the 6-8 years' 50cc trail bike class, as did Muriwai Beach's Ryder Skinner in winning the 4-5 years' 50cc trail bike division.
"The sport is in a very healthy state," said Motorcycling New Zealand junior motocross commissioner Bryan Davidson, of Marton. "This is where the future of the sport will grow from and it's looking very encouraging."
Words and photo by Andy McGechan, www.BikesportNZ.com
Full story and more photos in your next issue of KIWI RIDER magazine.