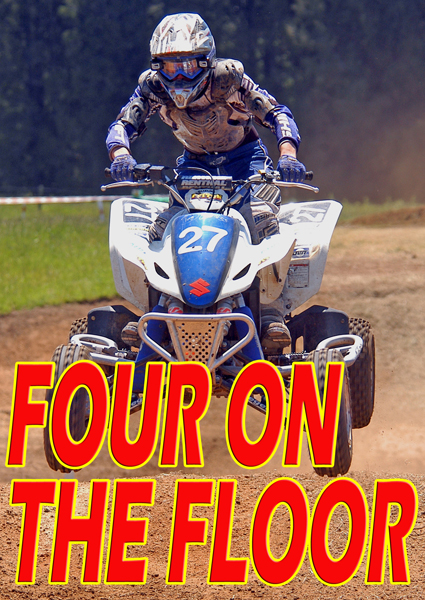 What would normally be a three-way battle for national ATV honours could quickly develop into a five-way scrap this season.
The New Zealand All Terrain Vehicle (ATV) Championships hit grassy farmland just south of Blenheim this weekend in what is being billed as one of the toughest nationals to predict.
Defending national 750cc champion Quentin Palmer, of Taumarunui, is again the favourite to win the main prize — the new premier class created this year — and he'll again probably have perennial frontrunners Ian Ffitch, of Christchurch, and Rotorua's Jason Jepson to deal with.
But this season the regular podium men will have to keep an eye over the shoulders as a couple of very fast former juniors move up to enter the premier category, Christchurch teenagers Sam Henderson (pictured above) and Steven Clyne.
"I'm not taking anything for granted," said Palmer. "There's a lot of racing to be done this weekend and anything can happen. I know I'll have to be at my best if I want to keep the No.1 plate."
Henderson, an 18-year-old apprentice panelbeater, won the national 400cc class title last season and he is excited that the nationals this year are so close to home.
"It's good to have an event of this calibre down south," he said.
"I have raced on this track before but I understand it has been upgraded since then, with a few extra jumps thrown in. I hope I can be competitive against the likes of Quentin Palmer. I know he's a little bit quicker than me but I'll be a threat."
Henderson and Clyne are the future of the sport, according to Motorcycling New Zealand ATV commissioner Wade Taylor, of Napier.
"These teenagers — Henderson and Clyne — are the ones to watch," said Taylor. "Whether they can challenge the likes of Palmer or Jepson this weekend remains to be seen but they will be stars in the future."
Aucklanders Craig Ridgley, Vaughan Adams, Graham Strong and Graeme Giles should also be among those to feature this weekend.
Tauranga's Emma Goldstone should be too strong for her rivals in the women's class.
The racing is at a venue about 20-minutes' drive south of Blenheim and features seven races for each of the classes over the two days.
Words and photo by Andy McGechan, www.BikesportNZ.com