BARCIA WINS; DUNGEY IN FRONT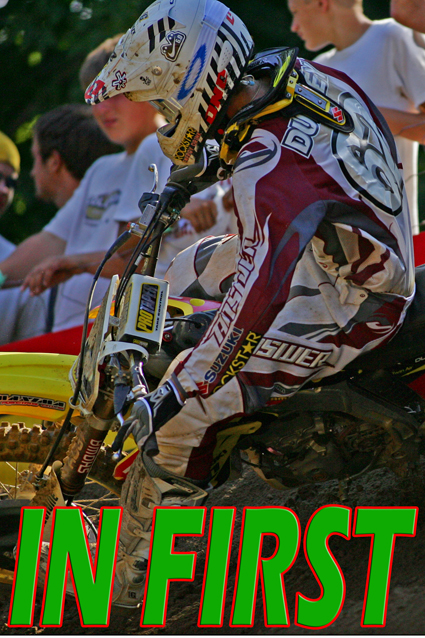 Rookie Justin Barcia took his first 250 class win, while Ryan Dungey stole the points lead in the 250cc class at round 11 of 12 in the motocross nationals in the United States at the weekend.
But it wasn't such a great weekend for New Zealand's Cody Cooper (Yamaha), who managed only 13th and 25th in his two 450cc class outings.
However, Cooper hangs on to eighth in the series standings.
The 450cc title was wrapped up by Australia Chad Reed (Suzuki) at the previous round but the battle still rages for the lesser positions.
In a season highlighted by first-time winners, Factory Yamaha's Matt Goerke, of Lake Helen, Fla., captured an upset victory in New England at the weekend to become the sixth rider in 2009 to win for the first time in the 450 class.
Rain greeted the riders at Moto-X 338 on Saturday — the penultimate round of the 2009 Lucas Oil AMA Pro Motocross Championship — as consistent, light showers fell throughout the day.
In the talented and deep 250 class, Honda's Barcia, of Cairo, Ga., claimed his first-career professional win while team-mate Jessica Patterson, of Tallahassee, Fla., grabbed the victory in the WMX (women's) class.
While newly-crowned premier class champion Reed appeared to be on the way to his fifth straight victory, he crashed out of the lead in the final moto allowing Goerke to assume the top spot and hold on for the win to go along with his sixth place in the opening moto.
"This is the best day of my life," exclaimed Goerke, who is in just his third race as a replacement rider for the Yamaha team to close out the season.
"I crashed in the first moto and thought my day was over. I really was hoping for a good overall (today) but luckily I got back up to sixth. In the second moto, I missed gate pick and had to start all the way outside so it wasn't looking good, but everything worked out."
Suzuki's Michael Byrne, of Australia, secured the runner-up position (3-3), tying for first in points but losing the position by virtue of the second moto tiebreaker. Local legend John Dowd, of Ludlow, Mass., finished third.
While most of the attention on the 250 Class centred on championship contenders Christophe Pourcel, of France, and Dungey, of Belle Plaine, Minn., it was Barcia who stole the spotlight on Saturday afternoon. The rookie competitor has shown considerable speed throughout the season and after winning the first moto, put in another consistent ride in moto two, finishing third to secure the overall.
"I'm just really excited," boasted Barcia. "Today just felt like my day. I woke up in a really good mood and everything just went smooth. I really love it here (at Southwick) and I'm really happy to get my first win here."
Kawasaki's Tyla Rattray, of South Africa, earned his first moto win in the US in moto two to elevate him to a career-best second overall while Honda's Brett Metcalfe, of Australia, finished third.
Dungey (pictured above) captured fourth overall while Pourcel fell to 18th. A 30-point turnaround between the two riders saw Pourcel's 13-point lead heading into the race diminish into a 17-point deficit behind Dungey heading into the final round.
With an opportunity for rival Ashley Fiolek, of St. Augustine, Fla., to clinch the WMX Class title for the second year in a row, Patterson knew she needed to ride at her best in order to keep her title chances alive. She dominated both motos, sweeping for the first time this season and claiming her second straight victory.
Fiolek followed in second aboard her Honda Red Bull machine while rookie Sara Price, of Canyon Lake, Calif., achieved a career-best third overall for her first podium.
"I've been working really hard to get support from a factory team and it finally worked out," said Patterson. "I knew that if I had the chance to ride a good bike I would be able to show what I could do and now I finally have that chance."
RESULTS:
Lucas Oil AMA Pro Motocross Championship
Moto-X 338 Motocross Nationals, Southwick, Mass.
August 29, 2009:
Round 11 of 12
450 class (moto finish):
1. Matt Goerke, Lake Helen, Fla., Yamaha (6-1)
2. Michael Byrne, Australia, Suzuki (3-3)
3. John Dowd, Ludlow, Mass., Kawasaki (10-2)
4. Tommy Hahn, Decatur, Texas, Kawasaki (9-4)
5. Robby Marshall, Stow, Mass., Suzuki (5-7)
6. Kyle Regal, Kemp, Texas, Yamaha (4-10)
7. Andrew Short, Smithville, Texas, Honda (7-9)
8. Chad Reed, Australia, Suzuki (1-31)
9. Jake Moss, Australia, Kawasaki (2-30)
10. Ricky Renner, Lakeland, Fla., Honda (11-12)
450 class championship standings
1. Chad Reed, Australia, Suzuki, 459
2. Andrew Short, Smithville, Texas, Honda, 356
3. Ivan Tedesco, Tallahassee, Fla., Honda, 338
4. Michael Byrne, Australia, Suzuki, 316
5. Josh Grant, Riverside, Calif., Yamaha, 280
6. Thomas Hahn, Decatur, Texas, Kawasaki, 259
7. Justin Brayton, Murrieta, Calif., KTM, 214
8. Cody Cooper, New Zealand, Yamaha, 184
9. Nick Wey, Dewitt, Mich., Yamaha, 182
10. Jimmy Albertson, Ozark, Mo., Yamaha, 164
250 class (moto finish):
1. Justin Barcia, Cairo, Ga., Honda (1-3)
2. Tyla Rattray, South Africa, Kawasaki (6-1)
3. Brett Metcalfe, Australia, Honda (4-2)
4. Ryan Dungey, Belle Plaine, Minn., Suzuki (2-4)
5. Taylor Futrell, Clinton, N.C., Honda (7-7)
6. Tommy Searle, Great Britain, KTM (9-6)
7. Blake Wharton, Pilot Point, Texas, Honda (3-15)
8. Broc Tickle, Holly, Mich., Yamaha (8-13)
9. Jake Weimer, Rupert, Idaho, Kawasaki (13-9)
10. Blake Baggett, Grand Terrace, Calif., Kawasaki (15-8)
250 class championship standings:
1. Ryan Dungey, Belle Plaine, Minn., Suzuki, 459
2. Christophe Pourcel, France, Kawasaki, 442
3. Brett Metcalfe, Australia, Honda, 352
4. Jake Weimer, Rupert, Idaho, Kawasaki, 322
5. Justin Barcia, Cairo, Ga., Honda, 312
6. Tommy Searle, Great Britain, KTM, 309
7. Broc Tickle, Holly, Mich., Yamaha, 263
8. Blake Wharton, Pilot Point, Texas, Honda, 240
9. Tyla Rattray, South Africa, Kawasaki, 236
10. Kyle Cunningham, Ft. Worth, Texas, Kawasaki, 174
WMX class (moto finish):
1. Jessica Patterson, Tallahassee, Fla., Honda (1-1)
2. Ashley Fiolek, St. Augustine, Fla., Honda (3-2)
3. Tarah Gieger, Vero Beach, Fla., Yamaha (7-3)
4. Sherri Cruse, Bakersfield, Calif., Suzuki (2-9)
5. Heidi Cooke, Canada, Kawasaki (6-4)
6. Sara Price, Canyon Lake, Calif., Kawasaki (4-6)
7. Julie Anne Parizek, Willington, Conn., Kawasaki (5-5)
8. Alyssa Fitch, Denver, Colo., Honda (9-7)
9. Elizabeth Bash, Riverside, Calif., Kawasaki (8-8)
10. Jacqueline Strong, Sedona, Ariz., Honda (12-11)
WMX class standings:
1. Ashley Fiolek, St. Augustine, Fla., Honda, 336
2. Jessica Patterson, Tallahassee, Fla., Honda, 295
3. Sherri Cruse, Bakersfield, Calif., Suzuki, 258
4. Sara Price, Canyon Lake, Calif., Kawasaki, 208
5. Vicki Golden, El Cajon, Calif., Honda, 192
6. Elizabeth Bash, Riverside, Calif., Kawasaki, 187
7. Sarah Whitmore, Cheboygan, Mich., KTM, 149
8. Penni Cyrus, Queen Creek, Ariz., Kawasaki, 134
9. Mariana Balbi, Brazil, Honda, 126
10. Jacqueline Strong, Sedona, Ariz., Honda, 114
Photo by Big Joe, www.BikesportNZ.com