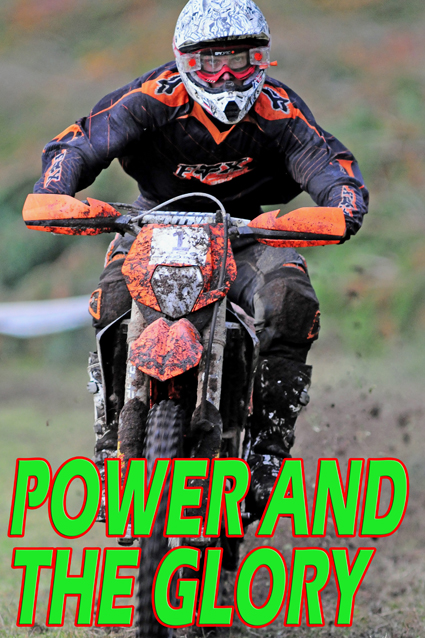 A dispute that began more than three months ago near Whangamata was finally settled near Taupo at the weekend.
Just as they had throughout the national enduro championships, Auckland's Karl Power and Whitby's Rory Mead have been close rivals throughout this season's Yamaha Top Trail Rider (Northern) Enduro Series and the fifth and final round of that competition near Taupo on Saturday ended with a very neat swap in their respective positions.
Mead (Yamaha YZ250) won the national title overall when that series wrapped up in the King Country just a week earlier, but it was Power (KTM 250 EXC) who took the title in the parallel TTR series when that wrapped up on Saturday.
Saturday's race ended with Power winning by just 19 seconds over Mead, with Whangamata's Jason Davis (KTM 300 EXC), Power's cousin Chris Power (Honda CRF250), of Paeroa, and young Aucklander Caleb Van Dragt (KTM 200 EXC) filling out the top five.
"It was a really good event, with lots of fresh trails" said Karl Power afterwards.
"I had a pretty good run … only one small crash … to wrap up the series. I think I rode pretty well at the final round of the nationals too, so it's good to keep up the momentum.
"I raced on the KTM 250 EXC-F at the Taupo circuit, and it handled really well on the volcanic soft surface," said Power.
"The competition was really stiff with Jason Davis and Rory Mead both keeping me honest.
"We competed in four special tests throughout the final, and I won three and drew one with Jason Davis.  This was the first time I won a round, but consistency at the other rounds is what got me the title.
"The cold temperatures also saw riders challenged, but all the KTM guys held on strong.  My team mate Jason Davis only missed out on second at the final round by four seconds to Rory Mead, that's just how close we were racing."
Mead also praised the event organisers for setting such an interesting course, although, he explained, it was "tough to hang on to the bike at times".
"My hands were frozen on the handlebars. You could see snow on the Desert Road and I guess I wasn't really prepared for the cold snap. Perhaps I'd celebrated a bit too hard after winning the nationals the week before," Mead laughed.
In addition to attracting such top Kiwi internationals as Power, Mead and Davis, the Yamaha TTR series targets novice and enduro first-timers, offering challenging but not impossible terrain to tempt and introduce newcomers to the sport.
The Yamaha New Zealand TTR competition features two parallel but separate series — the five-round TTR Yamaha Central Enduro Series and the five-round TTR Yamaha Northern Enduro Series.
Both TTR series run independently from the national championships series, with emphasis on low-stress, good time rides, an ideal format for club riders to try out enduro racing without the stress associated with the elite level of the sport.
The TTR Yamaha Central Enduro Series still has two rounds left to go — at Martinborough on June 14 and at Santoft Forest on July 26 — and national champion Mead is comfortably leading that competition as well.
The twin TTR series and the nationals are all sponsored by Yamaha New Zealand, Kiwi Rider magazine, Acerbis, Mitas Tyres, HJC Helmets and is supported by Motorcycling New Zealand.
Words and photo by Andy McGechan, www.BikesportNZ.com