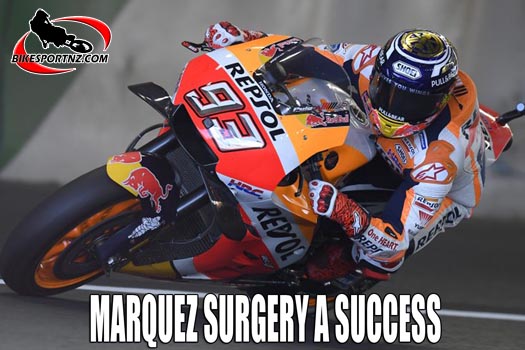 After a fruitful end-of-season test in Jerez, reigning MotoGP World Champion Marc Marquez has undergone surgery at the Hospital Universitari Dexeus, in Barcelona, Spain.
The complex operation was performed by Dr. Xavier Mir, Dr. Victor Marlet and Dr. Teresa Marlet, all members of ICATME (the Catalan Institute of Traumatology and Sports Medicine), in order to resolve the recurring dislocation in the Repsol Honda Team rider's left shoulder, an issue which had persisted throughout the year.
Mir said the surgery was "more complicated than expected" due to the level of joint damage.
"I almost do not understand how he was able to win the world title like that … it gives him more merit."
Explaining the surgery further, Mir revealed that Marquez's humerus bone, which links the shoulder to the elbow, was able to pop out "in all directions" requiring open surgery on the bone and additional work to repair the ligaments.
"One hundred per cent success is not guaranteed by anyone, but after the operation, even with him asleep, we did a stability test… moving the shoulder in all directions and it did not dislocate," Mir added.
"That is a good sign because, when he is awake, the muscles will hold the bone in place more."
The main target is now to get Marquez as fit as possible for the opening 2019 test at Sepang from February 6-8.
Meanwhile, new Repsol Honda team-mate Jorge Lorenzo is also recovering from a more minor operation on his injured right foot.
Photo courtesy Honda
Find BikesportNZ.com on FACEBOOK here