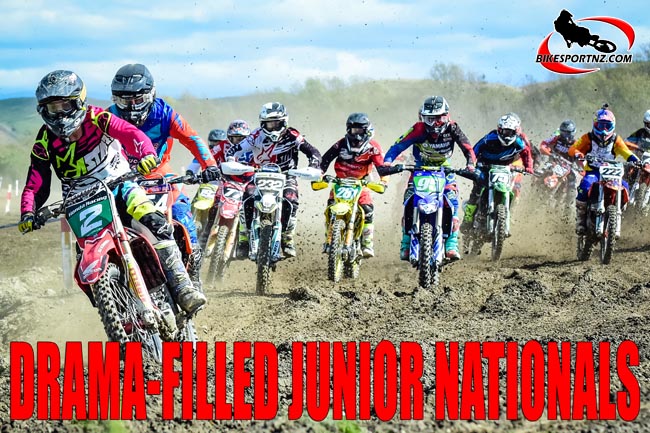 The Anzac weekend had started as a fairly straight-forward and predictable set of affairs at the annual New Zealand Motocross Championships in Hawke's Bay, but it ended as being one of the most exciting, fickle and capricious of contests.
Taupo's Wyatt Chase dominated both the two premier classes at the Fernhill circuit – the 14-16 years' 250cc class and the 15-16 years' 125cc division as well – early in the weekend and had looked to be the most dominant rider of the weekend across all the categories.
But luck played a huge part on the third and final day of the Altherm JCR Yamaha-sponsored event on Sunday, handing the 250cc title instead to Ohaupo's Trent Collins.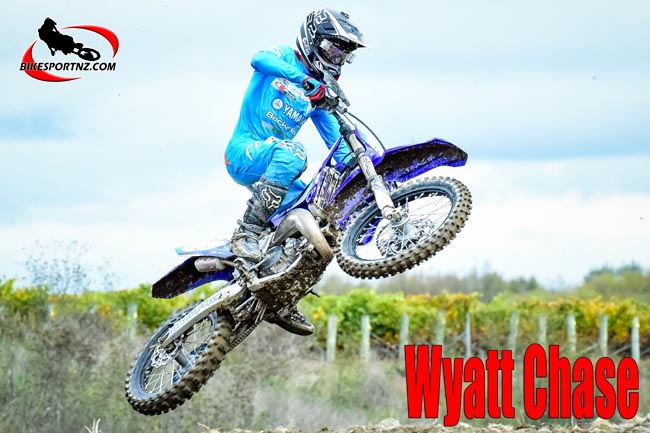 Chase won 12 of 14 races over the three days – winning five of the seven races in the 250cc class – but his one no-points race, when he fried the clutch on his bike and did not finish, proved extremely costly and he had to give up the 250cc championship to Collins, who proved that consistency counts most when he won just one race but finished runner-up on six occasions and was able to take the title by 12 points from the luckless Chase.
"When I inherited the 250cc championship lead after Wyatt Chase had problems and didn't finish that one race, I knew all I had to do was ride sensibly and I'd win the title," said Collins. "Second or third in the final two races was easily enough for me to take the title.
"I finished first equal in this class last year, although runner-up on count-back, so I'm naturally thrilled to win this year. However, I would rather have won it by beating Wyatt properly on the track.
"Consistency counts in this sport and luck sometimes plays a part too. I have also lost titles in this way in the past, so I do feel for Wyatt. I know what it's like."
Meanwhile, Chase was unbeatable in the 15-16 years' 125cc class, winning all seven  races, and taking the title by a convincing 25 points from Mangakino's Maximus Purvis.
Te Puke's Tyler Steiner was another stand-out performer at the weekend, finishing third overall, behind Chase and Purvis, in the 15-16 years' 125cc class and also taking the third podium spot, behind Collins and Chase, in the 250cc class.
But the cruel twist of fate in the 250cc class was perhaps the main talking point.
"It's pretty unbelievable that I didn't manage to win both classes after dominating so much, but that's racing sometimes," said the 16-year-old Chase.
"I can't complain and it was still a good way to finish my last season as a junior racer."
He heads overseas next month to tackle the last four rounds of the European 125 Motocross championships, starting in England, and will then return in August to make his senior debut in New Zealand at the big annual MX Fest in Taupo in October.
Other classes winners at the junior nationals at the weekend were Dunedin's Grason Veitch (KTM, 12-14 years 125cc class); Oparau's James Scott (Husqvarna, 13-16 years 85cc class); Matamata's Brodie Connolly (KTM, 11-12 years 85cc class) and Tokanui's Mitchell Weir (Yamaha, 8-10 years 85cc class).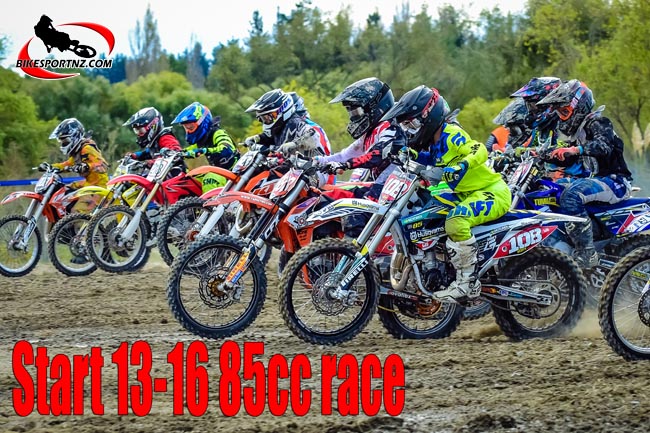 Leading final standings from the 2016 New Zealand Junior Motocross Championships:
14-16 years 250cc class:
Trent Collins (Ohaupo, Honda) 157 points;
Wyatt Chase (Taupo, Yamaha) 145;
Tyler Steiner (Te Puke, KTM) 118.
15-16 years 125cc class:
Wyatt Chase (Taupo, Yamaha) 175 points;
Maximus Purvis (Mangakino, KTM) 150;
Tyler Steiner (Te Puke, KTM) 121.
12-14 years 125cc class:
Grason Veitch (Dunedin, KTM) 172;
Reef Wheki (Hamilton, KTM) 155;
Jesse Te Kani (Tuakau, KTM) 142.
13-16 years 85cc class:
James Scott (Oparau, Husqvarna) 170;
Thomas Watts (Wairoa, Kawasaki) 143;
Zac Jillings (Palmerston North, KTM) 116.
11-12 years 85cc class:
Brodie Connolly (Matamata, KTM) 175;
Ryan Webley (Tuakau, KTM) 150;
Cobie Bourke (Rangiora, KTM) 139.
8-10 years 85cc class:
Mitchell Weir (Tokanui, Yamaha) 154;
Jared Hannon (Cambridge, Kawasaki) 151;
Logan Denize (Kerikri, KTM) 122.
Full results can be found HERE, courtesy of MX Timing.
© Words and photos by Andy McGechan, www.BikesportNZ.com
Find BikesportNZ.com on FACEBOOK here
Full story and more photos in your next issue of KIWI RIDER magazine.
Check back here on www.BikesportNZ.com during this week as we bring you more words and pictures from the weekend.