Mount Maunganui's Rhys Carter is fizzing to get going again.
The Bel Ray Pro Rider Suzuki star produced some excellent rides while contesting the Australian Motocross Championships in the MX1 (Pro Open) class across the Tasman earlier but that was cut short when he broke his wrist at a low-key event in New Zealand.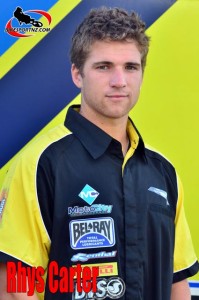 He has been sidelined since then and confined to the role of mentoring some of Suzuki's young rising stars.
"I have been pretty busy over the last few months with coaching, rehab on my wrist and off bike training, so I have had a lot going on," he said.
"My specialist is very happy with how my wrist is coming along and says I am ahead of where it normally would be which is awesome. I have been given the all clear to start doing a little bit of riding which I went out on Friday and went for a quick ride.
"My wrist felt a little weak which was expected but it felt a lot better than I thought. As I get more time on the bike the better things will get.
"I got to ride my new 2015 Suzuki RM-Z450 and wow, the power it has straight out of the box is amazing. I am looking forward to a great year on the new machine.
"I now have two months to get bike fit and comfortable before my first big race which will be the Whakatane Summercross (on December 28).
"I would like to say a big thank you to everyone for been patient with this injury and I am excited for the up and coming season with all my awesome sponsors and supporters."
Carter will be racing in the MX1 class at the 2015 nationals, which kick off near New Plymouth in February, with Taupo's national No.3 Brad Groombridge his team-mate in the class. Te Puke's Logan Blackburn and Dunedin's Campbell King will race the MX2 class for the tea,
The Bel-Ray Pro Rider Suzuki team is supported by Bel-Ray Lubricants, Suzuki Pro Rider Programme, Pirelli Tyres, Yoshimura, Oakley, Renthal, O'Neal Racewear, Zeta, DRC, Braking, The Dirt Guide, Talon, Performance Factory, Epic Decals, BikesportNZ.com and Taupo Diesel Solutions.
© Words and photos by Andy McGechan, www.BikesportNZ.com
Find BikesportNZ.com on FACEBOOK here