FLAWLESS START FROM FERRIS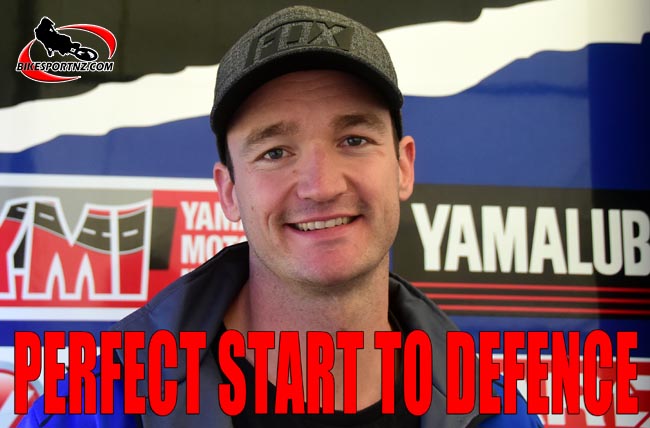 He may have had to accept the No.2 ranking in New Zealand again this season, but Dean Ferris simply rules in Australia, the Yamaha man from Kyogle winning both MX1 races at the opening round of the MX Nationals at Wonthaggi, in Victoria, on Sunday.
And perhaps the opposite applied to Kiwi MX2 class champion Hamish Harwood, No.1 for a second consecutive season in New Zealand, with the New Zealand season wrapping up just a week ago in Taupo, but the man from the South Island forced to accept seventh overall in Australia after the series opener there.
The depth of talent in the MX1 class was apparent from the start with the top 10 riders in qualifying separated by only 2.8 seconds. But it was experienced SD3 Husqvarna rider Brett Metcalfe who capitalised on the smoother track conditions early in the session, recording the fastest qualifying time – the only rider to dip into the 1:45s with a 1:45.332.
Less than a second behind him was 2015 MX1 champ Kirk Gibbs (1:46.046), followed by Crankt Protein Honda Racing Team's Todd Waters (1:46.266). CDR Yamaha's Ferris and KTM Motocross Racing Team's Luke Styke recorded the fourth and fifth fastest times, and from there the top five were through to the GoPro Superpole shoot-out.
But when GoPro Superpole was wrapped up it was no longer Metcalfe who was fastest on track. Despite only clocking in the fourth fastest time during qualifying, CDR Yamaha's Ferris bounced back when it counted, collecting the first Superpole victory for 2017 and three championship points with an impressive 1:45.320 lap time, ahead of Styke, Metcalfe, Waters and Gibbs.
Moto 1
When the gate dropped, it was Wilson Coolair Motul Factory Suzuki's Kyle Peters who snatched up the Raceline holeshot, and put healthy distance between himself, Ferris, and DPH Motorsport's Kade Mosig.
After only two laps, Peters continued to hold off last year's Thor MX1 Champ, while Waters managed to get by local DPH Motorsport rider Mosig to move in to third position. And from there, Waters continued to apply the pressure – with Ferris his next target, the Honda CRF450R rider closing in rapidly on the CDR Yamaha machine.
But just as Waters had closed in on Ferris, Ferris closed in on race leader Peters, providing spectators with a three-way battle for the opening MX1 moto top spot.
After seven laps on track, the running order saw Suzuki-mounted Peters continuing to maintain control of moto one, while Ferris and Waters were locked in to their own battle for second position behind him. Local Mosig was back in fourth place ahead of Gibbs, while MX1 rookie Luke Clout (Crankt Protein Honda) was having an impressive ride in sixth position.
By the halfway mark in moto one, Ferris started making passing attempts on Peters, but with rain beginning to fall, and the top riders into lapped traffic, the CDR Yamaha rider wasn't able to make a move stick.
In what was a surprise to onlookers, Waters made a mistake whilst in third place in the later stages of the moto, which saw him drop back to fourth.
With only seven minutes left on the clock Peters and Ferris tightened up once again, and although both riders were making mistakes and changing lines left, right and centre on the technical circuit, the pair remained in first and second positions ahead of Mosig in third.
But with one and a half laps remaining, Ferris made a pass on Peters stick, and unfortunately for Peters the bad luck didn't stop there, Mosig also managed to get by the Suzuki rider before Peters was forced to head back to the pits with a bike malfunction.
And with Peters out of the equation, Ferris was able to breeze to victory, while Mosig put in one of his best rides in more than 12 months to take second, followed by Waters who inherited third position in the opening moto. Gibbs concluded race one in fourth ahead of SD3 Husqvarna's Metcalfe in fifth. Crankt Protein Honda Racing Team's Clout wrapped up his debut MX1 moto in sixth position, while Styke, MEGA Bulk Fuels Kawasaki's Nathan Crawford, Peters, and CDR Yamaha's Dylan Long completed the top 10.
Moto 2
When gates dropped on race two this afternoon, Crankt Protein Honda Racing Team's Clout took the second hole shot for the day, however his team-mate Waters was not so lucky, going down in the first turn, and on a mission to make up positions.
But, in true Ferris fashion, it took less than a lap for the CDR Yamaha rider to take control of race two, while Mosig only a lap later also made the pass around Clout to slot up into second position.
Behind Ferris and Mosig, it wasn't long before Clout had his hands full with SD3 Husqvarna's Metcalfe, and after four laps the former AMA Husqvarna rider made the pass on the youngster for third position. Unfortunately for Clout, Gibbs also made his way around the 2017 Honda, relegating Clout to fourth, while Metcalfe went missing from the podium position handing third place to Gibbs.
After nine laps on the gruelling circuit, Ferris continued to maintain a healthy two second gap on Mosig, followed by Gibbs then Clout who was beginning to feel the pressure from Wilson Coolair Motul Factory Suzuki's Peters and KTM's Styke. Long, who is still recovering from a wrist injury circulated in seventh position, while Kawasaki duo Crawford and Aleksandr Tonkov occupied eighth and ninth places.
As moto two reached its closing stages, no other rider was able to match the form of CDR Yamaha's Ferris, who looked ultra comfortable taking on the chopped up Wonthaggi circuit. And from there it was no surprise to see Ferris collect the race two victory.
Second position was taken by an 'in form' Mosig, followed by KTM Motocross Racing Team's Gibbs. Fourth place was collected by Gibbs' teammate Styke who got by Clout late in the moto, while Clout completed the MX1 top five. Peters, Long, Crawford, Tonkov and Honda's Waters completed the top ten in race two.
But with 1-1 results, and a GoPro Superpole victory to boot, it was Ferris who collected the first round win of the season at Wonthaggi.
Second overall was taken by local Mosig, while third position on the podium was taken by KTM's Gibbs.
"You always want to come out of the first round with good points, but we maximised them today and I'm really happy with the improvements that CDR Yamaha and myself made in the off-season," Ferris said.
"This championship is deep and ultimately that's what we want. The boys were riding really well today, and you have to work really hard to be at the front.
"That's what we're doing, we're going to try and ride smart this year and be strong as well."
MX2 CLASS
DPH Motorsport's Wilson Todd raced to his first Motul MX2 round win of the 2017 race season after riding his Yamaha YZ250F machine to 1-2 results at Wonthaggi on Sunday.
With a number of riders stepping up to the Motul MX2 class from the MXD ranks, or returning from racing overseas this season, it was hard to pick who would take the first victory for 2017 on the technical Wonthaggi circuit, but Todd was dominant from the outset.
Kiwi hero Harwood impressed by twice finishing fifth and he begins the series in the No.7 ranking position.
The second round of the 2017 Motul MX Nationals will be held at Appin in New South Wales on Sunday April 23, 2017.
Thor MX1 Round 1 & Championship points
1) Dean Ferris – 70 points
2) Kade Mosig – 64 points
3) Kirk Gibbs – 58 points
4) Luke Styke – 52 points
5) Luke Clout – 51 points
6) Todd Waters – 51 points
7) Kyle Peters – 47 points
8) Nathan Crawford – 46 points
9) Dylan Long – 45 points
10) Aleksandr Tonkov – 40 points
Motul MX2 Round 1 & Championship points
1) Wilson Todd – 67 points
2) Egan Mastin – 57 points
3) Mitchell Evans – 56 points
4) Jackson Richardson – 56 points
5) Jayden Rykers – 55 points
6) Kyle Webster – 53 points
7) Hamish Harwood – 52 points
8) Richie Evans – 46 points
9) Dylan Wills – 45 points
10) Aaron Tanti – 44 points
© Photo by Andy McGechan, www.BikesportNZ.com
Find BikesportNZ.com on FACEBOOK here