TWO DAYS; TWO PODIUMS FOR SMITH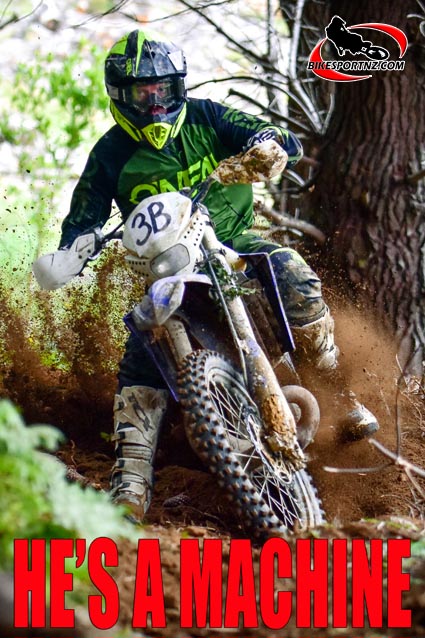 Mokau motorcycle racer Adrian Smith barely has time to wait around for the silverware these days, before he's off to try and earn his next trophy.
The sheep and beef farmer has been away from the sport for almost a year because of work commitments, but he is certainly now making up lost ground as he raced the third round of six in the New Zealand Enduro Championships on Saturday and then followed that up by also racing the third round of four in the North Island Cross-country Championships the following day.
And both times the Yamaha ace was on the podium.
The national enduro championship event was held at Moonshine, in the Akatarawa Forest, near Porirua, on Saturday and Smith was on a mission to catch the series leaders after his mediocre results at the first two rounds at Nelson and Whangamata respectively.
Smith finished sixth overall at Nelson in February and then crossed the line eighth overall at Whangamata a week later.
But Smith (Yamaha YZ250X) was on fire at Moonshine, winning the final motocross stage at the enduro and claiming second overall for the day, enough to see him elevated from fifth to second in the championship standings with the series now at the halfway stage.
Christchurch's Hamish Macdonald (Sherco) won the day overall at Moonshine and it's his elder brother, Angus Macdonald (Sherco), who continues to lead the championship overall. Angus Macdonald finished third overall on Saturday, just four seconds behind Smith.
Smith then packed up and headed to Ormondville, in Central Hawke's Bay, where he again made up lost ground on the series leaders.
Smith won Sunday's three-hour race at Ormondville, crossing the finish line more than two minutes ahead of Eketahuna's Charlie Richardson (Husqvarna), with Raglan's Jason Dickey (KTM) finishing third and Taupo's Nathan Tesselaar (KTM) fourth. Yamaha rider Allan Gannon, from Masterton, rounded out the top five on Sunday.
Smith had finished fourth overall at the opening round of this series in Huntly in February and then placed fifth overall at round two at Dannevirke two weeks ago, but his convincing win on Sunday has seen him rocket into the championship lead.
Smith is one point ahead of Tesselaar, with just the final round to come.
"I took the lead from Charlie (Richardson) about halfway into the race and then just worked on creating a gap over him," said the 31-year-old Smith.
"The course very rocky and steep in places too and, when I had a good lead, I just backed off a bit so I didn't have to take risks."
Smith is no stranger to winning major events. He previously won the enduro nationals overall in 2012 and is also a record four-time former national cross-country champion.
Round four of the enduro nationals will be held near Christchurch on May 6 and then Waitawhiti Station, east of Eketahuna, hosts round five on June 3. Finally, the enduro nationals wrap up near Tokoroa just two days later, on June 5.
The fourth and final round of the North Island Cross-country Championships (which is also the fourth and final round of the New Zealand Cross-country Championships) is set for Cambridge on May 13.
Smith is supported by Yamaha-Motor New Zealand, BikesportNZ.com, MotoSR, Workshop Graphics, Michelin and O'Neal.
© Words and photo by Andy McGechan, www.BikesportNZ.com
Find BikesportNZ.com on FACEBOOK here