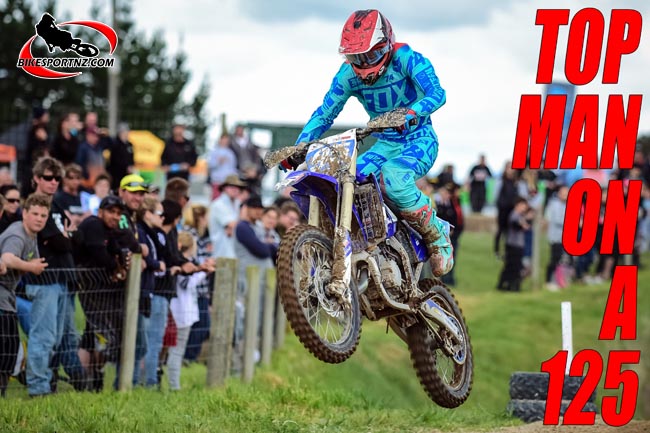 Taupo's Wyatt Chase was in scintillating form during Saturday's junior race action and also in Sunday's senior competition at the big annual MX Fest over the Labour Weekend.
The 16-year-old Yamaha rider was untouchable in the 15-16 years' 125cc class, winning all three races at Taupo's popular Digger McEwen Motorcycle Park on Saturday, despite the fact that he struggled early on with bike settings.
He then backed up that performance superbly when he then took his Total BikesportNZ.com YZ125 bike to win the all-comers Champion of Champions feature race, heading off the top riders in all the other junior classes, including the riders of the more powerful 250cc four-stroke bikes.
"We couldn't get the carburettor jetting sorted out until my third race (on Saturday) and I actually never got a holeshot all day, which is a bit unusual for me," said Chase.
"The last race was tough because I was up against the 250cc riders and I didn't think I'd have much of a chance at the start. To make things worse I got a bad start. I got boxed in and was about 10th coming out of turn one."
But Chase had passed six riders within just two or three corners and was on the charge for the leaders.
"When a rider ahead of me made a mistake and (14-16 years' 250cc four-stroke class winner) Tyler Steiner (of Te Puke) hesitated, I was able to push through to second, with about two laps to go, and I set about catching the race leader, Trent Collins."
Even though Chase was 10 seconds adrift of Cambridge's Collins (Honda Racing Team CRF250), that gap soon disappeared and Chase closed to within a metre of Collins' rear wheel with just over a lap to complete.
"I took the lead and pushed hard, eventually winning the race by about six seconds."
Then, to put icing on the cake, Chase followed through to also win the senior 125cc class the following day, registering 2-1-1 results to head off Dairy Flat's Claude Griffith (KTM) and Ngatea's Ben Broad (KTM).
It was a glorious weekend of racing for Chase, a consolation for the young man who had been unlucky not to clinch the No.2 spot in the 15 years' 125cc class at the Australian nationals a few weeks earlier.
"I had been second in the points with one race remaining in Australia, but I crashed and dropped back to finish fifth in that final race. That meant I could only finish third overall," he said.
Chase will enter the senior motocross nationals in New Zealand, starting in February, as one of the favourites to win the 125cc crown.
Chase is supported by Yamaha-Motor New Zealand, Total Oil, Fox, Dunlop, MX Timing, Backflips, CFX Seats, ODI, Talon, Sevenee Distributors, Pro Taper, Ethika, Exquitize Homes, Nano Energizer, Oxford Pies, Aspiring Health, Team Taupo Scholarship, BikesportNZ.com and Mizuno.
© Words and photo by Andy McGechan, www.BikesportNZ.com
Find BikesportNZ.com on FACEBOOK here
Seniors and Vets race results HERE
Juniors and Women's race results HERE
North Island Mini MX Champs results HERE