ON HIS OLD STOMPING GROUND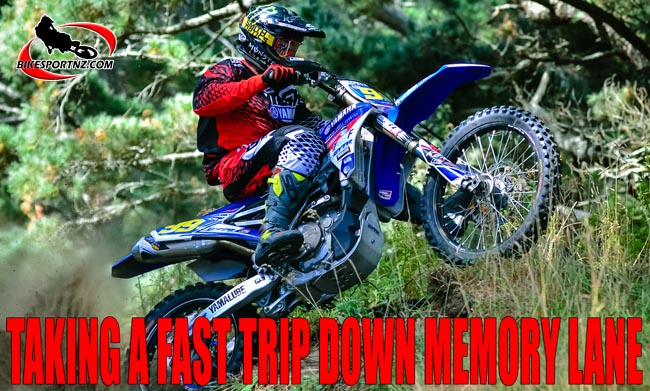 Pahiatua's Paul Whibley just keeps on winning.
The 37-year-old packed up his belongings late last year and returned home with his wife and young son to settle back in New Zealand after a highly-successful international racing campaign that spanned 12 years.
And, although this signalled an end to his international racing career, a new phase in his life of motorcycling was only just beginning.
The former Manawatu forestry worker, affectionately dubbed "The Axeman" on the motorcycling scene, was a two-time outright winner of the Grand National Cross-country Championships (GNCC) in the United States (in 2009 and 2012) and a record six-time winner of the parallel Off-Road Motorcycle and ATV (OMA) series as well.
The Yamaha star's first step back into domestic competition at home earned him the 2015 New Zealand Cross-country Championships crown when the series wrapped up near Pahiatua just a few weeks ago, taking the title from fellow Yamaha ace Adrian Smith, of Mokau.
Whibley tackled round two of the Central Enduro Series near his Pahiatua home on Sunday and, for that event, it was a trip down memory lane.
"This was another event that had been a long time between attendance for me," said Whibley.
"While my memory is not that good to remember all the twists and turns and each rock, I could remember the odd hill and ridgeline.
"There was a short transport section to the first section that held the first test. Plenty of old ruts and some slick, muddy tracks kept you on your toes with the smallest mistake easily paid for with a soil sample. I managed to ride safely and post a solid time and keep it on two wheels."
He slowly picked up the pace during the day as he warmed up and ended up celebrating a comfortable win over Eketahuna's Daniel Christie, with Masterton's Jacob Hyslop filling out the podium.
Whibley now turns his focus towards his own creation, a new competition he hopes will become a must-do for the nation's dirt bike elite, the five-round NZXC series.
The first round of the NZXC series is this weekend at Tar Hill, just south of Tokoroa. The race is expected to draw the country's elite off-road racers and have them racing head-to-head for the first time this season.
"With the separate national enduro and cross-country championships clashing dates in 2015, riders were forced to choose one championship to chase," he explained. "Now, with the NZXC series, all of the country's top races will be lining up at the same event.
"The track will be somewhat of a middle ground for the races, featuring terrain based in a forest, where the enduro fraternity will feel at home, but with the event run under a cross-country format, riders being set off together."
The powerhouse Yamaha and KTM teams will be out in full force, with riders from both teams featuring a long list of credentials.
There will also be key representatives from the other manufactures, riders such as former national cross-country champion Cam Smith (Kawasaki), Honda's top-five cross-country riders Andrew Charleston and Scott Birch, Suzuki's Brad Groombridge and the Husqvarna pair of Liam Draper and Jake Whitaker.
The race is run in conjunction with the Dirt Guide series, with Sean Clarke in charge of laying out the track and running the event.
Round two of the NZXC series is the Yamaha Taikorea 500, run on Whibley's own property and training facility just outside Palmerston North on July 18.
Whibley is supported by Yamaha Motor New Zealand, Freedom Moto Yamaha, MotoSR, Monster Energy, Shoei, Sidi, Smith, MSR G2, Asterisk, Moto SR, Vortex Ignitions, EC3D, Bush Riders MCC, Spectro, Acerbis, DID, JT sprockets, Leatt, Kenda, Yamaha NZ, BikesportNZ.com, Unibiker and Tire Balls.
© Words and photo by Andy McGechan, www.BikesportNZ.com
Find BikesportNZ.com on FACEBOOK here