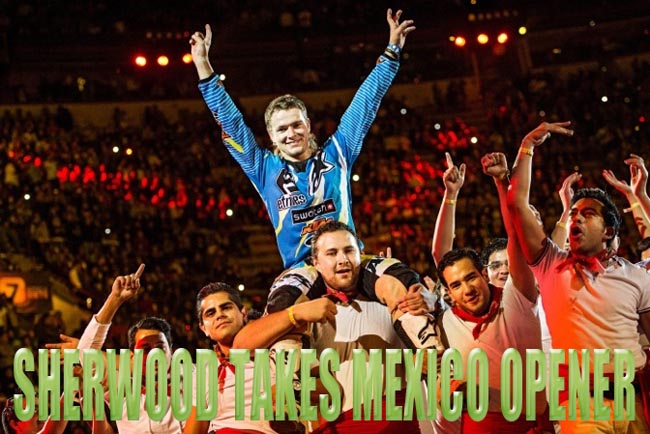 The only thing bigger than the sold-out crowd at the Monumental Plaza de Toros was the audacity of the riders, who used the energy of the 38,000 screaming fans to boost their tricks to new heights.
At the end of the season opener, a pair from Down Under, New Zealand's Levi Sherwood and Australia's Josh Sheehan finished first and second, with Spain's Dany Torres in third.
The opener of the 2014 Red Bull X-Fighters World Tour electrified Mexico City with an epic freestyle motocross battle that set up the rivalries for a season that will span four continents.
In a shock for fans and riders alike, 2013 overall champion Thomas Pagès of France, was eliminated in the quarter finals.
The Monumental Plaza de Toros bullring – where the tightest course of the series was made even more intimidating with murals of the snake god Quetzalcoatl – enticed the best FMX riders on the planet to throw down the tricks they've been working on all through the off-season, soaring 15 meters into the sky.
Sherwood came into the competition determined to ride his own way, and he executed tricks like the jaw-dropping Kiss of Death Backflip and the seldom-seen Turntable to perfection. But the battle was close, with challenger Sheehan superior in two of the five judging categories.
"I was really trying not to focus on who I was riding against and to just do my best," said the winner. "As the season goes on I'll continue to push and take my own way."
Sheenhan was pumped to take second place in front of a very vocal crowd.
"The crowd in Mexico City makes you feel so good and so pumped up. This is epic – words can't describe it." A happy Sheehan said,
As always, Spain's Torres was a favorite of the crowd, and he gave a stellar performance that holds promise for the future if he can heal from a nagging ankle injury. Pagès, meanwhile, finished a strong fifth despite a slip in his usually perfect Flair 540 that put a hiccup in the flow of his run.
The riders' next chance to change their place in the standings will come on 25 May, when the Red Bull X-Fighters World Tour moves to Osaka, Japan.
Round One Results: Mexico
1. Levi Sherwood (NZL)
2. Josh Sheehan (AUS)
3. Dany Torres (ESP)
4. Adam Jones (USA)
5. Thomas Pagès (FRA)
6. Rob Adelberg (Aus)
7. Javier Villegas (CHI)
8. Maikel Melero (ESP)
9. Libor Podmol (CZE)
10. Remi Bizouard (FRA)
11. Erick Ruiz (MEX)
Photos of Sherwood courtesy Red Bull