KIWIS SHINE BRIGHT IN USA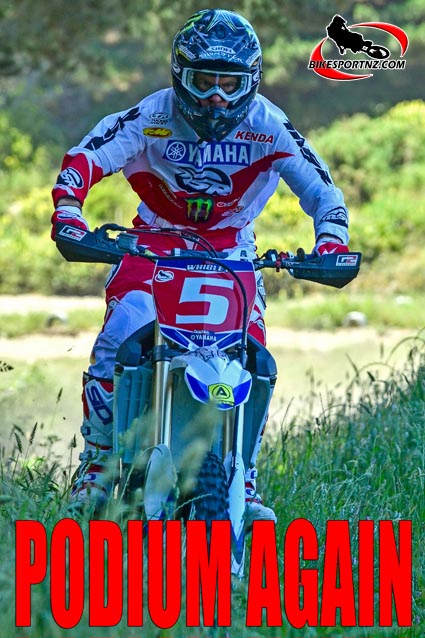 Pahiatua's Paul Whibley has scored his second podium finish in as many events as he crafts a positive start to his Grand National Cross-country racing campaign in the United States.
The 35-year-old Pahiatua man put his Yamaha YZ450F into the No.3 spot at the second round of 13 in the series, this time battling horrendous weather as well as some of the elite off-road bike riders on the planet at the venue in Washington, in Wilkes County, Georgia, but he was eventually forced to follow American riders Kailub Russell and Jordan Ashburn past the chequered flag on Sunday.
Following his runner-up finish at the series opener in Florida a week ago, Whibley now finds himself second overall for the series, just two points behind round-one winner Charlie Mullins.
Mullins finished fifth in the XC1 class at the weekend.
"Off the start I got a good jump and followed Josh Strang for the first few miles until a third Yamaha joined us up front. Jordan Ashburn was riding good and took his turn leading," said Whibley.
"The pace was pretty mellow the first lap as we dipped our toes in the puddles to discover the depth. I ended up leading most of the second lap till I hit something hidden in one water hole, blowing my hands off the bars and going down. I'm sure everyone had several moments like this during the race. I remounted and re-joined the pack. Not sure of position or who it was I was racing with most of the time as everyone was now the same colour.
"The race continued like this for the duration with multiple lead changes. I think I lead some, not really sure what position I was in most of the time. I also think any number of riders could have won the race. If you had finished the race on a different lap, earlier or later, I think there was a good chance the podium positions would have been shuffled again to who knows what combination of the top 5 or 6 riders.
"To come away from another tough race with good points is great. It would have been too easy to drown out or get wedged in some bottomless rut and prematurely end your day."
Known affectionately as "The Axeman" on the motorcycling scene, Whibley is no stranger to winning at this level. He won the GNCC crown outright in 2008 and again in 2012, although his attempted title defence last season was hampered by injuries, and it seems another US title is quite possible this season.
The former Manawatu forestry worker was also joined at the sharp end of the field at the weekend by fellow Kiwis Rory Mead, of Wellington, and Callan May, of Titirangi.
Mead (KTM) finished seventh overall, but was runner-up in the XC2 (250cc) class, while May, the Yamaha star making his debut in the GNCC competition this season, finished 19th overall, which was good enough for eighth in the XC2 class.
Mead leads the XC2 class after two rounds, while May is sixth overall.
"After a perfect day on the Saturday, the rain kicked in at 4am Sunday morning, making for a very slippery wet miserable track to say the least," said May.
"I didn't get the best start. I was pretty much back of the pack, so had a lot of big puddles and bogs to deal with, so I was happy enough to finish the race with my bike still running and myself in one piece."
Whibley is supported by Yamaha Motor New Zealand, AmPro Yamaha, Monster Energy, Shoei, Sidi, Smith, MSR G2, Asterisk, Moto SR, Vortex Ignitions, EC3D, Bush Riders MCC, Spectro, Acerbis, DID, JT sprockets, Leatt, Kenda, Sargent Motorcycles, Yamaha NZ, Bikesportnz.com, Unibiker and Tire balls.
May is supported by Yamaha Motor New Zealand, Kiwi Rider magazine, BikesportNZ.com, MotoSR, Golden Tyres, Fox, Graphic Creation, GYTR and Yamalube.
© Words and photo by Andy McGechan, www.BikesportNZ.com
Find BikesportNZ.com on Facebook HERE