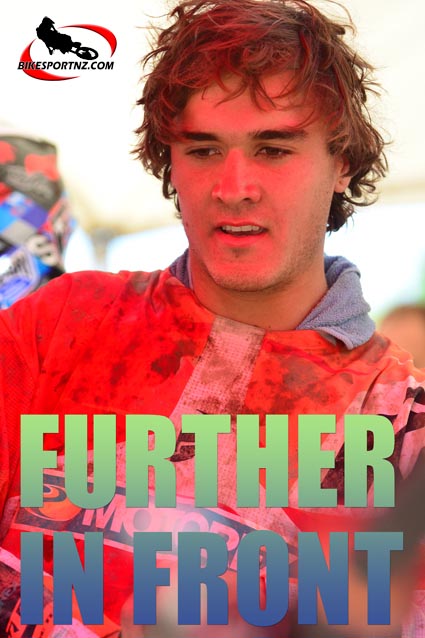 KTM's Todd Waters has extended his lead in the MX1 class after an eventful round two of the Australian Motocross Championships at Murray Bridge in South Australia at the weekend.
Finishing just eighth overall on the day, New Zealand MX1 champion Cody Cooper (Suzuki) has now slipped from second to sixth overall in the championship standings.
"My starts were good all day," Cooper said. "The first moto went to plan, although I got a bit of arm-pump like most people seemed to, but then in the second race I just went backwards.
"It was a difficult moto, but we'll do some testing in Newcastle this week and try to come back stronger next weekend for round three."
Fellow Kiwis Kayne Lamont (KTM) and Rhys Carter (Suzuki) finished ninth and eighth respectively in the MX2 class on Sunday and they are now sixth and 13th in the championship chase.
A crowd of about 3000 was on hand to watch as first on the track was the Motul MX2 championship class, with round one winner and 2012 No.2 man Luke Styke (Serco Yamaha) displaying the red leader's plate.
Styke took a fall in moto one and worked his way from the back through to third place. He came out swinging in moto two to take the win, finishing overall runner-up on the day and maintaining his series red plate.
His team-mate, MX2 rookie Luke Clout, took the win in moto one and finished second in moto two, for the overall and his first MX2 class win.
Third overall was privateer Brock Winston (KTM), taking his first ever Australian MX Nationals podium.
In the MX1 championship class, Motorex KTM's Waters won the Go Pro Super Pole.
Moto one was a real mixed bag with both Monster Energy Kawasaki riders suffering DNFs and plenty of other riders taking small falls.
Waters was the pace setter but a few mistakes had him finish third. Moto two was won by Waters and that gave him the round win to make it two from two.
Second overall was Scotland's Billy Mackenzie (Yamaha) backing up his performance from round one and filling the last spot on the podium was Campbell Mining's Jake Moss.
Murray Bridge played host to the opening round of the Yamaha Australian Pro Quads class and they really turned up the heat with some great action.
Moto one was red flagged on the first lap with defending champion Gaisford taking a heavy fall.
With Gaisford out, it opened the championship up to be anybody's day.
Yamaha mounted Christopher Bosnakis, (WA) showed that he will be a name in the Pro Quads, the 16-year-old won both motos to take the overall from Victorian Honda mounted Jake van Vliet and rounding out the podium was Adam Larson in third place.
MX1 class round 2 results:
1. Todd Waters 66 Pts
2. Billy Mackenzie 64 Pts
3. Jake Moss 60 Pts
4. Lawson Bopping 59 Pts
5. Matt Moss 54 Pts
6. Tye Simmonds 46 Pts
7. Jacob Wright 45 Pts
8. Cody Cooper 45 Pts
9. Ford Dale 42 Pts
10. Cody Mackie 42 Pts
11. Daniel McCoy 41 Pts
12. Cheyne Boyd 40 Pts
13. Kirk Gibbs 39 Pts
14. Robbie Marshall 31 Pts
15. James Booth Elliot 30 Pts
16. Mitch Norris 26 Pts
17. Sam Martin 26 Pts
18. Riley Graham 25 Pts
19. Adam Monea 25 Pts
19. Alex Morris 24 Pts
MX1 class championship standings after round two of 10:
1. Todd Waters 141 Pts
2. Billy Mackenzie 122 Pts
3. Lawson Bopping 109 Pts
4. Jake Moss 107 Pts
5. Matt Moss 107 Pts
6. Cody Cooper 105 Pts
7. Tye Simmonds 98 Pts
8. Ford Dale 85 Pts
9. Cody Mackie 83 Pts
10. Jacob Wright 80 Pts
11. Daniel McCoy 78 Pts
12. Kirk Gibbs 76 Pts
13. Jay Marmont 72 Pts
14. Adam Monea 71 Pts
15. Robbie Marshall 67 Pts
16. Sam Martin 58 Pts
17. James Booth Elliot 56 Pts
18. Cheyne Boyd 40 Pts
19. Matt Clarke 33 Pts
20. Mitch Norris 26 Pts
MX2 class round two results:
1. Luke Clout 67 Pts
2. Luke Styke 65 Pts
3. Brock Winston 57 Pts
4. Kale Makeham 54 Pts
5. Ryan Marmont 50 Pts
6. Dylan Long 49 Pts
7. Geran Stapleton 47 Pts
8. Rhys Carter 45 Pts
9. Kayne Lamont 44 Pts
10. Matt Ryan 43 Pts
11. Takeshi Katsuya 38 Pts
12. Kyle Webster 36 Pts
13. Matt Van Slooten 33 Pts
14. Josh Adams 31 Pts
15. Tristen Cachia 31 Pts
16. Josh Cachia 30 Pts
17. Wade Hunter 27 Pts
18. Jedidiah Cornthwaite 23 Pts
19. Kade Mosig 20 Pts
20. Aaron Hart 20 Pts
MX2 class championship standings after round two of 10:
1. Luke Styke 135 Pts
2. Luke Clout 122 Pts
3. Kale Makeham 112 Pts
4. Brock Winston 109 Pts
5. Geran Stepleton 90 Pts
6. Kayne Lamont 90 Pts
7. Matt Ryan 90 Pts
8. Josh Cachia 88 Pts
9. Takeshi Katsuya 82 Pts
10. Kade Mosig 73 Pts
11. Tristen Cachia 69 Pts
12. Dylan Long 66 Pts
13. Rhys Carter 65 Pts
14. Ryan Marmont 58 Pts
15. Wade Hunter 53 Pts
16. Kyle Webster 36 Pts
17. Jedidiah Cornthwaite 35 Pts
18. John Prutti 34 Pts
19. Matt Van Slooten 33 Pts
20. Nathan Brochtrup 32 Pts