A steady and mature approach should be enough for Rotorua's Cameron Vaughan to top the podium this weekend.
The 16-year-old Yamaha ace is currently second overall in the 125cc class standings after the first round of four in this season's New Zealand Motocross Championships, near Timaru a fortnight ago.
Round two of the nationals is at Patetonga, near Morrinsville, on Sunday and there he aims to be climbing another step upward on the podium.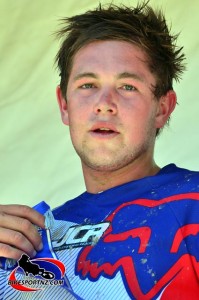 He's not being cocky or over-confident, just realistic. The rider who beat him at Timaru, fellow Yamaha hero Courtney Duncan, won't be racing at Patetonga this weekend as the Otago girl instead heads overseas to compete, leaving the path clear for Vaughan to take advantage.
"I've just got to go to Patetonga and ride solidly, be consistent and not do anything silly," said the level-headed Vaughan.
"I like the Patetonga track … it suits me and I usually go well there. I have been putting in a lot of hard work with JCR Yamaha Racing team boss Josh Coppins, so physically I am very prepared.
The rider who is currently right behind Vaughan in the 125cc class standings, Bayride BikesportNZ.com Yamaha rider Logan Blackburn, of Te Puke, will also be trying to move up and he is one rider who Vaughan must respect.
"I know Logan (Blackburn) will be fast and I have to watch out for Atiamuri's Hadleigh Knight (CMR Red Bull KTM) too, although he had a rough time at Timaru and is a wee way back in the points now. Even if Hadleigh could win one or two races, seconds or thirds would be good enough for me to take over the championship points lead.
"Logan is my biggest threat. I will try to block out thoughts of the other riders and just do my job," said Vaughan.
"I'm a big fan of the Patetonga track. I like it when there are lots of deep ruts. It is important for me to get good starts though because it's hard to pass other riders around there."
After Patetonga on Sunday, the series heads to Pukekohe on March 10 and it finally wraps up at Taupo on March 31.
Leading championship standings after the opening round of the New Zealand Motocross Championships:
MX1 class:
1. Cody Cooper (Mount Maunganui, Suzuki) 67 points;
2= Billy MacKenzie (Scotland, Yamaha) and Kirk Gibbs (KTM, Australia) 58;
4. Justin McDonald (Christchurch, Honda) 49;
5. Todd Waters (KTM, Australia) 45;
6. Daryl Hurley (Suzuki, Hawera) 43.
MX2 class:
1. Scott Columb (Queenstown, Yamaha) 72;
2. Darryll King (Hamilton, Yamaha) 62;
3. Brock Winston (Australia, KTM) 61;
4. Rhys Carter (Mount Maunganui, Suzuki) 49;
5. Jesse Dobson (Australia, Kawasaki) 47;
6. Micah McGoldrick (Amberley, Honda) 41.
125cc class:
1. Courtney Duncan (Otago, Yamaha) 67;
2. Cameron Vaughan (Rotorua, Yamaha) 64;
3. Logan Blackburn (Te Puke, Yamaha) 62;
4. Cohen Chase (Taupo, KTM) 50;
5= Cameron Negus (Rotorua, Husqvarna) and Aaron Wiltshier (Tauranga, KTM) 45.
© Words and photo by Andy McGechan, www.BikesportNZ.com