A huge shake-up in the championship standings can probably be expected as round two of the New Zealand Motocross Championships hits the Thames Valley this weekend.
The first round of four in the series, near Timaru two weeks ago, produced a mixed bag of results and the leaders in each of the three championship classes should know they are not safe.
They can each expect to come under fire at Patetonga on Sunday as their respective challengers have regrouped to mount fresh attacks.
Mount Maunganui's Cody Cooper (Suzuki) leads the MX1 class from Scottish visitor Billy MacKenzie (Yamaha) and rising Australian star Kirk Gibbs (KTM), but it is Tauranga's defending national MX1 champion Ben Townley (Honda) who will possibly capture the most attention at Patetonga on Sunday.
Pre-series title favourite Townley crashed to the sidelines at round one of the Backflips Clothing-sponsored series, but he's now back on his bike, very determined and quite capable of making up the ground he's lost.
A fierce battle is being waged in the MX2 (250cc) class too, with Queenstown's class leader Scotty Columb (Yamaha) under fire from defending MX2 champion Darryll King (Yamaha), of Hamilton and visiting Australian Brock Winston (KTM).
Meanwhile, in the 125cc class, Rotorua's Cameron Vaughan is in an ideal position to top the podium this weekend.
The 16-year-old Yamaha is second overall in the class after Timaru, but, with round one winner Courtney Duncan, of Otago, not expected to show on Sunday – as overseas commitments take her away – Vaughan could be expected to take advantage and climb the rankings.
The rider who is currently right behind Vaughan in the 125cc class standings, Te Puke's Logan Blackburn (Yamaha) will also be trying to move up, as will Taupo's Cohen Chase (KTM).
An unlucky Hadleigh Knight (KTM), of Atiamuri, will attempt to bounce back from his crash-marred effort at round one.
After Patetonga on Sunday, the series heads to Pukekohe on March 10 and it finally wraps up in Taupo on March 31.
CHAMPIONSHIP STANDINGS
Leading championship standings after the first of four rounds of the New Zealand Motocross Championships:
MX1 class:
1. Cody Cooper (Mount Maunganui, Suzuki) 67 points;
2= Billy MacKenzie (Scotland, Yamaha) and Kirk Gibbs (KTM, Australia) 58;
4. Justin McDonald (Christchurch, Honda) 49;
5. Todd Waters (KTM, Australia) 45;
6. Daryl Hurley (Suzuki, Hawera) 43.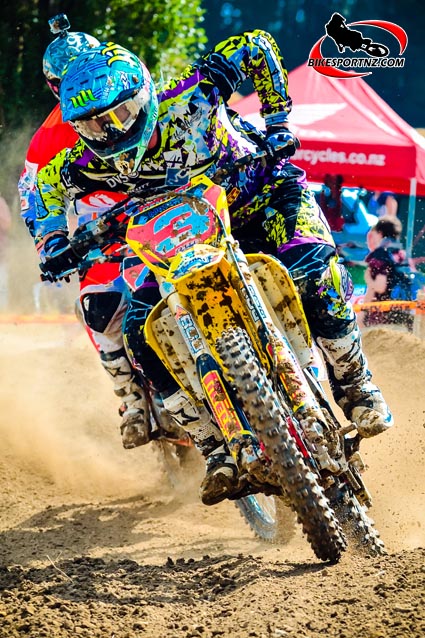 MX2 class:
1. Scott Columb (Queenstown, Yamaha) 72;
2. Darryll King (Hamilton, Yamaha) 62;
3. Brock Winston (Australia, KTM) 61;
4. Rhys Carter (Mount Maunganui, Suzuki) 49;
5. Jesse Dobson (Australia, Kawasaki) 47;
6. Micah McGoldrick (Amberley, Honda) 41.
125cc class:
1. Courtney Duncan (Otago, Yamaha) 67;
2. Cameron Vaughan (Rotorua, Yamaha) 64;
3. Logan Blackburn (Te Puke, Yamaha) 62;
4. Cohen Chase (Taupo, KTM) 50;
5= Cameron Negus (Rotorua, Husqvarna) and Aaron Wiltshier (Tauranga, KTM) 45.
© Words and photo by Andy McGechan, www.BikesportNZ.com