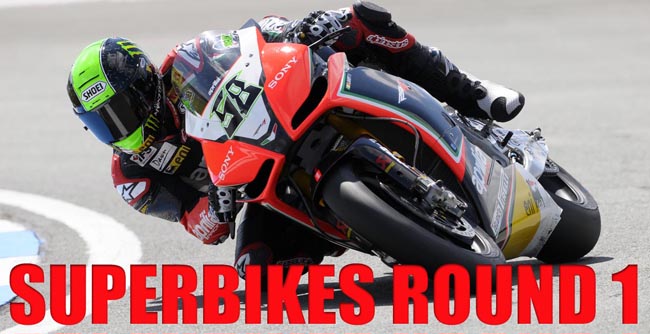 Ireland's Eugene Laverty and France's Sylvain Guintoli took their Aprilia machines the top of the championship standings as the 2013 World Superbike Championships kicked off at Phillip Island, Australia, at the weekend.
If there were ever concerns from within the Aprilia camp that there could be no fitting replacement for the retired Max Biaggi, the first round of 2013 suggested the manufacturer could in fact have two worthy successors to its champion in Laverty (pictured above) and Guintoli following their resounding 1-2 results in Australia.
Of course, no firm conclusions can possibly be drawn just two races into a potential 30 race season, but Guintoli and Laverty's win apiece at Phillip Island was notable for the fact it appeared to come fairly easily.
Indeed, perhaps more so than previous years, there was no obvious favourite for the first races despite several days of pre-season testing, practice and qualifying, yet Guintoli's methodical rise up the order in race one and Laverty's startling late form in race two shows Aprilia are not missing its number one rider just yet.
A strong day for Aprilia all round, Michel Fabrizio looks to have found a comfortable home at Red Devils Roma after a couple of indifferent seasons with Suzuki and BMW, while Marco Melandri showed he isn't lacking in grit as he secured a podium despite the pain from his persistent shoulder injury.
Also suffering through the pain threshold, Tom Sykes picked up a pair of respectable fifth places in the circumstances, while Jonathan Rea actually holds sixth overall after one round despite finishing no higher than eighth in either race.
Elsewhere, it was a tough start to the year for the new Alstare-run Ducati 1199R, which lost out in luck what it was gaining in speed following Carlos Checa's race one wipe-out and subsequent race two withdrawal, while Ayrton Badovini didn't start at all due to a broken foot.
Chaz Davies and Loris Baz picked up strong finishes in the first race of the season, only to collide in race two, while Leon Haslam showed pace that belied his results. On the plus side, his seventh place in race one was the first time Rea has been beaten inside the top ten by another Honda rider since 2009.
Other notable results included Jules Cluzel salvaging a fine seventh on an otherwise troublesome WSBK debut weekend, while two of the series' returnees – Max Neukirchner and Ivan Clementi – were point-scorers in Australia, the latter picking up a 12th place finish in his WSBK first race for seven years.
In all, 16 of the anticipated 19 full-time riders would get off the mark in Australia, plus the two wild-card riders Glenn Allerton and Jamie Stauffer.
2013 World Superbike Championship rider standings after round one:
1. Sylvain Guintoli Aprilia Racing 45 points
1=. Eugene Laverty Aprilia Racing 45
3. Michel Fabrizio Red Devils Roma Aprilia 29
4. Tom Sykes Kawasaki Racing 22
5. Marco Melandri BMW GoldBet Motorrad 16
6. Jonathan Rea Pata Honda 16
7. Leon Haslam Pata Honda 15
8. Jules Cluzel Fixi Crescent Suzuki 14
9. Leon Camier Fixi Crescent Suzuki 14
10. Chaz Davies BMW GoldBet Motorrad 13
11. Max Neukirchner MR Ducati 11
12. Davide Giugliano Althea Aprilia 10
13. Loris Baz Kawasaki Racing 10
14. Glenn Allerton Next Gen BMW 6
15. Ivan Clementi HTM BMW 4
16. Jamie Stauffer Honda Racing 4
17. Alexander Lundh Pedercini Kawasaki 4
18. Federico Sandi Pedercini Kawasaki 2
Race one:
1. Sylvain Guintoli FRA Aprilia Racing RSV4 33m 47.109s
2. Eugene Laverty IRL Aprilia Racing RSV4 +1.352s
3. Michel Fabrizio ITA Red Devils Roma RSV4 +1.359s
4. Chaz Davies GBR BMW GoldBet S1000RR HP4 +5.702s
5. Tom Sykes GBR Kawasaki Racing ZX-10R +5.753s
6. Loris Baz FRA Kawasaki Racing ZX-10R +6.769s
7. Leon Haslam GBR Pata Honda CBR1000RR +6.830s
8. Jonathan Rea GBR Pata Honda CBR1000RR +17.944s
9. Leon Camier GBR Fixi Crescent Suzuki GSX-R1000 +19.152s
10. Max Neukirchner GER MR Ducati 1199 R +26.557s
11. Jules Cluzel FRA Fixi Crescent Suzuki GSX-R1000 +30.305s
12. Ivan Clementi ITA HTM Racing BMW S1000RR +30.411s
13. Alexander Lundh SWE Pedercini Kawasaki ZX-10R +45.185s
14. Glenn Allerton AUS Next Gen BMW S1000RR +48.632s
15. Jamie Stauffer AUS Honda Racing CBR1000RR +53.453s
16. Federico Sandi ITA Pedercini Kawasaki ZX-10R +1m 22.730s
17. Vittorio Iannuzzo ITA Grillini Dentalmatic BMW S1000RR +4 laps
Not Classified
18. Carlos Checa ESP Alstare Ducati 1199 R 12 laps completed
19. Marco Melandri ITA BMW GoldBet S1000RR HP4 12 laps completed
20. Davide Giugliano ITA Althea Racing RSV4 2 laps completed
Did Not Start
Ayrton Badovini ITA Alstare Ducati 1199 R
Fastest lap
Michel Fabrizio ITA Red Devils Roma Aprilia RSV4 1m 31.323s
Race two:
1. Eugene Laverty IRL Aprilia Racing RSV4 33m 45.938s
2. Sylvain Guintoli FRA Aprilia Racing RSV4 +0.418s
3. Marco Melandri ITA BMW GoldBet S1000RR HP4 +1.382s
4. Michel Fabrizio ITA Red Devils Roma RSV4 +2.282s
5. Tom Sykes GBR Kawasaki Racing ZX-10R +11.545s
6. Davide Giugliano ITA Althea Racing RSV4 +12.508s
7. Jules Cluzel FRA Fixi Crescent Suzuki GSX-R1000 +17.330s
8. Jonathan Rea GBR Pata Honda CBR1000RR +17.339s
9. Leon Camier GBR Fixi Crescent Suzuki GSX-R1000 +19.886s
10. Leon Haslam GBR Pata Honda CBR1000RR +19.996s
11. Max Neukirchner GER MR Ducati 1199 R +27.629s
12. Glenn Allerton AUS Next Gen BMW S1000RR +42.809s
13. Jamie Stauffer AUS Honda Racing CBR1000RR +42.893s
14. Federico Sandi ITA Pedercini Kawasaki ZX-10R +44.899s
15. Alexander Lundh SWE Pedercini Kawasaki ZX-10R +57.824
16. Vittorio Iannuzzo ITA Grillini Dentalmatic BMW S1000RR +1m 22.574s
17. Chaz Davies GBR BMW GoldBet S1000RR HP4 +2 laps
Not Classified
18. Ivan Clementi ITA HTM Racing BMW S1000RR 11 laps completed
19. Loris Baz FRA Kawasaki Racing ZX-10R 0 laps completed
Did Not Start
Carlos Checa ESP Alstare Ducati 1199 R
Ayrton Badovini ITA Alstare Ducati 1199 R
Fastest lap
Eugene Laverty IRL Aprilia Racing RSV4 1m 31.168s