THE KAT WHO'S GOT THE CREAM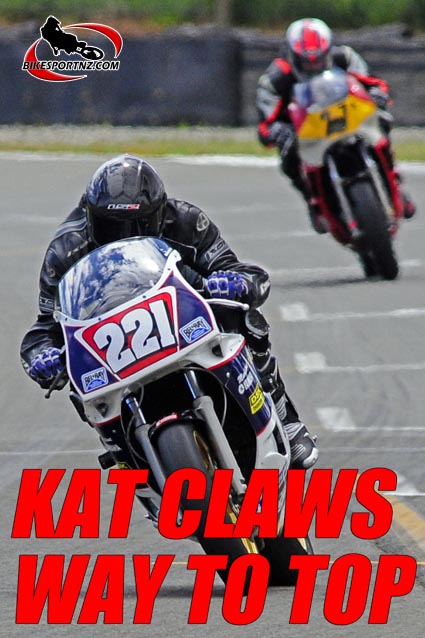 Hawke's Bay's Eddie "The Kat" Kattenberg was a big name on the New Zealand motorcycle racing scene in the 1980s … and nothing has really changed very much at all over the years.
The Te Awanga man is still racing motorcycles at age 51 and he's still among the frontrunners.
He works at a bicycle mechanic at Avanti Plus in Hastings during the week, but turns into a fire-breathing motorcycle racer at the weekends and, even several years after giving up the sport at a serious level, he still finds the drive and determination to win races.
Racing an old 1000cc Yamaha, Kattenberg leads the New Zealand Gold Cup Post Classics series after two of four rounds.
"I finished only fourth overall at round one at Hampton Downs in October but that was really an international meeting. I won round two at Manfeild in November and that gave me the series lead," he said.
The next round of the series is at Hampton Downs on March 10, with round four set for Hampton Downs on March 16-17.
"I've been playing around on motorcycles for years but last season was my first of racing since I gave up the serious stuff about 20 year ago. But this is a sport that you just can't walk away from."
He was national TT champion in 1987 and also scored points in the World Superbike Championships in 1988 and 1989 – he hung up his helmet in 1992 – and now, two decades on, he races a bike that was one of the best from back in his own golden era, a 1989 Yamaha FZR1000.
Kattenberg is also racing the popular Tri Series and is currently winning the Post Classic Pre-89 class after the second of three rounds at Manfeild on Sunday.
"I'm riding the same bike I rode last year, although now with a six-speed gearbox and I've freshened up the motor a bit, but it's the same bike that used to win races back in the 1980s.
"This Tri series has a lot of clout, after the nationals proper, and I'm keen to do well."
The third and final round of the Tri Series is set for the public streets of Wanganui, on the famous Cemetery Circuit, on Boxing Day.
"This racing has been a bit of a rebirth for me and I'm really enjoying racing again. The difference now is that there's no real pressure on me to win. I don't have to prove anything to anyone."
Kattenberg is sponsored by Maidstone Yamaha in Upper Hutt.
Words and photo by Andy McGechan, www.BikesportNZ.com