Auckland's Jaden Hassan had done enough at rounds one and two to ease up, relax and "just bring it home" at the third and final round of the Tri Series on Boxing Day.
The 18-year-old Yamaha ace rode conservatively at Wanganui and that was enough for him to wrap up the Formula Two class at his first time of asking.
When he finished unbeaten at round one at Hampton Downs just over a fortnight ago and again scored back-to-back wins at the second round at Manfeild just over a week ago, Hassan (Home Buyers Reports Yamaha R6) was in prime position to push on and wrap up the title on the public streets of Wanganui's Cemetery Circuit on Boxing Day.
He had never before raced on the treacherous curb-lined public streets of Wanganui, so it was perhaps no surprise that he was overshadowed at Wanganui by home-town pair Ashley Payne (Triumph) and Jayden Carrick (Suzuki), but that didn't matter with the main prize just a couple of mid-pack results enough for Hassan to grasp the trophy
Payne won the day at Wanganui with 3-1 results, while Carrick finished 1-11 in his two outings, enough for Carrick to finish series runner-up, but Hassan managed 13th and 15th placings to eventually clinch the title by a safe nine points.
"I know I made it difficult for myself by jumping in the deep end at Wanganui, but I had to ride here to have any chance of taking the title," said Hassan.
"I took it relatively easy and just hoped for the best. It all came together for me in the end.
"With Carrick winning the first race, I knew the pressure was on me to find some extra speed in the next race but it was a very tough thing to do. Thankfully Carrick had a few problems of his own in race two and I won the title.
"That's one down and one to go for me," said Hassan, with his aim now to make it two titles this summer. He will line his Yamaha up in the 600 supersport class at the national this season, that five-round series set to kick off at Ruapuna, on the outskirts of Christchurch, on January 5-6.
The day was cut short at Wanganui because of safety concerns when the skies opened with a huge downpour just before 5pm and this meant the stand-alone feature race, the Robert Holden Memorial, was not contested for the first time in the event's 60-year history.
© Words and photos by Andy McGechan, www.BikesportNZ.com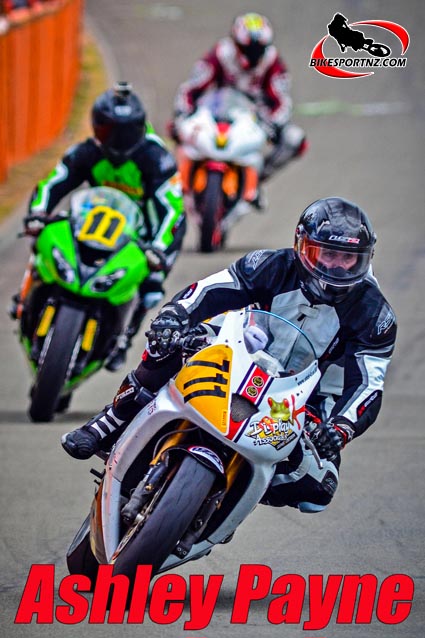 Leading final standings from the 2012 Suzuki Tri Series:
Formula 1: 1. Dennis Charlett (Christchurch, Underground Brown Suzuki GSXR1000) 120; 2. Sloan Frost (Wellington, Valvoline BMW S1000RR) 117; 3. Hayden Fitzgerald (New Plymouth, Suzuki NZ GSXR1000) 106.
Formula 2: 1. Jaden Hassan (Auckland, Home Buyers Reports Yamaha NZ R6) 116; 2. Jayden Carrick Jayden Carrick (Wanganui, Suzuki GSXR600) 107; 3. Thomas Kreutz (Germany, Yamaha NZ R6) 85.
Formula 3: 1. Glen Williams (Palmerston North, Suzuki SV650) 141; 2. Gavin Veltmeyer (New Windsor, Suzuki SV650) 106; 3. Scott Moir (Taupo, Honda RS450) 100.
Supermoto: 1. Richard Dibben (Wanganui, Honda CRF450) 134; 2. Duncan Hart (Tauranga, Yamaha YZF450) 132; 3. Toby Summers (Auckland, Yamaha YZF450) 112.
Post Classic Pre '89: 1. Glen Williams (Palmerston North, Bimota YB8 1000) 122; 2. Eddie Kattenberg (Te Awanga, Yamaha FZR1000) 121; 3. Damian Mackie (Te Puke, Suzuki RG500) 102.
BEARS: 1. Rhys Holmes (Katikati, BMW S1000RR) 106; 2. Sloan Frost (Wellington, Valvoline BMW S1000RR) 103; 3. Travis Moan (Auckland, BMW S1000RR) 101.