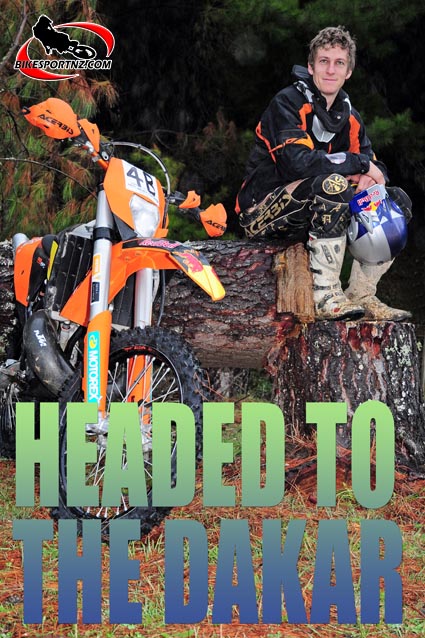 Kiwi international motorcycle star Chris Birch can't wait for the start of the New Year.
That's when the Red Bull KTM rider will head off to make his debut at the famous Dakar Rally, a massive 9000-kilometre coast-to-coast off-road endurance race that starts on the Atlantic shores of Mar del Plata, in Argentina, on New Year's Day and winds up an agonising 16 days later in Lima, Peru, right on the coast of the Pacific Ocean.
Originally called the Paris-Dakar Rally, political turmoil in that part of the world meant the rally – which retains the Dakar title – has "gone on a world tour", although South America is likely to be its home for the immediate future.
Birch, who will ride a 450cc KTM Rally Replica, will be among many hundreds of top international competitors who will have to traverse the Andes during the course of the Dakar Rally, riding into Chile and the famed Atacama desert, the world's driest place, then north into Peru and on to the capital, Lima – a gruelling competition that offers riders just one day of rest to allow their aching muscles to recover.
But, while Aucklander Birch may be a virtual novice at the Dakar race, he has impressive international credentials that actually make him one of the favourites to win it in 2012.
Birch, a five-time former New Zealand enduro champion, has previously tasted success at such top-class extreme international events as the Red Bull Romaniacs Extreme Enduro in Romania's Carpathian Mountains, the Erzberg Extreme Enduro in Austria and he is a three-time Roof of Africa winner, although he had to settle for runner-up spot at the 2011 edition of the race in Le Sotho, just a fortnight ago.
"While I have enjoyed success at many events around the world, this is entirely new to me. It's the biggest off-road endurance event in the world and I have a lot to learn," said the 31-year-old Birch.
Birch will indeed have to be at his best if he plans to feature on the podium in Peru.
The KTM factory will be chasing the company's 11th consecutive Dakar victory, with title-holder and three-times winner Marc Coma, of Spain, again lining up for the battle, along with his team-mate and closest rival, Cyril Despres, of France, who is also a three-times former winner.
"Hopefully I can work it out early on and push for a good result at the end. I think lack of sleep and navigation will be my biggest problems."
But, regardless of the outcome, it will still be a fantastic adventure and Birch's many fans and supporters have also been given a chance to help him.
KTM New Zealand has stepped forward to donate a 2012-model KTM300EXC for Birch to auction off during the course of the rally.
With additional support from iLabb, Fox, Sandpit Motorbike Park, Red Bull, Epic Events and Hyde, a fantastic package has been made available for one lucky rider.
The auction package includes:
KTM 2012 300EXC
A year's membership to the Kawasaki Sandpit Motorbike Park
A set of Hyde protection plastics
A year's supply of Red Bull
An Ilabb sticker kit
A year's subscription to Kiwi Rider magazine
Fox 180 pants, riding shirt and gloves
Check out the auction on Trade Me, opening on January 1 and closing on January 15.
© Words and photo by Andy McGechan, www.BikesportNZ.com