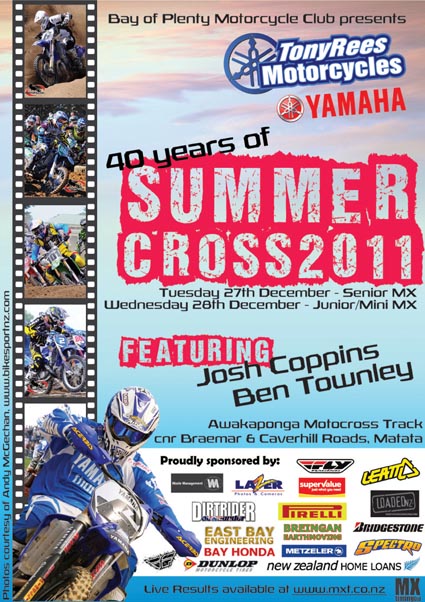 The big annual Whakatane Summercross celebrates its 40th birthday later this month.
The Yamaha-sponsored event is one of New Zealand's premier stand-alone motocross events and each year it attracts all the nation's elite racers, competitors ranging in age from four and five, right through to veterans in their 50s and 60s.
Positioned on the calendar right in the middle of the European and American off-seasons, at the end of the Australian nationals and just before the New Zealand nationals are due to start, the Whakatane Summercross also typically attracts all the Kiwi internationals, these riders home for a short period before they resume their respective overseas campaigns.
One of the drawcard riders is three-time former world MX1 No.2 Josh Coppins, arriving home to head up the MXDK Rockstar Yamaha team at Summercross.
Motueka's Coppins (Yamaha YZ450F) will go head-to-head at the Summercross event with close friend and sometimes rival Ben Townley, of Taupo, rekindling a friendly rivalry that harks back to the 2005 season in Europe when Coppins and Townley finished second and third respectively in the MX1 world championships.
Former MX2 world champion Townley has just signed up to race for Honda in Australia and New Zealand throughout 2012 and this event will be his first official outing this season on the new red bike.
Also expected to challenge for MX1 class domination will be Mount Maunganui's national MX1 champion Cody Cooper (Suzuki), last year's Summercross winner Michael Phillips (Honda), of Rotorua, and Hamilton's Hayden Clark (KTM), the rider who finished runner-up to Cooper at the recent Auckland Motocross Championships.
With racing over two days – seniors on the first day of competition on Tuesday, December 27, with juniors and minis the following day – the Yamaha-sponsored event is again expected to attract a bumper crop of New Zealand's elite, including Hamilton's national MX2 champion Darryll King (Yamaha), Masterton's Luke Burkhart (KTM), Tauranga's Peter Broxholme (Honda), Mount Maunganui's Rhys Carter (Suzuki), Taupo's Nick Saunders (Kawasaki), Christchurch's Justin McDonald (Honda), Mangakino's Kayne Lamont (Suzuki), Kaukapakapa's Josh Jack (Suzuki), Taupo's Cameron Dillon (Honda), Auckland's Blake Gillard (KTM), Rangiora's Isaiah McGoldrick (KTM), Rotorua's Cameron Vaughan (Yamaha) and Whakatane's Mitch Rees (Yamaha), to name just a few.
© Words and photo by Andy McGechan, www.BikesportNZ.com