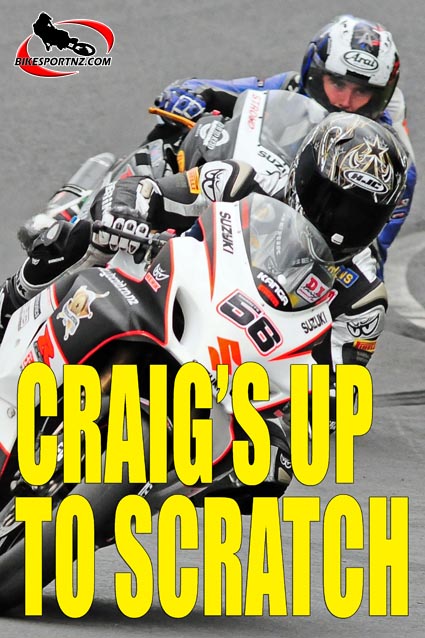 It is one thing to go the extra mile to satisfy your sponsors, but Craig Shirriffs goes one step further, travelling that extra mile on his backside.
The Feilding superbike ace has just signed a deal with Darbi Accessories to race this season wearing Berik leathers and using an HJC helmet and he was content in the knowledge that he was wrapped up in the best safety gear available … and now he has the experience to prove it.
In his first major race outing of the new season – racing last Saturday at round one of the annual Suzuki Tri Series at Hampton Downs, near Meremere – Shirriffs rocketed to the front of the glamour superbike class in the first race of the day.
He eventually succumbed to the onslaught of Australian visitor Robbie Bugden (Suzuki), a three-time former New Zealand champion, but settling for runner-up spot in the first race of the season was still a satisfying result for the 38-year-old Shirriffs.
But then his weekend turned to custard when he went out in the next race and biffed his 1000cc superbike down the race track, giving his brand new Berik leathers an unwelcome and unexpected try-out.
"It's true I spend a lot of my time bouncing down the track, but it's with that in mind that I know I have to have a good helmet and great leathers," said Shirriffs.
"I'm not looking to crash but, if and when I do, I want to be in the best possible position to survive. The leathers are amazingly light, are vented for summer use and have a special chest plate inserted in them too … I guess that's to protect me if the bike kicks up in the air and lands on me.
"I'm aiming for a top-three finish in the New Zealand Superbike Championships this season. Obviously I want to achieve the dream of being No.1 and I proved at Manfeild last season that I could do that. But everything has to be perfect for the whole season for that to happen."
While it may not have been a perfect outcome for Shirriffs in the second race at Hampton Downs last Saturday, at least he was able to stand up and walk away afterwards, and with his trademark grin still firmly in place.
Unlike many brands on the market, the Berik leathers come with CE (Conformite European) certification, which, in simple terms, means they must attain extraordinary levels of quality and offer exceptional rider protection.
The Berik leathers are the first full CE approved garments now available in New Zealand and this means the suits have been sent overseas for testing and have been approved to the high European standards.
© Words and photo by Andy McGechan, www.BikesportNZ.com