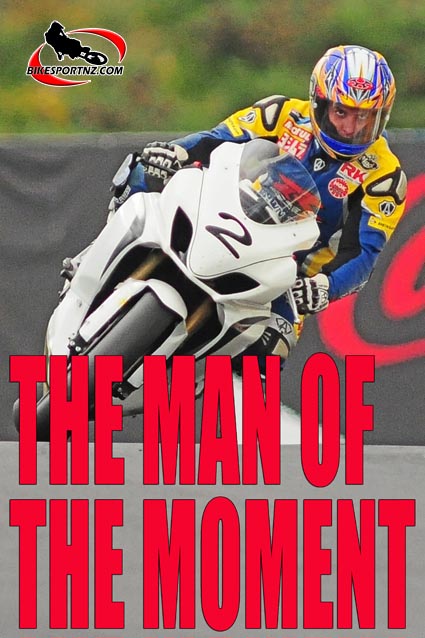 A loud message has been sent and it's one that is clear and easily understood in any language … Robbie Bugden means business this summer.
The popular Australian took his Triple R Suzuki GSX-R1000 to back-to-back wins in the glamour formula one superbikes class at the opening round of the Suzuki Tri Series at Hampton Downs, near Meremere, on Saturday.
The man he beat to the top step of the podium was none other than defending Tri Series and national superbike champion Andrew Stroud (David Reid Homes Mobil 1 Suzuki GSX-R1000), the Hamilton man forced to accept the No.2 spot on the day but by no means cowed.
Three-time former New Zealand superbike champion Bugden powered through from fourth to take victory ahead of fellow Suzuki rider Craig Shirriffs, of Feilding, and Stroud in the first race but he made a few adjustments to his bike during the break and that was enough for him to scorch to a start-to-finish win in the second outing.
However, 43-year-old Stroud, who finished 3-2 in his two outings, remains the favourite to win the Tri Series for an amazing fourth consecutive time when it wraps up in just two weeks' time, on the streets of Wanganui on Boxing Day.
Saturday's racing was merely a hit-and-run raid for Bugden, the 31-year-old Brisbane man unavailable to race at the second round of the series at Manfeild this coming weekend and he will also skip the Boxing Day classic on the infamous Cemetery Circuit, leaving the way clear for Stroud to dominate.
"This was just a shake-down for me ahead of the New Zealand Superbike Championships," said Bugden. "It was a perfect day though," he admitted.
"I'm a bit disappointed with my first race but I made a few changes to the bike and felt good in the second race. It's a brand new bike, straight off the showroom floor, so we are still getting it set up for the nationals (which kick off at Ruapuna, in Christchurch, on January 8).
"I guess I sent a message today, to let my rivals know what to expect. It's always good to come over early and get a measure of the competition and this Tri Series opener was ideal for that.
"I will get quicker before Ruapuna … but I guess so will everyone else. It's going to be a great national championships."
Shirriffs enjoyed both highs and lows at the weekend.
He led the first superbike race for several laps before succumbing to Bugden's skills but he crashed spectacularly out of race two and therefore finds himself only 10th overall after this series opener.
Waikato's Stroud was philosophical about his defeat at Hampton Downs.
"We had a few little gremlins to sort out in race one and then the wind got up in race two and I felt I was fighting it. They are just a couple of things that sometimes happen in racing," he shrugged.
"I don't know what happened when the bike slowed unexpectedly at one point and I nearly ran out of fuel too. We squirted CRC into the linkages and checked the connections on the electrics and it seemed to be fine for race two," he said.
"Robbie is riding really well. I was catching him under brakes but he keeps good corner speed. He's accelerating hard on the side of the tyre and just seems to get away with it.
"He's just done a full season in Australia so he's race fit but I'll be training hard over the next couple of weeks and I will be a lot fitter when the nationals come around."
Third overall in the superbike class was Tauranga's Sloan Frost (BMW S1000RR), while Auckland's Ray Clee (Suzuki GSX-R1000) and Hamilton's Nick Cole (Kawasaki ZX10R) rounded out the top five.
Other class winners at Hampton Downs were Auckland's Jaden Hassan (Yamaha, F2 600 supers); Taupo's Scott Moir (Honda, F3 sports bikes); Otaki's Sarah Elliot (Honda, Ultralites); Palmerston North's Glen Williams (Bimota, Post Classics pre-89); Auckland's Travis Moan (BMW, Bears); Wanganui pair Adam Unsworth and Stu Dawe (Honda, sidecars) and Auckland's Toby Summers (Yamaha, Super Moto 450).
Round two of the Tri Series is set for Manfeild on Saturday with the third and final round at Wanganui on Boxing Day.
© Words and photos by Andy McGechan, www.BikesportNZ.com