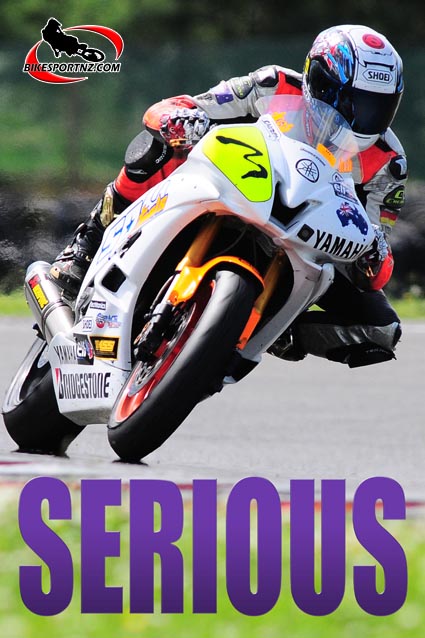 It's probably just a matter of time before teenager Josh McGrath becomes the latest Australian to steal away with a New Zealand motorcycle racing title.
Gold Coast rider Gareth Jones dented a few Kiwi egos when he raced away with New Zealand 600cc class title a couple of seasons ago, but now 15-year-old fellow Queenslander McGrath is lining up to rub salt into the wounds.
McGrath gave a huge hint that he was someone to take very seriously indeed when he raced to victory in the 125GP class at rounds one and two of the New Zealand Superbike Championships last season.
Unfortunately, other commitments meant he was unable to push on with his 2011 campaign in New Zealand and he missed the following three rounds, but he returns this summer to have another crack at Kiwi glory, this time racing a Yamaha R6 in the 600cc class for the team managed by Hawke's Bay's Maarty Van Booma.
In his bid to get up to speed, McGrath is racing his Yamaha R6 in both the 600 F2 and Superbike classes at the Tri Series, which staged the second of three rounds at Manfeild, on the outskirts of Fielding, last Saturday.
"I'm racing both classes just to get extra time on the bike ahead of the nationals," said McGrath, who, unfortunately, won be racing the third at final round on the public streets of Wanganui this Boxing Day.
"I'm happy with the R6. It's a very competitive bike," he said.
"It probably suits me more now than the 125 because I've grown a bit over the past year. I'm bigger and heavier now.
"I know a lot of the Kiwi tracks now. I hope to be up near the front when the nationals start. At least I think I'm close to being on the pace to be among the leaders," he said.
The New Zealand Superbike Championships kick off at Ruapuna, in Christchurch, on January 8.
© Words and photo by Andy McGechan, www.BikesportNZ.com