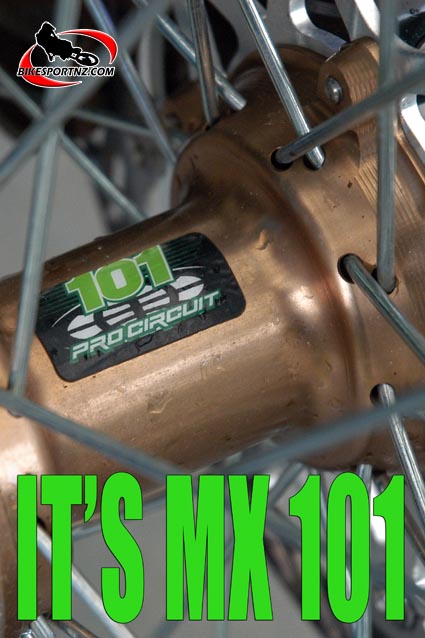 Today we bring you part two of our Ben Townley tribute.
Just as New Zealand's Ben Townley was ready to re-launch his international career at the start of 2010 – as a key member of the Troy Lee Designs Honda Team in the United States – he suffered yet another set-back.
He hit a "false neutral" going up a hill during the training session in March and the sudden deceleration pitched him forward and his abdomen slammed into the handlebars.
He didn't crash but he could feel that something wasn't right. A trip to the hospital revealed a small perforation in his bowel. The injury was surgically repaired the following day and Townley was given a four-to-six-week timetable for healing.
His comeback to the top tier in the US was a welcome relief for Townley's fans and he responded by finishing 6-7 at the AMA outdoor season opener at Hangtown in May and he showed improvement with every outing after that.
At the end of the AMA season, he had worked his way up to finish fourth overall and followed on from that with a sensational moto win at the season-ending Motocross of Nations in Denver, Colorado.
It all went sour in his next race when he severely twisted his ankle and was forced to withdraw. He was running in second place at the time.
At least the injury was nothing too serious, although he soon found he was unable to secure a contract in the US for 2011. He was instead signed up to race the MX1 World Championships for the CLS Kawasaki Team, back with the same brand he'd raced with throughout his junior career in New Zealand and with which he'd enjoyed so much success in the USA in 2007.
Then, just when it seemed as though his life was back in order, he suffered another serious injury in November 2010.
He crashed out of round four of the Australasian Supercross Championships in Auckland, plummeting to the floor of the North Harbour Stadium and dislocating his hip. To make matters worse, it was an event that perhaps he didn't really need to ride, particularly since he had missed the earlier rounds anyway.
He was rushed to hospital and faced a grim recovery period as he fought to be fit again in time for the start of the first GP of the season in Bulgaria in April.
His recovery was going according to plan when he suffered yet another set-back, this time breaking his jaw in a practice session mishap at the end of January 2011.
Townley did make it to the start line in Europe – at round two of the 2011 championships in the Netherlands in April – but this was not the firebrand Kiwi we had witnessed when he won his world title in 2004 or his American supercross title in 2007, his ravaged body still not allowing him to race at his best.
He qualified 16th then finished 19th in the first MX1 moto of the weekend, but, with fatigue taking its toll, he opted out of the next race.
He skipped the next two GPs, in the USA and Brazil, but lined up again to start at the French GP at St Jean d'Angely in June.
He finished eighth in the first MX1 moto but then collided with another rider in the next race, while running in fifth spot, and was forced to retire.
He missed the next GP in Portugal in June and made the difficult decision to quit Europe for the time being.
"It was a tough decision to make but I'd accepted that I was not in a position to race at a competitive level, both physically and mentally."
The story continues tomorrow …
© Words and photos by Andy McGechan, www.BikesportNZ.com