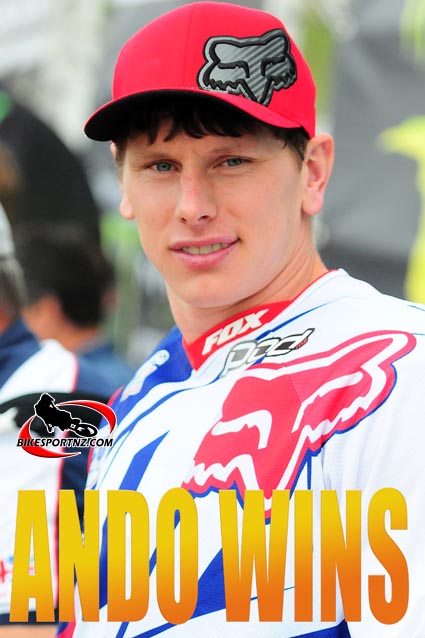 It was the final throw of the dice for the Kiwis in the United Kingdom at the weekend.
Racing at the eighth and final round of the British Motocross Championships at Hawkstone Park, in Shropshire, Rotorua's John Phillips, Mangakino's Kayne Lamont and Elsthorpe's Kieran Scheele were each keen to finish their up-and-down UK campaigns in style.
Racing for the Kiwi DBG Team, Phillips finished 7-dnf-28 in the MX2 class, while, riding for the Maxxis Apico Suzuki team, Lamont went 9-32-12 in the same division.
That meant that, overall for the day, Lamont finished 12th overall and Phillips finished 18th. For the championship, Phillips finished 19th.
Lamont had a slow start to his season in the UK with entry visa glitches preventing him from making an appearance until the season was half over. Nonetheless, Lamont finished 44th overall in the series.
Another Kiwi DBG Team rider, Hawke's Bay's Scheele finished 28-21-dns at Hawkstone Park, earning him an eventual 32nd spot for the MX1 championship.
It is interesting to note that Taupo's Ben Townley contested just one round but his results that day were still enough for him to earn 41st overall for the championship.
Swiss rider Arnaud Tonus won all three MX2 class races at Hawkstone Park, while Britain's Brad Anderson dominated the MX1 class with two wins and a second placing.
Tonus won the MX2 championship, ahead of Elliott Banks-Browne and Zach Osborne, while Anderson won the MX1 crown, ahead of Kristian Whatley and Martin Barr.
To put this in perspective, Phillips and Scheele were two-thirds of New Zealand's Motocross of Nations "development squad" in France this year.
They qualified for the consolation "B final" only and finished 10th overall in that, while Anderson, a key member of the British MXoN team, helped his team to fourth overall at the big event.
In terms of personal results, Anderson managed only 14th and 15th in his two open class outings in France.
In respect of Tonus, the new British MX2 champion, he helped his Swiss team to finish only 12th overall at the MXoN.
As an individual, Tonus managed 10th and 13th in his two open class races in France.
But, as regards the British MX Champs, don't just take our word for it … check out the official news HERE
MX1 final standings
Brad Anderson 525pts. Hon
Kristian Whatley 427pts. Yam
Martin Barr 422pts. KTM
Tom Church 340pts. KTM
Gert Krenstinov 335pts. Kaw

MX2 final standings

Arnaud Tonus 545pts. Yam
Elliott Banks Browne 384pts. Hon
Mel Pocock 353pts. Suz
Bryan Mackenzie 334pts. Kaw
Zach Osborne 323pts. Yam
© Photo by Andy McGechan, www.BikesportNZ.com