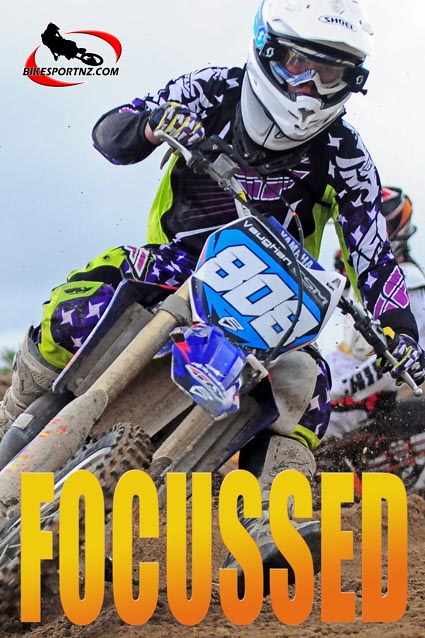 Bay of Plenty rider Cameron Vaughan has a bright future ahead of him – although the present day is looking very sparkly as well.
The Yamaha star from Rotorua was unbeatable in the 15-16 years' 125cc class at the annual Taupo Motocross Extravaganza over Labour Weekend.
He scored a hat-trick of wins against such exalted company as Hadleigh Knight (KTM), of Taupo, Kumeu's Chase Smith (KTM), Katikati's Garth Amrein (Yamaha) and yet another Yamaha star, Otago girl Courtney Duncan.
Vaughan also rolled his Craig Stevens Motorcycles Yamaha YZ125 to the line to contest the senior National 125cc class the following day, finishing an encouraging third overall, behind national junior champion Micah McGoldrick (KTM), of Rangiora, and fellow Yamaha ace Jason Jones, of Auckland.
Vaughan made the racing look effortless on the Saturday and even revealed afterwards that he was "taking things easy … to save myself for the next day."
The year 10 pupil at John Paul College in Rotorua has been building up for the summer ahead – weight training in the gymnasium, skipping and running – with his focus now on racing the senior nationals, making a dual bid for the National 125cc crown and the under-21 age-group title as well.
"My confidence has grown since I raced the junior nationals (in Tokoroa in April). I finished third in my class at the junior nationals but I'm riding a lot better now. I won a couple of mini motocross titles in my earlier years but they don't have the same prestige as winning in the junior or senior ranks.
"I'm riding the best I ever have right now, so I'm feeling strong for the upcoming nationals (set to kick off in February 2012)."
© Words and photo by Andy McGechan, www.BikesportNZ.com