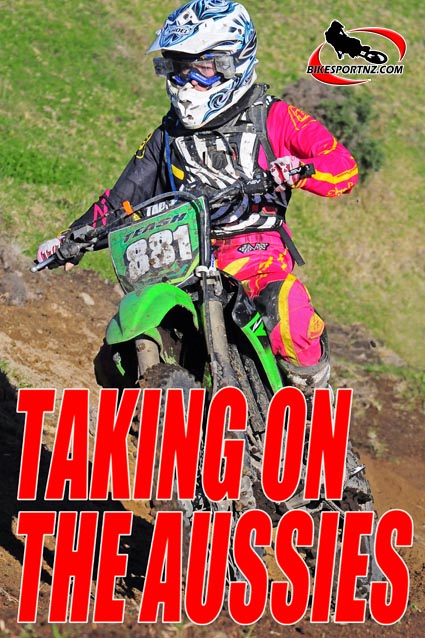 It is something of a tradition for Australian and New Zealand to lock horns on the sporting frontline, and the latest trans-Tasman rivalry will involve 250cc four-stroke engines, the Kawasaki race team and a couple of attractive young women who will be rivals as much as they are team-mates.
New Zealand's Letitia Alabaster will be waving the flag proudly as she heads to Coolum, in Queensland, this weekend to contest Australian Women's Motocross Championships.
Kawasaki's bid for the Australian crown is in good hands with Raetihi's Alabaster and current New South Wales women's motocross champion Meghan Rutledge both gunning for the title on board the Monster Energy Kawasaki Team KX250F bikes.
The 16-year-old Rutledge, from Picton, NSW, is hungry to win her first senior national motocross title. Having won every Australian motocross prize as a junior, including numerous state titles and the national junior women's crown for the past three years, Rutledge's transition to the senior ranks has been seamless.
She won the NSW motocross title this year.
"I've love to win the Australian title in my first year as a senior," said Rutledge.
"I really want to go out there and have fun but I also really want to win. My preparation's been really good. I've been doing lots of off the bike training so I feel really fit.
"The KX250F is awesome. I couldn't do it without the help of Glenn MacDonald at Kawasaki. He makes sure my race bike is ready to win. Greg at Moss Institute has been a great help and the support that TC (Troy Carroll) and Monster Energy Kawasaki will be providing at Coolum will be awesome."
Current New Zealand Women's Motocross Champion Alabaster has recently moved to Australia to further her already blossoming motocross career.
The 22-year-old, now based in Leeton, NSW, worked hard to overcome a year off in 2008 due to Chronic Fatigue Syndrome to win a string of titles from 2009 to 2011, including the Women's Motocross Championship, the Women's National TT Flat Track Championship, the Women's Waikato Championship and the Women's NZ Cross Country Championship.
Alabster is looking forward to racing at Coolum this weekend.
"It's going to be a great experience for me racing the Australian Women's Championship. I'm looking forward to going and seeing what it's all about.
"Monster Energy Kawasaki will be offering some great support. I'm actually going to be racing on one of the team's KX250F race bikes so that's pretty awesome. If my heads in the right place, I've got as good a chance as anyone else."
Team manager Troy Carroll will be on hand with team mechanics to ensure that both Rutledge and Alabaster are in the best possible position to ride to their potential.
© by Andy McGechan, www.BikesportNZ.com