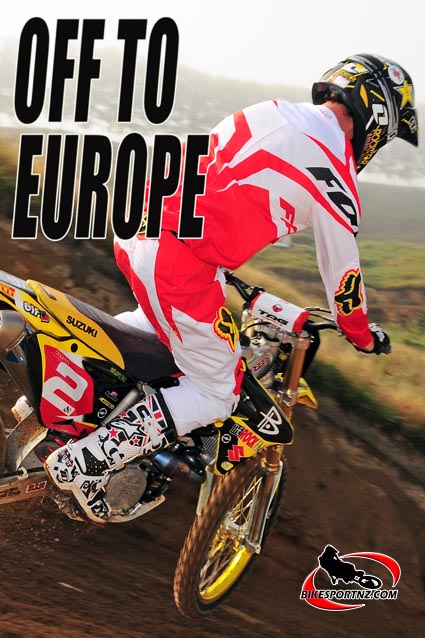 There will again be a Kiwi presence in the motocross world championships and it happens sooner rather than later.
New Zealand MX1 motocross champion Cody Cooper (Suzuki) has been drafted in to replace an injured Clement Desalle for the remaining rounds of this year's MX1 world championships in Europe.
Belgian rider Desalle, who had been leading the world championships earlier this season, was sidelined with serious shoulder and arm injury sustained at the Belgian Championships last weekend, prompting the emergency call-up for the talented Kiwi rider.
Cooper will race for the Rockstar Energy Suzuki factory team at the final two rounds of the world championships, in Germany and Italy next month.
This means Cooper will have raced in Europe, Australia and New Zealand all in the same season.
"I like travelling and love racing too, so this is perfect," said Cooper.
"Racing the world championships will be awesome. At least one of the two tracks is all natural terrain, so that suits me very well. The only concern is that I may not be quite fit enough for the longer races they have in the GPs. I have been racing only 20-minute races in Australia.
"I only learned yesterday of the offer to race in Europe and I am now back out of holiday mode and riding again every chance I get. I leave for Europe on August 24 and, between now and then, I'll be doing as much riding as I can."
Cooper is no stranger to achieving at the ultimate level, the Kiwi tasting outstanding success when he raced a Suzuki RM-Z450 to fifth overall in the United States nationals in 2008.
Cooper also raced a Suzuki RM-Z450 to win his MX3 qualifying race at the Motocross of Nations at Donington Park, in England, in 2008, before helping the three-man New Zealand team to finish eighth overall at this annual "Olympic Games of motocross".
The 27-year-old is very hot property at the moment.
As well as winning the New Zealand MX1 motocross title in March, Cooper was also one of the leading riders across the Tasman earlier this season, winning six out of 36 races at the Australian Motocross Championships and dominating two of the nine rounds against top international competition, although a high-speed crash and subsequent injuries kept him out of action for one round and this cost him a chance of winning the title.
Cooper has also demonstrated that he is an extremely versatile rider.
Cooper led a Suzuki 1-2 on his way to winning the big annual Tarawera 100 cross-country endurance race in July.
In addition to this latest venture, Cooper has just re-signed a year-long extension to his contract to race for the Suzuki New Zealand motocross team in New Zealand.
"I love the yellow brand and all the people associated with Suzuki. They have been very good to me and I want to do my best for them."
© Words and photo by Andy McGechan, www.BikesportNZ.com